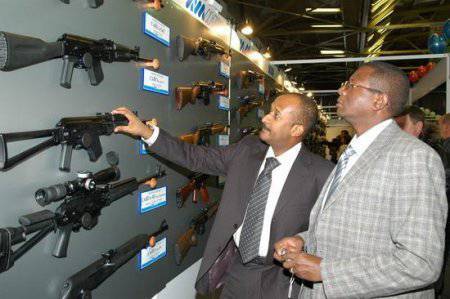 NPO Izhmash (part of the Rostekhnologii corporation) on the eve of the Gunsmith's Day summed up the interim results of its activities in 2012. more small units
weapons
than for the whole 2011. According to the forecast, by the end of the year, the growth of weapons production will be 56 percent.
Large volumes of products "Izhmash" still exports to the United States. According to the results of 8 months, the source said, the number of products shipped to America exceeded the 2011 indicators by 25 percent, which brought additional revenue in the amount of 2,7 million dollars.
The volume of production of tools at the enterprise will remain at the existing level - 140 million rubles.
Significant success "Izhmash" reached in the creation of new types of weapons. For 2012, Saiga-12 for practical shooting, Saiga-22 and Saiga-9, AK74М version of Airsoft (airsoft) for airsoft, air rifle and sport rifle for biathlon were developed, design work on AK- 12, which will become a platform for creating a wide range of civil and military weapons.
The company made a big leap in the area of ​​product quality improvement and technology development, the press service emphasized. This became possible due to the formation of a new unified structure of the NGO "Izhmash" and the completion of staffing. Now the company employs 4200 people. The average salary is 15402 rubles.
"Izhmash" - the largest Russian manufacturer of automatic combat and sniper weapons, guided artillery shells, as well as a wide range of civilian products: hunting rifles, sporting rifles, machine tools and tools. The company was founded in 1807. Izhmash products are shipped to 27 countries, including the USA, the UK, Germany, Norway, Italy, Canada, Kazakhstan and Thailand.