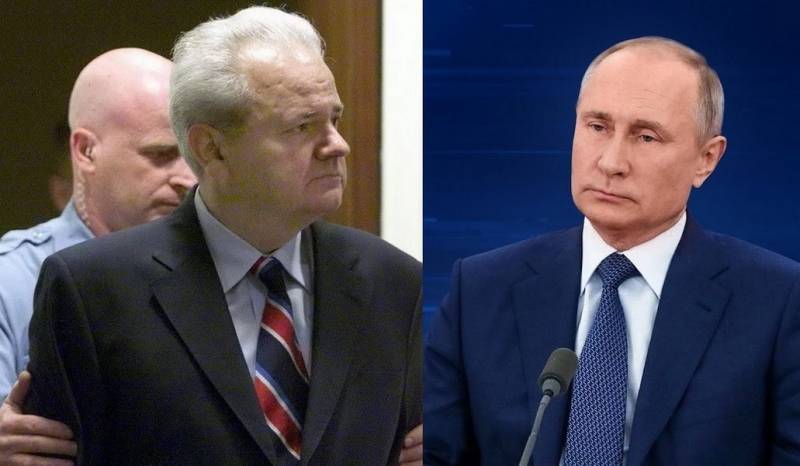 The Americans were once quite negotiating with Milosevic. And for a long time his arrest seemed technically impossible. But it happened.
This informational stuffing, frankly unpleasant for our country, was made this Thursday, January 6th, by the Americans.
This event is definitely worth taking apart.
News
On Thursday, January 6th, another online session was held
Atlantic Council
... During this session, under the auspices of a part of the Council - the Eurasia Center, within the framework of the round table "Putin's ultimate goals in Ukraine", an absolutely fantastic online dialogue took place, which in a completely strange way flew past the domestic media. Yes, and by foreign too, the only military man
news
the resource that marked this event is
news section "US Naval Institute" (USNI - United States Naval Institute)
, a non-governmental organization that provides Americans with a public platform for discussing sensitive naval issues.
Within the framework of the "round table", a number of experts, attracted by the Atlantic Council to discuss the topic brought up in the title of the round table, spoke, including even Ukrainian ones.
But only one of the invitees is of real interest - retired general Wesley Clark, who commanded a NATO force during the war in Yugoslavia.
Clark is a military professional, he fought in Vietnam, was under fire, was wounded, has military awards, graduated from the ranger school, that is, he was personally a high-class fighter.
He was also a good staff officer and commander, and in a sense, even a military theorist. His track record includes independent leadership of the military campaign from the first to the last shot, which is a rarity today, and which puts him on a par with Norman Schwarzkopf, for example. Yes, it was an unequal war, but it was still a war. And a fighter, and a hero, and a staff officer, and a commander, and a commander - that's who Wesley Clarke is. It is not his fault that he did not get a strong opponent instead of Yugoslavia.
But Wesley Clark also has a dark side - it was he who tried to attack the Russian troops in 1999, having ordered the British General Michael Jackson to attack our paratroopers at the Kosovo airport in Pristina (Slatina) and knock them out of it. Jackson's phrase "I'm not going to start World War III because of you" became legendary, and Clarke became the "first swallow" in such a ubiquitous phenomenon today as American "stubbornness", which has become such a striking hallmark of American politicians in recent years.
It is Clark's words that are of interest.
The link to the news is
here
and those who read English may be interested in reading this piece of American propaganda.
For the rest, a short squeeze.
Clarke said the following - Vladimir Putin is allegedly an international criminal. The United States should conduct an information campaign against him in the world, which would ultimately make it impossible for European diplomats to communicate with Putin. And then Clarke says:
"We had our eye on Milosevic in 1999. In the end, he died under the influence of an international tribunal, as you know. "
And then he continued in the vein that, they say, here it is - the power of international law, and then literally:
"We have to play this card."
At one time, anti-Russian activists had many sharp jokes about the fact that Putin would graduate in The Hague, and the patriots tried to scare him with this, reproaching him for compromising with the West, and now this is what the retired American general Clarke is doing.
On the USNI website, performed by author John Grady (see link above), Clark's words are presented as follows:
"Russian President Vladimir Putin is an 'international criminal, and we need to make it clear' as much as the United States condemned Serbia's leader as being responsible for the bloody wars in the Balkans in the 1990s," said a former senior NATO commander on Thursday. " ...
"Screenshot":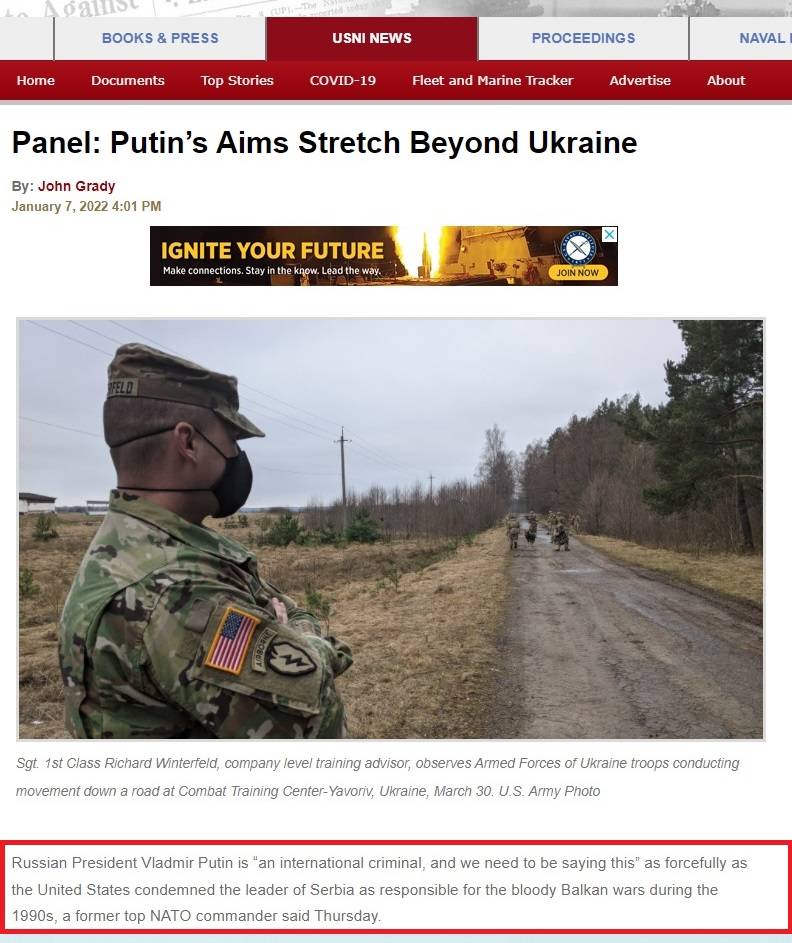 And here we have the right to ask ourselves the question - what was it?
The Hague and the Overton Window
Clark is a professional and quite sane. Yes, this is a retirement, but this is an influential retirement, whom dem. the US party often uses - so everyone remembers his speech about "seven countries we must invade", which was a clear kick to the Bush administration. Clark, however, was hypocritical, because, hinting at the terrible plan of the Republicans to seize and destroy a number of states, starting with Iraq, Clark had nothing against the same actions against Yugoslavia, in which he was the main participant.
He cannot be considered a psycho or inadequate in the usual sense of these words. This person is sane and serious as much as his moral principles are terrible in relation to non-Americans. And you need to take it seriously.
USNI is a structure serving, among other things, American politics, but from the point of view of the development of the Navy. And this is a completely rationally operating structure, respected and widely known, with a good reputation in any circles in which only know about it.
The Atlantic Council, although not a government organization, is an organization created under NATO with the aim of coordinating actions and expanding mutual understanding between the elites of the United States and European NATO countries. That is, it is not just anyone.
But these are not official structures, not someone's Foreign Ministry, not the US State Department, but Wesley Clarke, formally, just a private person who made such a bold hint with the platforms provided by the Atlantic Council (recognized as an undesirable organization in Russia).
Thus, on the one hand, this is a significant statement, and is in no way an "empty phrase", and on the other hand, no claim can be made for it, especially in light of the fact that the similarity between Milosevic's real fate and Putin's possible fate was only made a hint, and no more.
But everyone understood everything.
Let's not pull the cat by the tail.
Such things, strange from the point of view of professionals from military service and politics, are probing the reaction and the beginning of giving such a prospect a real probability of taking place. In principle, everyone is familiar with the concept of "Overton Window" - a method of shifting the boundaries of what is permissible and unacceptable in the minds of people. Originally invented by Joseph Overton, this method has changed significantly and today can be described by the following diagram: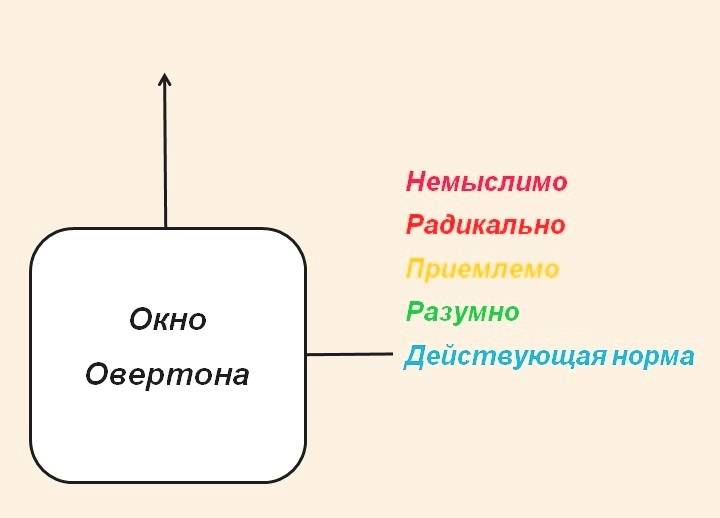 This is the process that Clarke started. It will be shown below that he most likely did not come up with it himself, but worked out the task set by someone, but that doesn't matter.
How might the shift of the "window" look like in relation to the fact that "Putin is a war criminal - we must conduct an information campaign against him - we did this with Milosevic - he died in prison"?
At the first stage, the unthinkable is voiced and becomes discussed. That is, now we can say that Clark is crazy (in fact, not), and the West cannot arrest Putin, since this is a 100% casus belli. Prior to that, the arrest of Putin was unthinkable and, therefore, unthinkable.
The step has been taken.
A little later, someone will lead the situation to the fact that Putin is actually a bad guy, and he should be arrested, but the issue with the consequences must be somehow resolved. So the topic will move on to a practical level. Milosevic was once also impossible to arrest.
And it is this process of shifting the framework of what is possible in the minds of the Western political community that was launched on January 6, 2022. This, of course, will be a slow process, since the task is simply titanic in scale.
So what? The task of overthrowing the USSR without a war was many times more difficult, but in the end it was solved.
However, the launch of the evolution of views in the West on the subject of placing Vladimir Vladimirovich in a Western prison with his subsequent death there (remember
what
said Clark), this is not the only "bomb" in this performance, and not the main one.
Chemical attack in Donbass.
More recently, S.K. Shoigu said that American PMCs are preparing a provocation in the Donbas with a chemical
weapons
... This news did not receive a resonance in the public environment, and was even ridiculed by anti-government skeptics.
Now, digress from the text on the USNI website and watch a video of the online roundtable of what General Clarke said, in addition to hints that Putin might end up like Milosevic. Watching the video.
Unfortunately, there is no written decryption, the site of the Atlantic Council in Russia is blocked, so we just watch and listen. In English, our people do not want to learn to speak in principle, even to the extent sufficient for interrogating a prisoner of war, so we translate from words. Here is a translation of Wesley Clark's words starting at 25:31.
"I want to tell you one more thing. Russians ... In Soviet military doctrine and Russian military doctrine, the use of chemical weapons is not a political decision, it is a military decision. So I am very concerned that in the case of Ukraine, in the event of a military action in Ukraine, we will see the use by Russia of a persistent or unstable [to disintegration] nerve agent ("agent") against the civilian population and against the defenders ... "
Like? It can be seen as a military professional Clark it is embarrassing to say such nonsense, he was already gagging in front of the camera, but, apparently, he asked someone whom he could not and would not refuse, in fact, therefore, about Putin the criminal, we can also assume that Clarke didn't come up with it himself.
Everyone knows that no chemical weapons have been in the arsenal of the RF Armed Forces for a very long time, and that it is absolutely certain that Russia would not use any nerve gas against the civilian population of Donbass, as well as against anyone else, but for Western propaganda such accusations will come off completely, and the population in the west will swallow any lie, that is, any lie at all.
Thus, the Americans are throwing into the media the idea that Russia is preparing to use chemical weapons in the Donbas.
The question is why?
There is exactly one option - it will be used (with an imitation of this for the Russian army), and not as a "means against Russian aggression" (from the military and political side, it is obvious that there is no preparation for this), but as a justification for the military operation of Ukraine (its real owners) against Donbass.

At the same time, it is necessary to clearly understand that the issue of losses is of interest to organizers, but by no means from a normal human point of view, because the more victims, the higher the profit for the organizers.

The goal is to blame us later.

The likelihood of the use of chemical weapons will be especially high if Russia has to fend off a Ukrainian offensive against the republics.
Even if we assume that in fact they scare us so much (if you climb up, we'll poison some city and accuse you), then
this still requires the Americans to be really ready for such actions, including in terms of the availability of chemical warfare agents. So they are ready.
And one should not think that this cannot be - quite recently they did it in Syria, one should not have a head at all so as not to remember about it.
Actually, Shoigu said about this chemical weapon on December 21 last year (
link, video
), just weakly focusing on "chemistry."
Here is another video, at the end he talks about it, along with other facts.
Now the Americans themselves have hinted at the same thing. If, for example, Zelensky starts an offensive in Donbass, and we try to stop it, the Americans will use poisonous substances (OM) on the "peacemaker" after which all the power of their propaganda will fall upon us, accusing us of this crime. There is simply no other way to interpret Wesley Clark's speech.
And by the way, after an attack on the civilian population with some nerve gas, V. Putin can be declared a war criminal without any problems. And, apparently, it will also be possible to issue an arrest warrant. Still, the accusation of mass murder of civilians in a foreign country with the help of chemical weapons is serious.
American chemical weapons.
It is widely known among specialists that the United States, unlike Russia, has not stopped research work on chemical weapons. The Americans are working on the so-called "binary" toxic substances, when the ammunition contains two harmless components, which form a poisonous substance only when mixed with each other.
This focus allows the Americans to hypocritically dismiss claims that, having assumed the obligation to destroy and not produce chemical weapons, they are actually continuing to deal with them. Their motivation is simple - our substances are not hazardous, they are not toxic substances, but what happens there during mixing is another matter.
For a long time, their problem was a poor "exit" - only a small part of the substances in the bomb or projectile reacted. But they have been working on it for decades, and, apparently, they have made some progress.
Now it is not known exactly at what stage these works are, there have been no tests of a binary bomb (BLU-80 / B Bigeye) for decades, at least those that would have been known, but there were no reports of the final closure of the program either. only about intentions. But we don't know everything.
Also, until 1999, binary toxic substances were used in the United States to carry out the death penalty in a gas chamber.
So the Americans have the opportunity to use chemical weapons.
True, the question remains as to how the binary gas will dock with Clark's statement about the nerve effect - what is obtained in the known versions of the mixtures at the outlet does not have a nerve effect. Perhaps Clarke voiced a "nerve agent" to evoke associations with the notorious "Novice", or perhaps our intelligence was mistaken about the "components." The United States still has nerve agents, unlike Russia, they did not destroy the chemical weapons that fell under the bans, they only plan to do it in 2023, and then in words.
In general, they have different options, including "surprises".
Conclusion
The risk of using chemical weapons against the Russian-speaking population of Donbass, preparation for such barbaric operations, and not somewhere in Syria, but right where people have Russian passports, should become a loud bell for domestic politicians. We still see Americans as just people, somewhat similar to us, with whom we can negotiate.
But let us ask ourselves the question - what are the real values ​​and moral guidelines of people capable of such things? Is it possible to negotiate with them, in principle, about anything? Maybe already some other methods of influence are needed?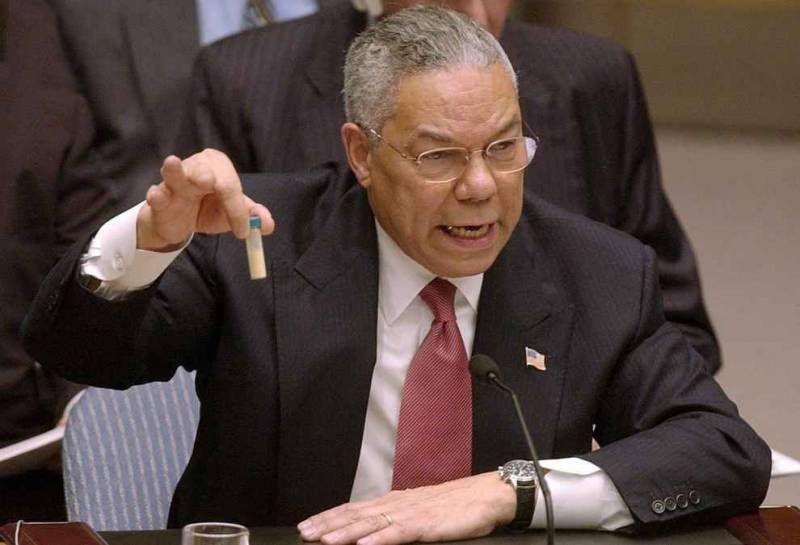 A typical example of American honesty. You need to understand that these people did not become better.
However, our management is confident that it knows the answer. The consensus among the Russian elites is that "these" are civilized people, from whom it is necessary and sufficient to obtain some kind of "legal security guarantees".
What are negotiations for?
With these, yes.
Negotiation.
With people who de facto threaten to kill innocent people, mostly civilians, with chemical weapons (Clark's words have no other explanation) and sincerely believe that this is an act of good and the victory of democracy over the evil totalitarian's and their criminal leader. Those who sincerely believe that it is good and correct to hit these Russians with nerve agents (or binary ones, anyway). Even civilians. Even for women and children. Those who sincerely believe that blaming a foreign leader for all this and then killing him is also good and correct. They really believe that it is good.
But they are still partners. We are civilized people and we decide everything through negotiations. And then again. And again. And again...
This means that the author will not draw any conclusions. Make them yourself.