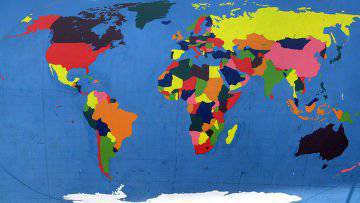 The spread of open violence against America around the world and a surrealist show with the participation of federal agents investigating the case of a little-known Christian film director, who is called the root cause of the fury that has arisen, should make us think about the following question: why do they hate us? Why do they hate America? Why do they hate Israel? What have we done, how have we offended and offended them, besides the fact that we exist and are satisfied with life?
Asking this question, it is extremely important to understand who these "they" are. The easy and incomplete answer is: "radical Islam" or simply "Islam". But in fact, not only radical Muslims, but also exclusively secular forces of the Arab world hate us. The Baath Party, which hates us (the Arab Socialist Renaissance Party), for example, was the brainchild of an Arab Christian. We are hated by the remnants of the gray-haired clowns from the Marxist ranks, whose Soviet mentors called us from overseas "the main enemy."
And of course, we are hated by Americans, such as Obama, who were nursed and raised in evil intent regarding their own homeland, which grew up in a ghostly alternative universe, where anti-Americanism is a dogma. Among those who hate us and live among us are radical feminists, trembling with incoherent rage, when they talk about the loving god of Christians and Jews, who consider his followers to be their sworn enemies, but who display pigeon peacefulness and humility, facing genuine martyrdom of Marxism. There are radical Islamists, there are ancient social systems, where there is a custom of satti, or the self-immolation of a widow on a funeral pyre along with her husband's body, there is a position close to slavery of women in imperial Japan.
Those who hate us hate Israel. Colonialism is often cited as a reason, but this is outright nonsense. Israel was founded by immigrants who granted full citizenship to anyone who wanted to become a citizen, regardless of race or creed. America is the only great power that has never created a vast empire, as Britain, Turkey, China, France, Russia, Germany and Japan did.
Part of the reason for their hatred of us is that we, America and Israel, were the lands of poor immigrants who succeeded. America in particular has demonstrated that "the masses, seeking to breathe freely," can in this country not only become rich, but also live together in peace. Those who left had faith, and this annoyed those who remained. And their anger at the truth is often just shocking.
But there is another line of division, and it is based on devotion to Judeo-Christian traditions and on contempt for this moral system. Remember how the very group of Obama, who quickly blamed for the riots and murders on an anti-Islamic film, recently created the platform of the Democratic Party, in which the words God and Jerusalem had no place. And when these two important words were still included in the election program, the delegates to the congress began to mock and sneer at them. Believers are more likely to support Romney and oppose Obama.
There is a huge gulf of faith, on one edge of which are conservative Americans and Israelis, and on the other the rest of humanity, which hates them. Americans are a deeply religious nation. Despite the powerful pressure from secular progressivists in the 60s, America of the "red states" is much more religious than the Americans of the "blue states". And the United States as a whole is much more religious than European countries. The proportion of Americans who consider religion "very important" is 50%. In Spain, such people are 22%, in Germany 21%, in Britain 17%, and in France 13%.
Many years ago, the Bolsheviks realized that fashionable European (and American) agnosticism is politically very close to militant Islam. It is for this reason that literally every Muslim "leader" over the past sixty years has wholeheartedly supported this or that incarnation of socialism and rejected the famous sayings of our founding fathers that all people are endowed with certain inalienable rights by the Creator.
For the same reason, Keller, in his book, Church and State on the European Continent, published in 1936, wrote: "Fritz Lieb compares Bolshevism with Islam, which is the most powerful enemy of the Christian faith. ... Leninism is a disguised secular religion. " That is why Moscow in the 1950-ies wrote about the "progressive role" played by the mullahs; That is why William Ryan (William Ryan) in his Telegraph Herald, published in November 1951, noted: "The Communists penetrated the ranks of the Muslim Brotherhood, which today are at the forefront of chaos in Egypt, although they had been suppressed for some time" .
This also explains why the Soviet Union so passionately and immorally supported the Arabs in their war against the Jews in Palestine before the start of World War II. The Jewish population and deeply religious Christians are the common enemy of all those disgusting groups, between which only at first glance there is nothing in common.
They hate us just because we are what we are - and for nothing more. The same hostile attitude towards Israel, which is openly manifested in the Middle East, is quietly smoldering in non-believers in Europe. The same irritability that led to the creation of a "map of Jesus' Earth" * makes Islamic radicals hate deeply religious America much more than they hate Marxist China and non-religious Europe.
Those dark days are coming when Iran can kill millions of Israelis for their "crime", that they are Jews, when the American political party "forgets" in its program about God, when it starts an investigation against the Christian director, accusing him of a crime committed by the Libyans. And in these conditions, we need to know why they hate us. And they hate us not for our evilness and depravity (Israel treats Muslims much more favorably than Islamic states themselves, and American Christians collect donations to open missionary hospitals in Muslim countries). They hate us because our lifestyle is good and right.
*
Comic change in the state border between the United States and Canada, proposed in 2004 year on one of the Internet forums and received fame in the American media. The "frontier change" was inspired by the results of the US presidential elections in 2000 and 2004, when the states of the northeast and Pacific coast of the USA voted for the liberal program of the Democratic Party, and the conservative Republican candidate George W. Bush won the rest of the regions (and in the end, both times won the election).
--------
Reader Comments:Standing + wolf
People of lies always hate people of truth.
During an armed robbery, it is not important how sincerely the criminal believes in his right to steal my property, and possibly kill me. What matters is how quickly and accurately I will bring my revolver and shoot to stop its predatory encroachments.
Sue
This is an ancient and evil hatred, which has no logical explanation, because its source is that old and deceitful serpent-tempter. We live in "interesting" time.
Shadow
They hate us because their leaders put the blame on us for their troubles and miserable life. And all these valuable and good things these leaders take for themselves. Their men treat women like cattle. They fear that Western society will open its eyes to the oppressed and cause rebellion against the tyrants. They use their religion to label us evil, so that their peasants do not protest. The current availability of information reduces their ability to control the masses, and this is annoying for them. And at such a time they have a dangerous apologist in the White House.
The Muslim world uses the same tactics as the "progressive" here. These people speak falsely about the merits of charity, and any opposition is called greedy and evil. But the difference is that in Muslim countries they are not provided with state support. They just bring up murderers.
Bryan schmick
There is such an anecdote: it is strange that these people often burn American flags, but never burn American money.
doorgunner656
We are throwing money, trying to solve all the world's problems, and we think that people will love us. Spit the American in the eye, he will say that this is God's dew. Or maybe stop playing the role of a world policeman?