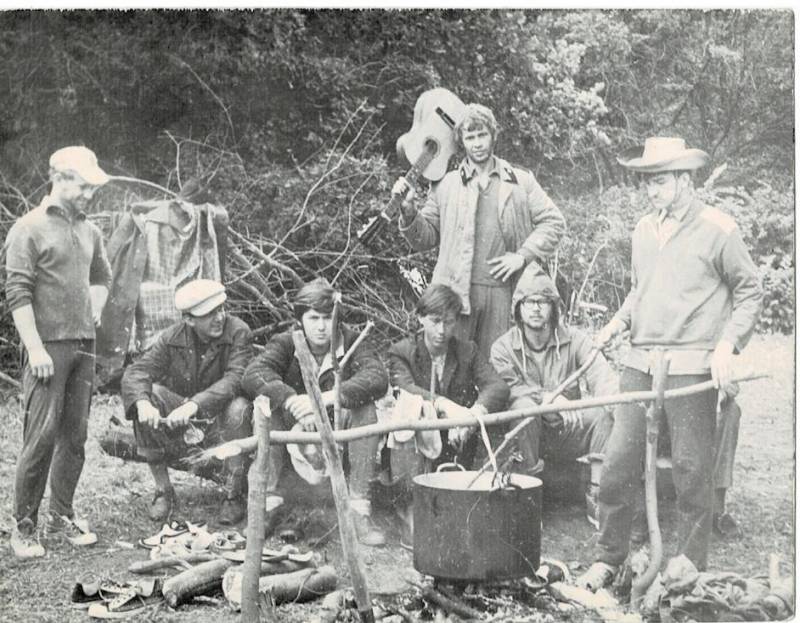 The only photograph of those distant years, namely the summer of 1973, from the very "archaeological practice" that is described in this material. The author in this photo is on the right, acting as a cook and interfering with the cooker in the cauldron. Interestingly, none of those who came to this photo, at the school constantly worked after graduating from the university, including the guys from the village. The author worked for four years, and everyone else ... fled in all directions ...
The tradition is fresh, but hard to believe;
As he was famous, whose neck was more often bent;
"Woe from Wit" A. Griboyedov
Memories of the past.
VO constantly publishes materials on military
stories
ancient cultures, and this is very good, because they broaden the horizons of people who received education during the Soviet era. On the other hand, they are always - and readers' comments confirm this - they are also interested in the "living memories" of people about that era. After all, youth is a time when the trees were taller and the apples were sweeter, and the girls ... The girls all looked like Guljan from Solovyov's novel "Nasreddin in Bukhara", but not the same Guljan from the continuation of this book - "The Enchanted Prince ". Well - it's like an interesting example - whoever reads will not regret it, and ... will find out!
Some memories are very funny and revealing. It was not without reason that Pushkin said: "
We all learned ... something and somehow
". This is about our time. I wanted to find out what the essence of Trotskyism is, and not from the textbook "History of the CPSU", but from his own books "Judas Trotsky", but no - only in the special storage of "Leninka", and only if there is a form of admission to secret documents No. 2. That there is no way for students. If you want to read about the American BMP M2 - the magazine "Foreign Military Review" is at your service. This is for everyone. And not for everyone, but for a select few in the special storage of the same "Leninka" there was a book "banned" by the publishing house "Skvodron-Signal". I reread it all, becoming a graduate student with admission, and at first did not understand why she was banned. There is nothing about the USSR at all. And then I found a phrase and a cross next to it: "
The fighting compartment of the Soviet BMP-1 is very cramped.
". That is why! "We were scolded!"
And there was a lot more, as in Orwell's Animal Farm: "
All animals are equal, but pigs are more equal than others!
""
A nobleman in case, even more so, not like another, and drank and ate differently!
"- that is, someone was still" more equal "than others for many reasons. They could not, for example, do anything to the obvious enemy of the Soviet system (who loudly expressed his thoughts out loud!) To Academician Landau. Yes, and in our Penza Pedagogical University. V.G. Belinsky was a doctor of sciences, a professor, well, let's say - "with a bird's surname", who carried out excavations and wrote books, but also put a fair amount behind the collar. What his name was in fact, now does not matter, and he was not the worst person, but about the dead, or good, or nothing.
It is known that in Russia drunkenness, if not particularly encouraged, was in any case not punished, although there were exceptions. "I was drunk!" Is the best excuse of all time. That is, we had two laws: one for the sober, the other for the drunk. It didn't cost Ptitsyn anything to come to the lecture "on tour" and read it like this: "Hey you, patlataya! When did Batu come to Russia? Yeees? You fool, sit down and don't get up. Who knows what akinak is? A crooked sword? You yourself, a crooked sword ... Sit down, you fool! " And so in the same spirit. It is clear that we, freshmen in 1972, were simply stunned by this. Doctor of science, professor, and suddenly something like that ... Only one girl who had a "big shot" dad refused to answer him. And no one asked to go to the toilet and notify the dean's office about what was happening.
Not so now, even though our current education is criticized. Once we took a professional journalist to our department of PR and advertising: one of the modern requirements for higher education is the obligatory presence of practitioners from production among the staff of the department. In our case, these were practicing journalists, PR men, advertisers. And then one came "under the chauffeur" and ... he did not give his lecture for long. Immediately one of the students went, called the dean, he "sniffed" the lecturer, after which exactly 30 minutes later he was no longer working for us! And do not break the rules that you yourself signed.
In general, Ptitsyn got away with everything, because "there was no one to replace him", and "cadres decide everything". In addition, he was the only one who took students to an archaeological practice, where they dug and found something there, and then these finds ended up in the institute's archaeological museum.
It's time for summer practice for our group as well. And some remained to work in the archive, while others went to the "field". I was among them.
And then in the Penza region there was a very remote and rather "wild region" - Zemetchinsky. And that's where they took us. Doctor and senior lecturer without a degree. Two of a Kind. We set up a tent camp on the bank of the river. All around nature - I don't want to admire! Here is water, here is a forest, here is a mountain ... Romance!
True, food needs to be cooked for 25 people on a fire, and not everyone really wanted to do this. Fortunately, I knew how to cook from early childhood, immediately offered my services as a cook, and so I remained in this position. This is how important it is for a man to be able to cook! Because ... we didn't start doing anything interesting there, that is, excavations! And they began to make a dissertation for this second ... The essence of the work was that we brought with us rolls of questionnaires of rural citizens and it was necessary to write on them whether this or that citizen or citizen who lived in the village lowered his level of education in Soviet times or not raised. Nudyatina is still the same!
By God, it was easier for me personally to chop meat and cook stew than to mess with these papers and numbers.
How to have fun? And like this: not far away was the village "10th October". And our students, who were older and came to the university after the army, immediately went there with a can for moonshine. In our camp slang, it began to be called "to follow the legends," they say, we also collect legends and write down folklore ... Well, on the very first evening we began a general drunkenness, in which our spiritual leaders and mentors took an active part. And they did not just accept, but drank themselves "to the position of the robe," so that then they lay around like pigs in nettles, and other students, also in the appropriate condition, relieved them of a small need ...
In theory, of course, immediately after that it was necessary to pack up and go to the city, to the party committee of the institute. But ... that's not how we were brought up then to shove against the elders. They understood that they simply would not forgive us for such a demotion of a doctor of sciences, and there were still four years of study ahead! So none of us, non-drinkers, went anywhere. And he did the right thing, as it turned out. When a year later the story of the drunkenness of the students reached a discussion with the dean and the party organizer, and one of the students "remembered" who set an example for us, he was immediately told: "Everything that concerns students, you can say, but about the teachers it is better for you to keep quiet!"
And then it started raining and, as it turned out, our tents were set up incorrectly and they are flooded. Moreover, in one of them a can with "legends" was overturned, and it became completely impossible to be in it, and even close.
Here, fortunately, abandoned peasant houses and ... hidden in the woods, a very cozy Saturday and Sunday rest house for local leaders and the party elite were found nearby. The whole week it was empty, and on Saturday evenings the local authorities came there to have a rest and have fun "with women". There was only one caretaker there ... and we persuaded him to let us go there for the night on the condition that after us there would be complete order and ... clean bed linen.
Therefore, we slept there on top of blankets in all our ways, but since it was summer, we did not complain about the cold. It was a cozy place, you won't say anything! With a billiards table, a Zilovsky refrigerator, a place for a barbecue - in a word, everything for the people, well, some particularly good part of it.
But on Saturday and Sunday it was necessary to leave it. And then we moved into empty houses and slept on ... Russian stoves, laying sleeping bags on the stones. In the morning, people began to gather in the empty camp ... for breakfast. And then they tried to disappear as soon as possible, just not to bother with these nasty figures - who raised their educational level, who lowered (and there were some, by the way!). Our "leaders" gathered us to work almost by force, but the forest is large, there are many abandoned houses ...
But what about the excavation? But in no way! Only at the end of the "season", literally two days before departure, did our leaders make a sortie to the rampart, which was quite far from us. There they dug something, found burnt coals and concluded that there was a wall on the rampart, and there were two towers near the passage in it, and all this burned down, but when - God knows. I myself did not go on this trip, I happily escaped this fate, because many students remained in the camp and it was necessary to feed them all.
We returned from this trip all angry and dissatisfied, and some simply hated each other. Then I really wanted to write about this "practice" in our regional newspaper, but did not write. I was afraid. And where is the guarantee that then all the students would unanimously confirm my words. After all, these two teachers had their favorites, who would have followed them, let's say - far away, besides, one of them was not an ordinary student, but the boss's son, in a word, all this would be dearer to himself in the end. And then I didn't have a camera to shoot all these drunken ugliness!
So when they talk to me about free Soviet education in higher education, then ... I am rather skeptical about talking about it as of high quality. Two drunkards with red noses were by no means suitable for educators of high communist morality, and it's not for nothing that a number of our teachers of that time were brought up with personal files on the party line. And it is hardly only on our Penza "pedyushnik" that such a "cross of fate" came together. Surely the same took place in other educational institutions of the country. It simply could not but be within the framework of the system that existed at that time. So when some here on VO write that "they taught well then", it only gives me a feeling of a certain doubt about the competence of the authors of such comments. They taught in every way. Somewhere good, yes, but somewhere ... they preferred "to follow the legends." By the way, the success of our children at the international Olympiads just speaks to the fact that even now they teach well somewhere. And someone is a good student himself! In this regard, absolutely nothing has changed in our country!
PS It is interesting that now there, near Zemetchino, in the surrounding villages, houses are being sold for 1,5 million rubles or less. The gardens are 16 acres or more, and everything grows there - just heaven on earth. All amenities, gas, water and more. The beauties of nature are simply marvelous. But they are selling. Probably, I don't want to live far from the "center".