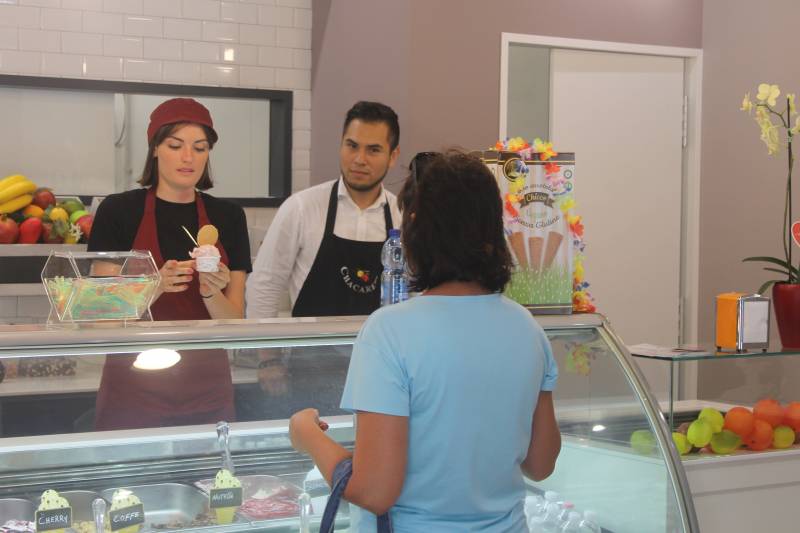 Modern civilization would be unthinkable without a trading system. Here goods are exchanged for money, and money for goods ... Photo by the author
"Somewhere in the distant Galaxy, once upon a time," shop wars "raged.
From "
Stories
humanity of the first century of the machine mind "
____________________________________________________________
Franklin was still standing still when Judith, dressed in a coat, approached.
- We have to go to the supermarket ...
Franklin followed her.
"I'll give you a ride, Judith," he said in a faint voice. "I need to see a new model car today. It will go on sale at the end of the month. Thank God we will be able to buy the car from the first batch!
They walked out onto a neat garden path. The sky was not visible due to the giant silhouettes of billboards. The day was flaring up. And the shadows of the shields hung over the heads of the people who flocked to the supermarket in dark, weak-willed streams ...
"You will buy, doctor!" Ballard James Graham. Translated from English by K. Sechina
Modern civilization and modern culture.
Today's material is 1600th in a row on this site. From the very beginning, I wanted it to be special, not about pistols, rifles and not even about the Bayeux tapestry, but about something equally interesting to everyone. And such a topic was found.
Those who have been warned are already armed!
"Be careful, shyness is your best friend. The enemy is also where there is no one around. "
Hamlet William Shakespeare
Since we are at VO, it is clear that the topic should be military. But wars are different. Therefore, today we will talk about one of the most invisible wars in the world - about our war with objects of trade, that is ... with shops. The purpose of the latter in this war is to lighten our wallet, that is, to inflict the most serious "defeat" on it. Accordingly, our goal with you is to preserve our finances not to the detriment of our interests, mood and ... health. Which, by the way, we all wished for each other on the New Year holidays just passed. Not everyone understands that a modern store (as, indeed, any store in general, and at all times!) Is by no means a friend to man, but his primordial and sworn enemy! You, adults, should remember this and command this to both your children and the children of your children.
"Company plan"
- By the way, I have a plan for a sortie alone. - And immediately the plan! Looks like you are the command staff!
"Hussar Ballad"
First of all, when going to go shopping, think that in reality you will have nothing more than "military operations" in enemy territory. A real army of sellers, advertisers, marketers and merchandisers is hunting your wallet here. Absolutely everything works against you here: red packaging ("the fools love red"), but something in shiny (they love shiny even more than red!), A tasty smell of vanilla and pleasant or rhythmic music, yellow tags and large print beckon with discounts the price tags for purchases with a premium are 4 + 1, the goods on the shelves are not at all random (psychologists thought about how to arrange them!), that is, everything is precisely calculated, and even the children's room was not invented at all for your convenience, and so that no one and nothing would prevent you from parting with your money as soon as possible.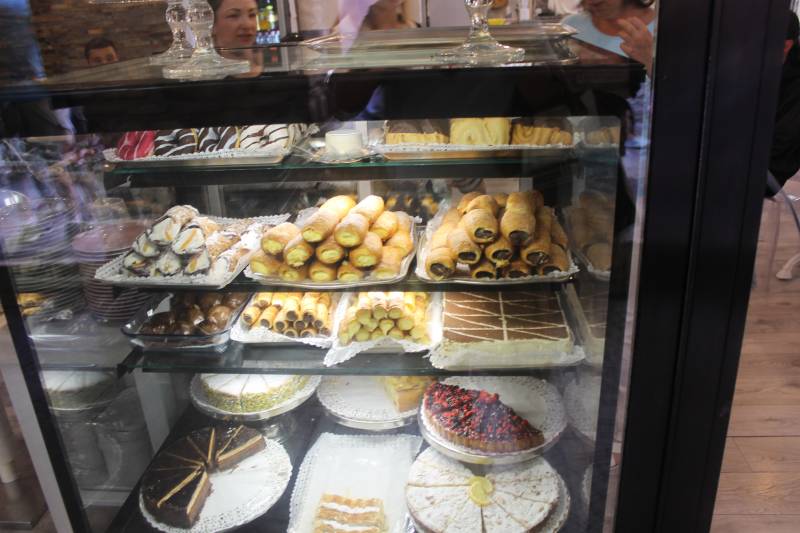 A product that is beautifully laid out on a window is an important means of attracting the attention of customers. And if the cake is also cut and its filling is visible, this is even better! The saliva is already flowing! Photo by the author
As in any war, you will need pre-developed strategies and tactics. Napoleonic: first, they say, you should get involved in a battle, and then you will see, it will not work here - you simply don't have enough money to put it into practice. The strategy of maximizing money saving is much more profitable, because only it, and the tactical techniques corresponding to it, that is, a "campaign plan" thought out to the smallest detail, will give you the opportunity to beat the store in this tough battle for your precious wallet!
Consider every little thing!
Who sharpened the bayonet, grumbling angrily / Biting a long mustache.
"Borodino" M.Yu. Lermontov
Preparing to go to the store, you should also "sharpen your bayonet for hand-to-hand combat" and above all have a little snack. Never, remember this - never go to the store on an empty stomach. You can laugh at British scientists as much as you like, but they proved a very important thing: a well-fed person buys 15-20% less food than a hungry one!
Do not forget to take from home the packages you have already used or a canvas bag - this will help the ecology of our planet and will save you a very decent amount in a year.
Most importantly, don't even think about going to the store without making a list of the purchases you want. It has been proven that all marketers and merchandisers in the world are powerless against a buyer with such a list. But before you make this list, try first to make yourself a menu for at least two or three days. And keep in mind: just compiling a shopping list according to a pre-compiled menu automatically reduces your food costs by as much as 20-25% per month.
Don't leave the house without checking what you already have, say, in the fridge and in the freezer, and what is stored in bags in the buffet. It is possible that you have stocks there for the whole winter, so why then buy something else? Cook with what you have and don't buy anything new from the old.
As much as you would like, but small children should not be taken to the store. Because everything is done there to make the child salivate, and so that you buy him something tasty. Estimate how much money it will take you for the year for "Kinder surprises" if you buy them every two or three days. The amount will be very impressive.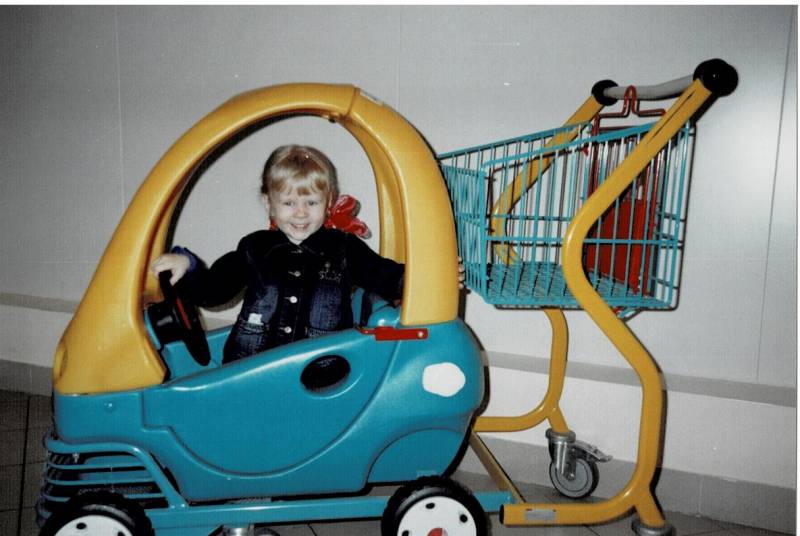 A special basket stroller for children to take them around the supermarket. Do you think this is for your convenience? Nope! Of course not! Designed to get you to buy something. But what about - the child is happy, you are pleased, you want to please him with something else, to prolong the pleasure ... It was then that you got caught! Photo by the author
Pay for purchases according to the list either in cash or with a bank card, but only for the amount that you considered possible to spend. But if it suddenly becomes larger, you should abandon the purchase. Feel free to tell the seller that you have no extra money. Remember that the seller is not a person, but "a mechanism provided by the article," and besides, he is also an accomplice of the store, that is, your enemy, so you should not be ashamed of him.
Keep in mind that the more often you visit stores, the more money you will leave there, and vice versa. Ideally, you should make a menu for a week and only once and for the whole week, and buy food for it, except perhaps bread and table greens, which should always be the freshest! You should not buy kilograms of vegetables such as cucumbers and tomatoes. You need to take them for two days and no more, because then they wither.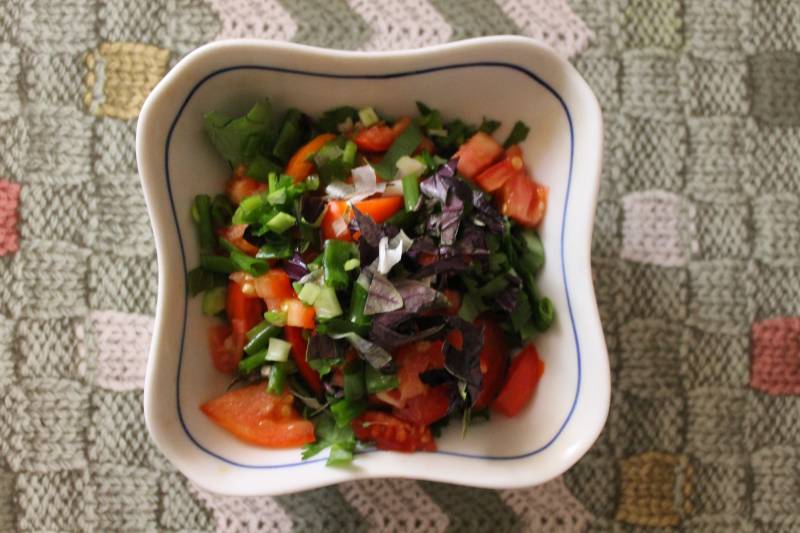 For such a portioned salad, all vegetables must be fresh. Greens are finely chopped - parsley, basil, green onions, tomatoes, all this is seasoned with olive oil with balsamic vinegar or lemon juice and - wow! You can't store it. Chopped, poured the dressing and no salt on the table. And immediately invite them to have a bite, and let the people themselves salt and mix! Convenient, fast, tasty, healthy
Your actions on enemy territory: how best to shop ...
"There was a heat from the store, like from a factory, and this heat came mainly from the counters, where there was a lively sale, the hustle and bustle of which was felt even outside the walls of the building. There was a continuous hum in the room, as if from a car in motion and incessantly processing customers - they were knocked together in front of the counters, intoxicated with goods, and then thrown to the cash registers. "
"Ladies' happiness" Emil Zola
Once on the territory of a "potential enemy", that is, in a store, you should take a basket for shopping, but not a wheelchair. Do you want to buy a lot of everything? Then you can't do without it, but ... don't take the big one, but use the small one. The fact is that our brains have a strange ability to fill the void. That is, it will push you to buy as much of everything as possible.
Try to go only to those departments where the products on your list are located. An extra department is an extra temptation!
Do not buy packaged washed vegetables. They are not only more expensive, but also store worse than ordinary unwashed ones. Also, do not take slices: fish, sausage, cheese. Not only are these products more expensive, it may also be so that this is ... "repackaged goods", the expiration date of which, let's say, has either expired or is about to expire, and it was taken, washed, cut and ... beautifully packaged. Whether it is true or not, the people say that this happens, and there is no smoke without fire. So let's not risk it.
It is advisable to buy products from local producers. This is both patriotic (!) And beneficial in that you do not have to finance someone's customs and transportation costs.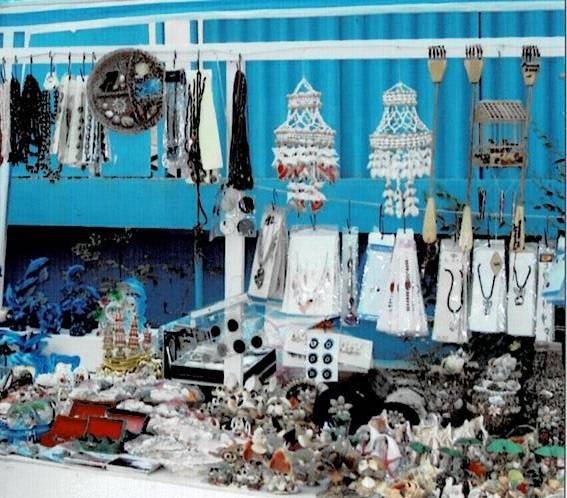 Oh, this is the abundance of southern "outlets". Shells, chains, souvenirs ... So I would have bought everything. But why do you need all these trinkets. For memory? One magnet for a refrigerator and photos taken with a camera or mobile phone is enough! Photo by the author
"The shop's secret weapon" and the fight against it
"... we will attract crowds of women here, we will keep them in our power, we will seduce them, and they, mad at the piles of goods, will, besides, empty their wallets. The thing is, my dear, that they need to be inflamed, and for this we need a product that would charm them, cause a sensation. "
"Ladies' happiness" Emil Zola
But the most important thing is to know the secret.
weapon
your enemy. "Heavy artillery" - and at first glance completely invisible, is the layout of the goods. The most expensive ones are located at eye level, at the level of an outstretched hand - the second in cost, but the cheapest are specially hidden either at the very bottom or on the upper shelf. Here the bet is on laziness. Your brain doesn't like to waste your body's energy in the expectation that it might need it. Therefore, raising his head, lowering himself and even more squatting in front of the shelves with the goods for him is a "headache". Make him do what you need to do, and you will win your first victory over the store!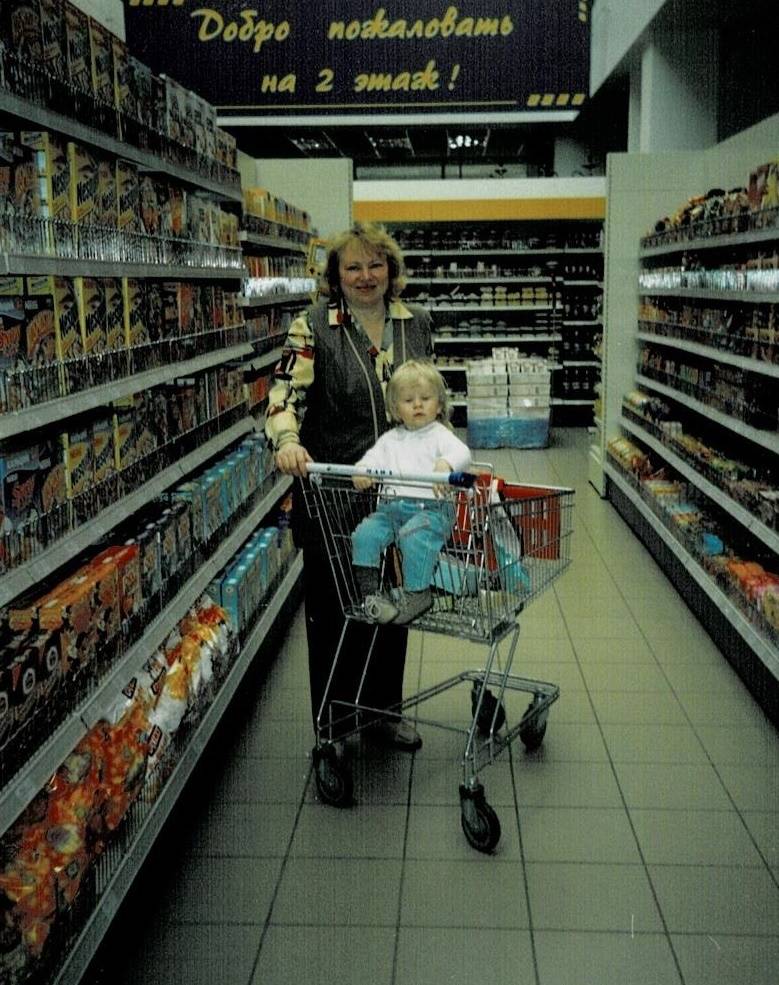 The display of goods in modern supermarkets is in fact the result of delicate calculation on the part of specialists. Photo by the author
And do not try to pay for what is being advertised right now. The advertised product is always more expensive. Remember also that any new food product can only be bought ... in the first two weeks from the moment it appears on the shelves. Because it will contain everything that is supposed to be. As soon as people taste it and start buying it in large quantities, the quality will drop dramatically and it will taste like shit. Of course, there are exceptions, but ... it's better not to risk it! More than once I was convinced that this is exactly the way it is.
The products of hypermarkets under their own trademark, that is, from "manufacturers-sellers", will always be cheaper, since there is no mark-up of intermediaries between the store and the manufacturer in its price. Consider this circumstance as well.
Finally, the best retaliation for your store is going to ... the good old market. Try to go to the market more often and buy food there. Greet the sellers and smile at them, have a "little conversation" with them (there is such a term abroad, and this is very correct), praise their goods. After some time, you will have "your" sellers in this way, and they will appreciate you and will not slip the bad. And if you suddenly slip it in - do not hesitate and loudly and publicly reprimand on Saturday or Sunday after 11.00, when there are most people in the market. You have nothing to stand on ceremony with them and not baptize children together!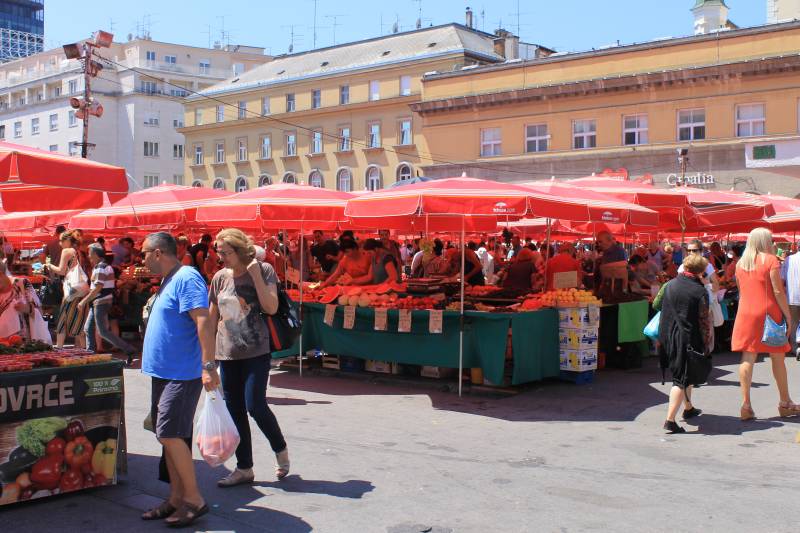 It is best to buy food in the summer, and in the winter, too, in the markets! This is how, for example, the city market in the Czech city of Brno looks like. He works there in the morning right on ... the city square! Photo by the author
Haggle! Haggle with strangers, and even more so with familiar bazaar sellers. Ask them for a discount! Like, I'm a regular customer, but where is the discount? Train them to trade in a moral way. Remember: bazaar traders are your allies in the "shop war". But they are also merchants and you can't relax with them!
To be continued ...