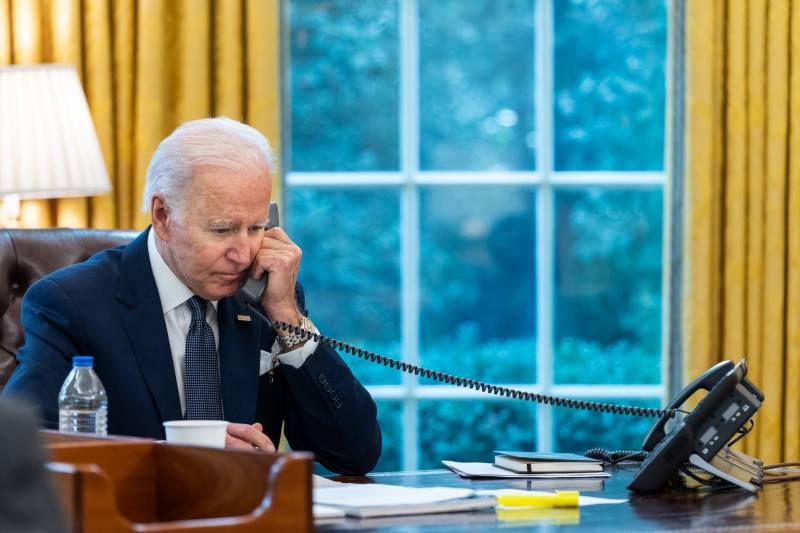 US President Joseph Biden held telephone conversations with the President of Ukraine. These talks were announced a few days ago. Then the administration of the American president announced that "Joseph Biden will contact Vladimir Zelensky before the start of negotiations with Russia and the field of consultations with NATO partners." Let us recall that in Ukraine they are promoting the thesis that no negotiations on the issue of Ukraine without the participation of Ukraine itself "are impossible, and if any decisions are made in their course, then Kiev is not obliged to carry them out."
The White House press service informs that the US President has assured his Ukrainian counterpart that "Russia will pay a high price for an attack on Ukraine if this happens." Recall that the topic of allegedly preparing Russia for such an attack has been discussed for several weeks. At the same time, each time the "forecasters" name different dates for its beginning - either Catholic Christmas (already passed), then the beginning of 2022, then February ...
Press Office of the White House:
President Biden, speaking with President Zelenskiy, noted the following: The United States and its allies will make Russia pay a high price in the event of a Russian attack on Ukraine.
What specific "high price" can be discussed is not specified in the American administration.
It is noteworthy that, for his part, Volodymyr Zelenskyy expressed words of support regarding direct negotiations between the United States and Russia, as well as between NATO and Russia. It should be recalled that these negotiations will begin on January 10, and they are dedicated to the development of decisions on security issues. Earlier in Ukraine it was stated that the Ukrainian delegation should be present at the talks between Moscow and NATO. NATO made it clear that this is impossible.