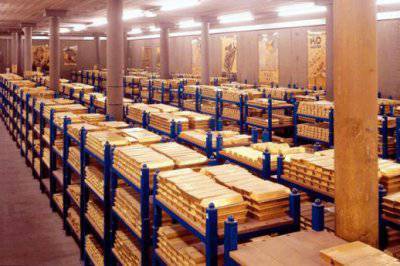 Recently, on our website, the topic of a sudden increase in gold prices and the fact that China can make purchases of this metal for its reserves without publicizing such trade deals was discussed. The initiator of the idea of ​​"secret" gold purchases of China can be considered Western journalists who refer to the publication of the American blogger Tyler Dörden, under whose nickname they suspect a very influential representative of US financial circles.
Today, the same Western press has decided to turn its attention to Russia in connection with the increasing rate of gold purchases by our country. Literally, one by one, materials began to appear, telling that Vladimir Putin deliberately gives orders to buy more and more gold in order to be able to either put pressure on other countries of the world, or declare the use of gold as an alternative world currency. This, in particular, expressed by representatives of such publications as The Australian (Bussines with Wall Street Journal) and Gold Investing News.
The authors of the materials are seriously concerned that over the past five years, Russia has almost doubled its gold reserves and brought them to the value of 9% of the sum of its total financial reserve.
In order to show that storing gold will not lead to anything good for Russia, the statement of such a well-known person like Warren Buffet, who once said that a person takes gold from one pit, then put it in another pit, is published. According to some Western economists, such a position today looks completely ineffective, and the same economists call the whole desire of Russia to increase its gold reserves simply ridiculous. In their opinion, today, gold cannot in any way reflect the level of success of an economy of a given state, the level of activity on world trading floors, but, according to those people, real money can successfully reflect all of this.
After such a statement by American economists, I want to ask a question: what kind of real money are you, gentlemen, talking about? Is it really a question of the dollar, which today, if it reflects something, then only the color of the state of the American economy is, you know, gray-green. Whether it is covered with a completely unsightly mold, or with moss, emphasizing the deplorable state of the US financial system.
It turns out that gold is, according to some experts from the United States, a product that is completely illiquid and simply obsolete as an object of maintaining financial stability, while the dollar is literally the world flagship of the economy. Well, do not tell ... After all, we are here in Russia, despite our distance from Wall Street, we are well aware that the times of the dollar are going to
history
. By and large, adequate American citizens understand that today to continue to rely on their currency, just because it is full of wallets and accounts of Russian oligarchs, Saudi and Qatari oil magnates are filled, it just makes no sense. The whole point of developing the economy on the basis of printing new and new banknotes of the national American currency has long since disappeared, because sooner or later freshly printed dollars will be in the hands of people accustomed to transfer them to "safe places": offshore companies or their own financial institutions. That is, the dollar is printed only in order to follow the same path again - the ways of settling where no real work will lead this money. Can the dollar work today at all if it loses more and more of its strength? ..
If Western economic experts have paid attention to the growth of Russian gold reserves, this is by no means accidental. Obviously, gold has not prevented any country in the world in terms of maintaining a stable state of the financial system. The more gold reserves of the state, the easier it is to survive any financial crisis. So it was before, so it is now, so it will be, at least in the near future.
True, there is one nuance. People who are not at all interested in the growth of gold reserves in Russia and China will try to do everything to not only show the ineffectiveness of the authorities' actions on large-scale gold purchases, but also artificially devalue this material. Attempts at information pressure, we already see, it remains to wait until Western exchanges "react" to Russian and Chinese gold purchases "properly." This reaction, most likely, will look at first as a sufficiently sharp rise in prices for the precious metal (which is already happening now), and then a completely unexpected decline. In other words, the Western financial system is now even interested in the fact that some countries are buying gold, because today it fills the economy of the Eurozone with living money. But on the other hand, the West will try to do everything so that gold purchases are now at very high prices in order to extract the greatest benefit for themselves. And as soon as all the juices from the sale of gold are squeezed, its price will sharply rush down, which will be explained by a new round of economic crisis.
As it is not difficult to guess, this "new round" will be nothing but banal speculation. Obviously, the real price of gold itself cannot gallop, going under 2000 dollars per ounce, then sagging to the value of 1300-1400 dollars for the same mass for a short period of time. That's right: it cannot by itself, but, as they say, with someone's light hand ...
In general, it is quite possible to say that today's rise in gold prices, which has been observed in recent months, is the reaction of the western financial system to the increase in the gold reserves of Russia and China. And the task of this system: to show once again to the world that the currencies of the world (dollar and euro) considered to be the main ones today are still full of powder in the flasks. The price will come, for example, to 1900-2000 dollars, this price will begin to be drastically lowered, in order to begin again to replenish its worn out gold reserves at the expense of a cheap precious metal.
If everything goes exactly to this, then Russia, together with China and, possibly, India (as one of the major global players in the gold market), is time to think about how to stabilize the price of this precious metal. If the price is predictable, then speculators in the West will have far less room for maneuver.