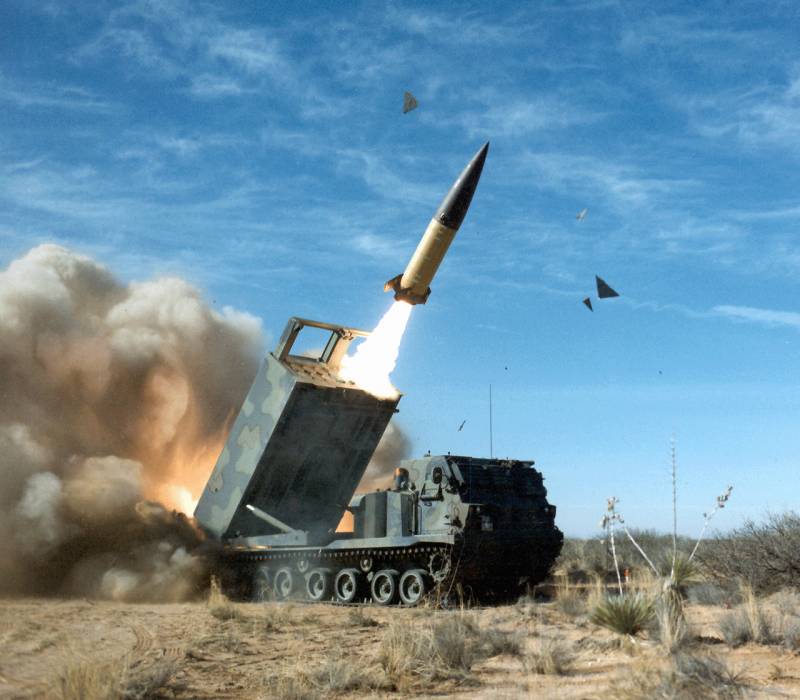 ATACMS rocket launch from the M270 launcher
A fairly large contingent of the US armed forces is stationed in European countries, and in the foreseeable future it may be strengthened. In particular, the transfer and deployment of additional ground-based missile systems of various types is possible. While such events will be able to give only a limited result, however, in just a few years, fundamentally new combat capabilities are expected to appear.
Funds on duty
There are already American strike missile systems on European territory. These are multiple launch rocket systems with the functions of the M270 MLRS and M142 HIMARS operational-tactical complexes, belonging to the missile forces and artillery of the ground forces. The total number of these funds, according to various sources, does not exceed several dozen.
It is assumed that the existing missile and artillery units in the uncertain future will be supplemented with new ones. This can explain the recent restoration of the 56th Artillery Command. All the current and future artillery units of the United States and, possibly, other NATO countries will be under his control.
MLRS M142 uses standard ammunition
In the context of strike missiles in Europe, it is also necessary to recall the Aegis Ashore missile defense systems. They are not without reason suspected of being able to keep on alert and use not only anti-missiles, but also Tomahawk cruise missiles in the surface-to-surface version. However, the American side rejects such suspicions and speaks of the inability of Aegis Ashore to solve problems other than defensive.
Thus, Europe still has only a limited range of tactical and operational-tactical missile systems. However, nothing prevents the existing grouping from being strengthened in accordance with plans and needs. Moreover, the US Army has repeatedly practiced the transfer of artillery and missile weapons both across Europe and across the ocean.
In the near perspective
Now the Pentagon is making the most daring plans and developing advanced weapons. Nevertheless, in the coming years, its real capabilities to strengthen the missile group in Europe will be very limited. For now, the American army will have to make do with only those systems that already exist and are in service.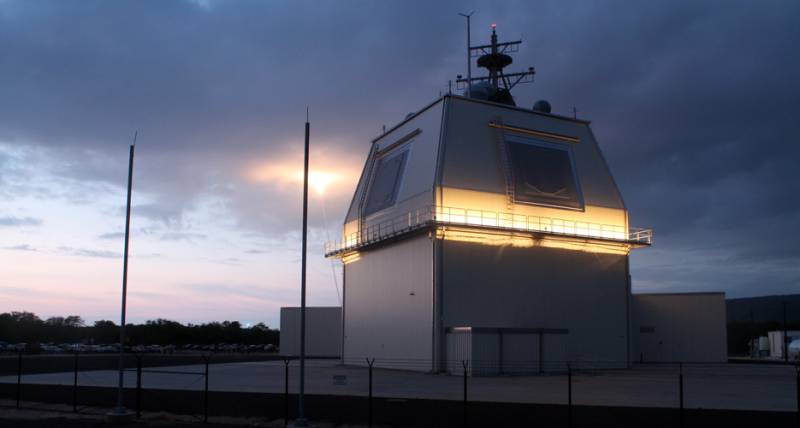 Complex Aegis Ashore with unclear combat capabilities
If necessary, new batteries and divisions equipped with MLRS M270 and M142 can be transferred to Europe. Such a step will expand the capabilities of troops to engage targets in the near rear of a potential enemy within a radius of tens of kilometers. In addition, ATACMS missiles can be used on newly deployed launchers. Depending on the type of missile, this will allow attacking objects at ranges of up to 300 km.
It should be noted that the deployment of additional MLRS / OTRK MLRS and HIMARS, in fact, will give results only of a quantitative nature. A qualitative growth with an increase in combat characteristics is currently impossible, although it is expected in the future.
Although there is no clarity on this issue, the Aegis Ashore missile defense systems should also be considered. One complex of this type is already on duty in Romania, and the second is being completed in Poland. The launcher of such an object has 24 standard missile cells. In theory, it could hold Tomahawks to strike ground targets. Depending on the missile modification, this will allow attacking targets at a distance of up to 1500-2500 km.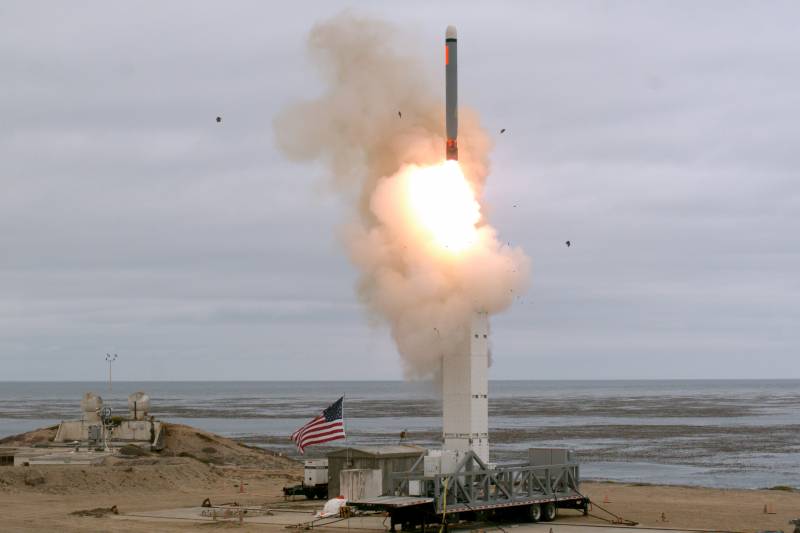 Test launch of a Tomahawk rocket from an experimental installation
However, this is only a theoretical possibility. It cannot be ruled out that American statements about the impossibility of using Aegis Ashore in a striking role correspond to reality and are not a "military trick". Accordingly, at the moment and in the near future, the US ground-based missile potential in Europe will be based only on MLRS / OTRK.
2023 year
In the interests of the US Army, several new missile systems of different classes with differing capabilities are being developed. All these products are planned to be taken into experimental military operation in 2023. Accordingly, in 2023-25. new complexes can reach Europe. Their transfer to the continent will indeed be able to influence the general military-political situation.
The first complex of this kind may be PrSM (Precision Strike Missile), intended for the future replacement of the existing ATACMS. This project offers an operational tactical missile suitable for use with MLRS and HIMARS launchers. Ammunition for one installation will be four or two missiles, respectively.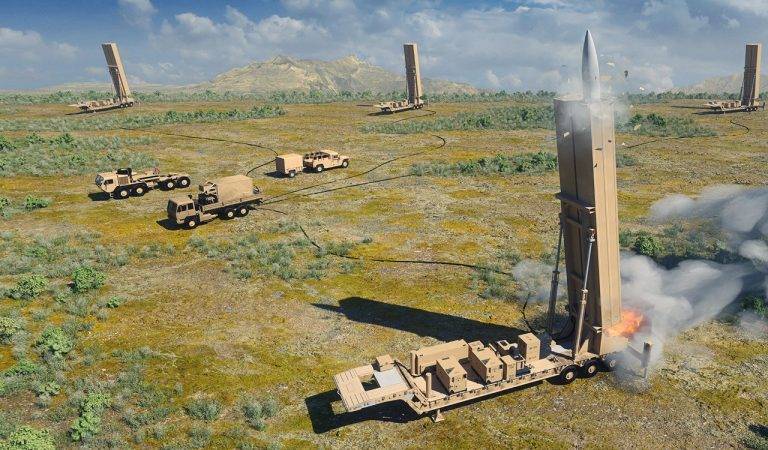 The design appearance of the Dark Eagle complex
At the time of the start of the development of the PrSM, restrictions were in force, and the missile's range was determined at 499 km. Now we are talking about more than 500 km, but the exact numbers are not called. In addition, in the future they want to create a modernized missile with a range of at least 1000 km. In all cases, a conventional warhead will be used.
PrSM is being tested; the last launch took place in October this year. It is reported that all activities are proceeding according to the schedule, and the missile has every chance of getting into the troops in 2023. Then, with its help, the existing ATACMS will gradually be replaced - with an understandable increase in operational and combat capabilities.
The start of testing of the promising LRHW Dark Eagle hypersonic missile system is scheduled for next year. If these measures do not encounter problems, by the end of 2023 the complex will be able to enter experimental military operation, and after a few years it will begin full-fledged duty, incl. in Europe.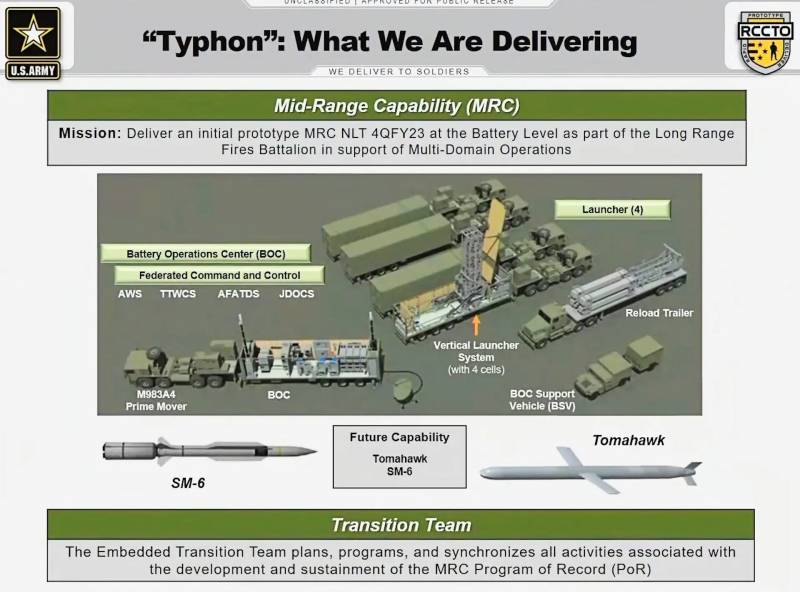 The LRHW complex will use a new missile with a hypersonic gliding warhead and a conventional warhead. The launch range is reported to reach 2775 km, and the block's speed will exceed 5M. Intercepting such a missile will be an extremely difficult task, and therefore the presence of complexes in Europe poses a particular danger. It is possible that it is Dark Eagle, with its special capabilities, will become one of the key elements of the future European strategy of the United States.
In 2023, they plan to launch the Typhon missile system for testing, capable of using two types of ammunition. The ammunition load will include a ground-based version of the Tomahawk subsonic missile with a range of 1500-2400 km. In addition, they integrate the RIM-174 SM-6 Block IB anti-aircraft missile, redesigned into a qualifying strike
weapon
with a range of at least 700-720 km. The Typhon can be seen as a more flexible, but less long-range addition to the LRHW.
Development and threats
Thus, the United States has the opportunity to additionally build up its contingent in Europe and provide it with new combat capabilities. In particular, there is a certain potential for increasing the number of missile forces and artillery. At the same time, there are certain limitations that do not allow you to quickly and easily solve all such problems.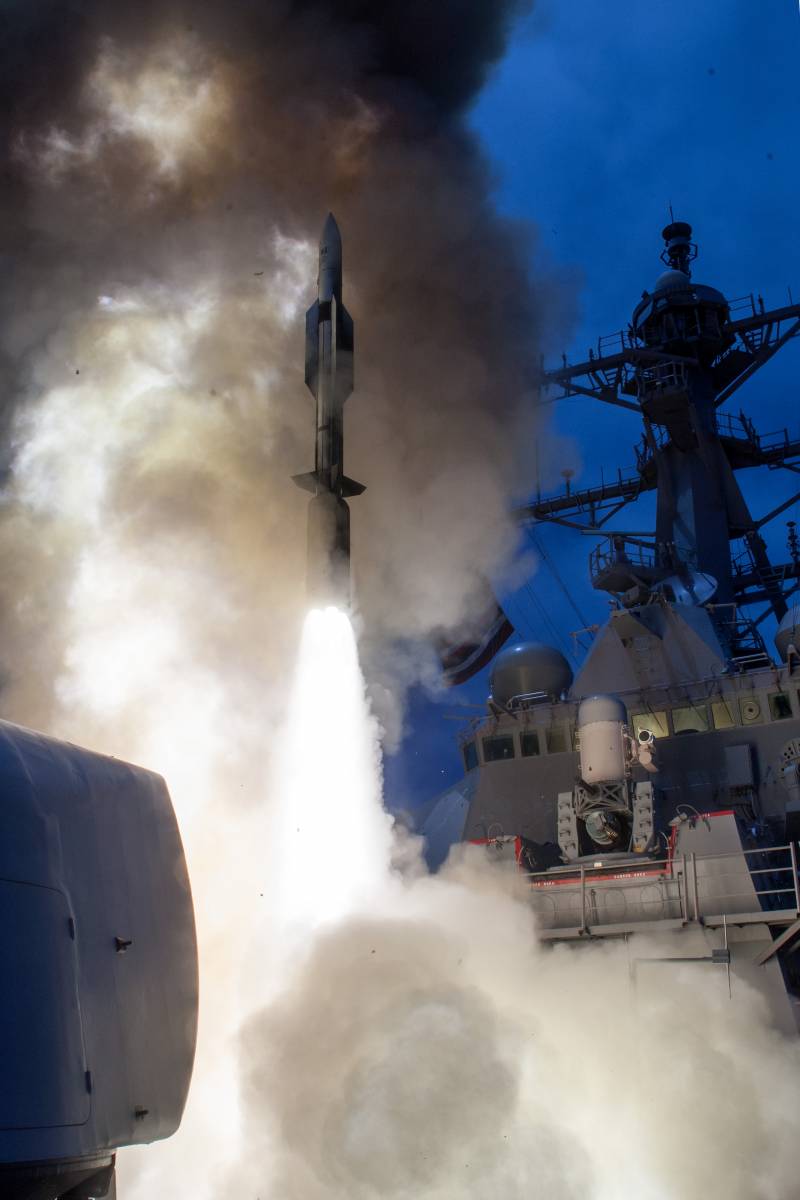 SM-6 missile launch in the original anti-aircraft configuration
It is easy to see that the missile situation in Europe will not fundamentally change in the coming years. Up-to-date models with known characteristics, capabilities and limitations will remain in service and on duty. The entire development potential will be reduced only to a change in the number of "European" units and the number of missiles in them
Preconditions for qualitative changes are expected only after 2023-24. Moreover, they will be possible only in the absence of any problems at the current stage of development and testing of promising weapons. Otherwise, the start of the hypothetical rearmament will be postponed indefinitely. However, new projects promise a significant increase in combat capabilities and, probably, the Pentagon is ready to wait as long as necessary.
With all this, objective restrictions in the context of missile forces do not negatively affect the overall potential of the US European contingent. The fact is that its strike capabilities are determined not only and not so much by the missile units of the ground forces. Tactical and strategic
aviation
The Air Force or Navy ships are capable of taking on part of the combat missions corresponding to their weapons, as well as supplementing or replacing the missile forces. In fact, there is a multi-component threat, each component of which must be considered in planning. And it is obvious that none of these issues will go unnoticed by our army.