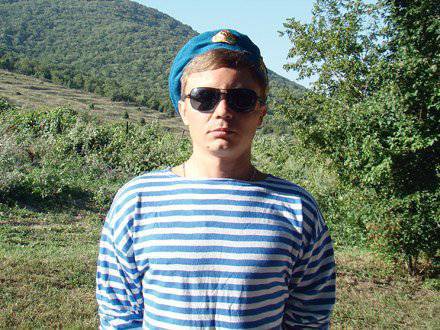 Year 2008, summer
The paratrooper Roman Ganchenko, naturally modest and shy, did not immediately agree to tell the world about himself. And what especially tell? Born, studied, served, was wounded. How many similar stories in our constantly at war country? Tens, hundreds, thousands? Not easy to listen
stories
these guys. And what is it like to them who have suffered serious injuries and injuries to live? To live in a society indifferent to the misfortune of others.
While stuck in a car in a stuffy traffic jam on a wide highway in the center of Novorossiysk, my guide, a veteran of the airborne troops, senior reserve ensign Yuri Ivanovich Lakatosh spoke about himself and about getting acquainted with Roman:
- Served in the 97 airborne regiment of the 7 airborne division. The elder of the communications company participated in the New Year assault on Grozny. Awarded the medal "For Courage". From 2002 year - in stock. Now I work at the Ushakov Maritime State Academy as a commander of the group of secondary special education. In this group are educated guys who came to study after serving in the army.
In December last year, I invited the academy to speak with the cadets about the military service and war of the chairman of the local organization of veterans of the Airborne Forces Arkady Egorov. When talking about injuries and injuries, Arkady Borisovich said that Junior Reserve Sergeant Roman Ganchenko, who had lost his sight while serving in the SFOR peacekeeping contingent in the former Yugoslavia, recently turned to him. Yegorov asked the guys to help Roman. Of course, we went forward and agreed with the leadership of the university on providing him free access to the gymnasium of the academy.
So, from January to June, three of my activists took turns helping Roma get to the gym and do athletic gymnastics. Roma became noticeably slimmer and more relaxed, made friends with the guys. After all, they are only five to seven years younger. Communication is beneficial, takes Roma out of a confined space, makes him more self-confident.
In the summer of cadets in practice, in the seas. And the gym is under repair. But the way out was found - we brought Roma dumbbells and installed the wall bars of the house. Until September, he will work out on his own, and then will go to the gym again.
Generally, I like Ganchenko. Well done guy. I met any disabled people. You will come to another colleague, so you meet drunk face. But the "muzzle" immediately begins to bend the fingers: "I need this, this and that!". You, they say, find it, but I myself do not intend to do anything except turn off the vodka, because I am an invalid! Roma for six months of acquaintance never asked for anything, never complained about fate, never yelled.
Roma somehow reminds me of my former subordinate, the gunner-operator of the BMD Rinat Kaveev. He was a good warrior and just a cool guy, it's a pity that his address isn't there, he would surely have scribbled a letter. Rinat boldly went into battle, shot very well, even at night he hit the window of a small kosara from the first shot. Yes, all my soldiers in the war from the lazy and sleepy "skulls", as they were in the unit, turned into excellent fighters.
In the war of paratroopers of the 7 division, they were distinguished by executive sense, responsibility, and commitment. With their attitude to work, loyalty to their comrades, and responsiveness to someone else's misfortune, they surprised many in Chechnya. At the first call, they threw everything and rushed to where they were needed. And everyone had to share: the last cracker, and a sip of water, and a dry footcloth, and firewood, and, not least, combat experience and information. With such a commander as Colonel Alexander Ivanovich Protchenko, the fighters could not be untrained talkers, whom, to be honest, in Chechnya were also enough.
Lakatosh was silent. Wrinkles on the forehead went up and down. Yuri Ivanovich turned to the window, exhaled deeply and loudly.
- It seems spring has come, and the wind was nasty. By morning already. I lay wrapped in a jacket. Suddenly a fighter runs into the tent: "There it is, women!". Came out to understand. It turned out that two of them, mothers of fighters, came to my company on the Terek Range. On foot all night from Khankala itself they stamped. Dressed in rags, money a penny, okay, no one took away their passports. Fed mothers, gave odezhonku that they could find, sent to warm up and wash in the bath. Here one of the sons returned from intelligence. Tears of joy, hugs. I remember this woman, all stroked her son on the back and sentenced: "Glory to those Lord, alive!".
After a couple of days, the convoy went to Khankala, put the women on armor, said goodbye. And they thank me, but they themselves cry: "They didn't think, they didn't guess that they would have to fight. In a nightmare, we did not see that under our old age it will happen to live in mud huts and even take a bath underground! What a life like that! "
The soldier's mother is a holy woman!
We rode in silence for a while, gazing at the beautiful green city under the quiet whisper of the radio and thinking about each other. Then Lakatosh in a few words threw the story of the bloodless captivity of an enemy sniper near the Kavkaz hotel, not far from the Dudayev Palace, then praised the company commander Yury Sukhinin, under whose leadership "and ran all the 4 of the month for Grozny", told about his son - Ruslan serves under a contract in one of the GRU special forces brigades.
On a circular motion finally broke out of traffic jams. Just five minutes, and we are in place.
I click on the door bell button.
The door opens a sporty-looking young man. The back is straight, shoulders wide. Smiles, tightly pressed outstretched palms:
- Come on in. Glad to see you!
The one-room apartment of the Ganchenko couple is clean and comfortable. It made me very happy. In the apartments of many people with disabilities had to go. You come in, and there the blue smoke stands like a yoke, the smell of fume, urine and sweat hangs away from any drafts and deodorants. Yesterday's soldiers, broken by life, are losing faith in themselves and their future, drinking themselves together, turning into homeless people.
We went into the room, met Tatiana, Roman's wife. We looked at the army photos, found common friends in Yugoslavia, discussed historical literature. He loves listening to audiobooks.
Roman Ganchenko: - Born in Novorossiysk 10 July 1979. We have a big family: grandfather, mother, four younger sisters! Three are already married. The only bad thing is that they live in the other end of the city, it is not often possible to see each other.
When I graduated from high school 9 classes, I entered the radio college. But they needed money. Mom's salaries were not enough for everyone. I had to take a sabbatical and get a car mechanic at a cement factory.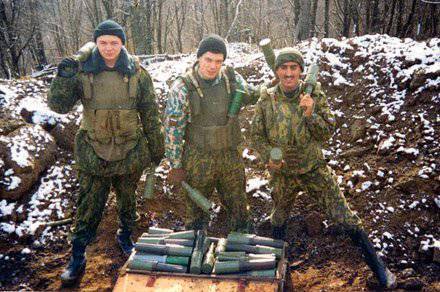 In December, 1997 was drafted into the army. Lucky, identified in 7-th airborne division. In Dmitrov, in the educational part, he received a specialty dog ​​handler. He returned to Novorossiysk, where until spring 1999, he served just a few kilometers from home. Then, after two months of retraining in Ryazan, he signed a contract and departed as part of the SFOR peacekeeping contingent to Yugoslavia.
For five months they were engaged in the demining of the territory where the fighting had recently taken place. The work is dangerous, but we were well prepared, so we quickly got used to the situation.
They found unexploded shells and grenades, extracted mines and improvised explosive devices from the ground, collected small
weapon
and ammunition. What did not dig out! There were PCA, German rifles and gun-cuts from the Second World War! Then the "treasures" found were brought to the suburbs of Tuzla and destroyed in the area of ​​the old TV tower. We also handed over unused ammunition from local army depots to us for destruction. In total, our team destroyed about 20 thousands of mines!
14 December 1999, the day went as usual, according to plan. But in preparation for the destruction of explosive items seized from the local population, when we packed almost all the collected ammunition into a huge crater, the percussion mechanism of an anti-tank grenade of a cumulative action of Yugoslav production spontaneously set in motion. There was an explosion. My partner, Andrei Zamula, a native of the village of Starotitarovskaya of the Krasnodar Territory, who was holding a grenade in his hands, died on the spot, and I received multiple shrapnel wounds. The officers, who stood a little higher, were slightly injured.
I lost my sight immediately, but remained conscious. Various thoughts in my head spinning. But everyone wants to live happily ever after, and I believed in life. Later, in the hospitals, he himself saved from suicide of two - a soldier and an officer. I am Orthodox and I know for sure: it is not the church or a massive cross on the chest that saves a person, but true faith!
Death, blood, wounds were brought into the stupor of some commanders. But alarmist fighter Shamil Kasumov quickly revived. Thanks to his activity, I was evacuated from the site of the explosion and transported to the base area - the city of Surf. They made injections there, and I forgot. I woke up in a military American hospital. I was operated on in a German civil hospital and in an American NATO hospital located in Germany. It turned out that we did not have any special medicines or sufficient conditions for the operations on the eyes. Thanks to the American and German doctors, they quickly managed to put me on my feet! Yes, the medical staff treated me well, with a good soul. And NATO has provided me with a translator. We tried not to offend the "brave Russian soldier."
On January 3, I was taken by plane to Moscow, to the Burdenko Main Clinical Hospital. A month later, transferred to Khimki. In May, he returned to the division in Novorossiysk.
He was awarded the Order of Courage, the medal "For Strengthening the Combat Commonwealth" and the gold medal of the Serbian Republic "For Bravery". The awards were presented to me by the Commander of the Airborne Forces Colonel-General Georgy Shpak.
In June, 2002, George Ivanovich assisted me in getting this apartment. He pressed on some clever ranks, and the command of the division hurried with the decision of my housing problem. Your housing is very important!
In the Rehabilitation Center for the Blind in Volokolamsk, where he was undergoing treatment and rehabilitation under a voucher from the All-Russian Society of the Blind, he met Tatyana. She, who had come to study at the Center from Kaluga, sunk into my soul, I remember. In 2001, I took her to my Novorossiysk, and almost 7 years we are together. And at the Center, for almost three months, we were taught to read, write, orient with a cane, and prepare food. Conducted a short course in home economics. Developed new skills for me.
Now there are no special problems. I do not need medicines, but I refused from sanatoriums. It is better to receive a supplement to the pension in the form of compensation for the waiver of benefits than to have benefits that are not necessary.
What is really lacking is communication. The only way to communicate now is by phone. Familiar from the society of the blind and a couple of classmates. And that's all ... But to walk yourself does not work. Everywhere cars, the road just does not go. In the case of a critical situation, I can walk to the bread store, and then I can in no way. Since I lost my sight, the city has changed a lot. Well, the cadets from the academy drove to the gym, sometimes taken out for a walk on the beach. But I remember the sea and the mountains: beautiful ... I look forward to autumn, I hope the guys will continue to communicate with me.
"We'd have to find a computer somewhere for Roman," says Lakatosh. - After all, there are special programs for the blind, with the help of which you can work on a computer and write letters via the Internet.
- Ivanovich, I know, - Roma runs a hand through his hair, - we together with you tried to knock out something through social protection - a computer, a "talking" cane, some specialized household appliances, but unsuccessfully. We were politely explained: in order for the state to provide material assistance, you first need to get a labor rehabilitation card. So, collect a package of documents certifying the disability and the existence of the problems arising from it, go to Krasnodar, where to go through VTEK again, and then stand in a line of people in need of assistance in social security agencies at the place of registration. But I now have the first group of disabilities. Lifelong. If you receive a labor rehabilitation card, then I will be transferred to the category of disabled workers. They will write: "the first group, the second subgroup," that is, labor is available in specially created conditions. And this means that I will seriously cut the retirement, as a "working". I am ready to work, I want to work! But we in the whole Krasnodar Territory do not have these notorious "specially created conditions". No specialized agencies.
It turns out a vicious circle: I will be given help by cutting back on my pension. Why do I need such "help"? Yes, and wander in Krasnodar, stand in lines, to pass a commission VTEK every two years. It was for such a scheme that my wife was cut off her pension, reckoning her to work.
- And I am grateful to the social security authorities for the fact that social workers visit us, as expected, twice a week, help us to buy food, to solve minor household problems. Thank you, without them, absolutely nothing! Even Tanya helps us with Shkodik, our cat. Worn around the apartment, happy, uplifting ...
We said goodbye to Roma, promising to return soon ...
Two weeks later, on July 10, we went with friends to Roma, congratulated him on his birthday ... and Tatiana. This is fate: birthdays on one day!
Tatiana, having received a luxurious bouquet of flowers, held her palm over the buds, inhaled the scent of freshness and sincerely smiled:
- Lilies ... my favorite ...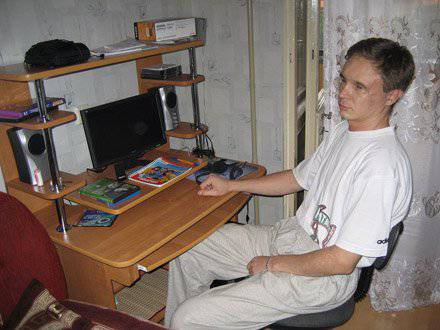 And yesterday received another nice
news
. Last week we met mothers whose children died in undeclared wars. They decided that they would visit the Ganchenko family, cook something delicious, go for a walk, and the advice of experienced women in housekeeping would never hurt the young.
The director of a sports club, located two steps away from the house of Roman, responded positively to the request for a free monthly subscription to athletic gymnastics at his club. Now veteran intelligence Sergei Belov, who lives nearby, leads Roma to the gym and helps in training.
Journalists from the TVC TV Company responded. Thank you for this to the cameraman, the participant of the New Year's assault on Grozny, Alexey Saushkin and his team. Without any hype and superfluous words, they filmed, prepared and scrolled in the news a story about the Ganchenko family. The plot of the soldier who is not broken and firmly on his feet. The namesake of Roman, now living in the United States, after seeing the report on satellite television, wrote a letter with a suggestion of communication.
Veteran "winged infantry" Andrew, known on military sites as the "Captain of the reserve" from distant Severodvinsk, congratulated Roman on the upcoming Day of the Airborne Forces and presented a personal computer equipped with special programs for the blind and visually impaired. Work, fighter!
The world is not without good people, and - life is just beginning!
Year 2012, winter
We again visited the Ganchenko family. We talked, met with Arina, daughter of Roman and Tatiana.
Arina, who will soon be three years old, is attentive and serious, like an adult girl, and plays in such a way as not to interfere with conversations, and she inserts her own words, weighty, where necessary. She teaches letters and numbers, prepares to visit the kindergarten, where her father's friends promised to arrange her.
- Optimism, positive and the desire to be sincerely happy, the desire to live, and not live life, that's what I felt, shaking Roman's hand. - Lieutenant Colonel Igor Rodionov, sharing his thoughts with me, looks into my eyes. Look at a combat paratrooper swift, strong. - Not able to work, needs constant care - such a conclusion was given to Roman by the commission that appointed the disability. But she did not take into account one thing: you cannot impose on a person what he does not want. Ganchenko does not want to be powerless, so he enjoys life and by his daily behavior shows us, healthy, that our life is as we ourselves do it. Themselves.
I notice a non-statutory patch on the lieutenant colonel's jacket: "God is with us and two parachutes," and he, intercepting my opinion, adds:
- Happiness does not fall to anyone from the sky, happiness is harvested by hard labor with your own hands, brother. God willing…