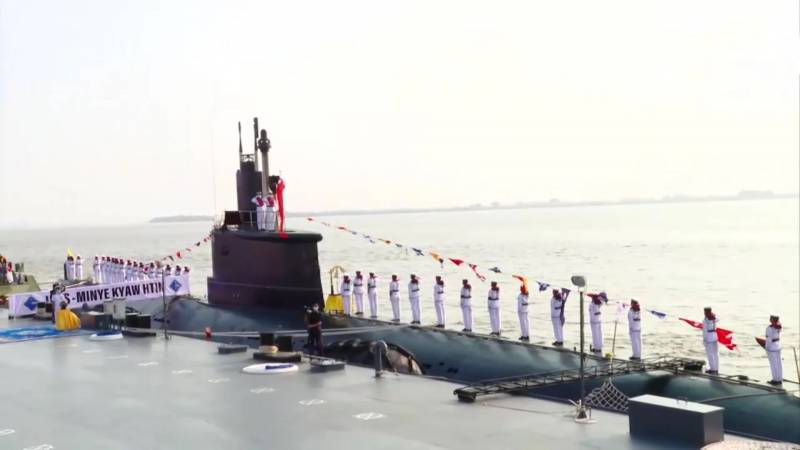 The first submarine appeared in
navy
Myanmar in 2020 - Project 677 diesel-electric submarine "Halibut", which was previously supplied to India, where it served for a long time and, after being retrofitted with local systems, was transferred to the new owner.
On December 24, the second submarine of the country's navy, UMS Minye Kyaw Htin, was commissioned. It was recently transferred to Myanmar by China with an undisclosed set of systems, and it belongs to the Type 035 class, according to observers - more specifically to the 035B project. In total, five submarines of this modification were built in the PRC in 2000-2003.
The Type 035 is based on the Type 033 submarine, which in turn was created on the basis of the Russian [Soviet] Romeo class submarine [project 633 designation in NATO], of which it is a descendant. Moscow transferred patents for their production to the PRC before the Soviet-Chinese conflict in the 1960s [meaning the split in relations between countries that began in the late 1950s]. Type 035B is assessed as an obsolete diesel-electric submarine
- indicated in the AAG edition.
The submarine has a length of 76 m, a width of 7,6 m, a submerged displacement of 2110 tons, two propellers. The underwater speed reaches 18 knots, the diving depth is up to 300 m, the crew is 57 people. The main armament is represented by 533-mm torpedo tubes located in the bow.
The PLA Navy intends to decommission its old diesel-electric submarines, including all 2020 class submarines, and replace them with a more modern Type 035A / B / C product in the 039s. Apparently, the Myanmar fleet is also not going to use the submarine transferred by Beijing for its intended purpose.
The Myanmar Navy has stated that the submarine will be used primarily for training [personnel]. But it will also be applied to protect national interests at sea.
- explained in the publication.
At the same time, as noted in the fleet, 4 submarines are needed for full-fledged combat service, in connection with which it is possible to order two submarines each in the PRC and the Russian Federation ("Varshavyanok"). As stated in the publication, this is the result of "balancing with friendly forces."