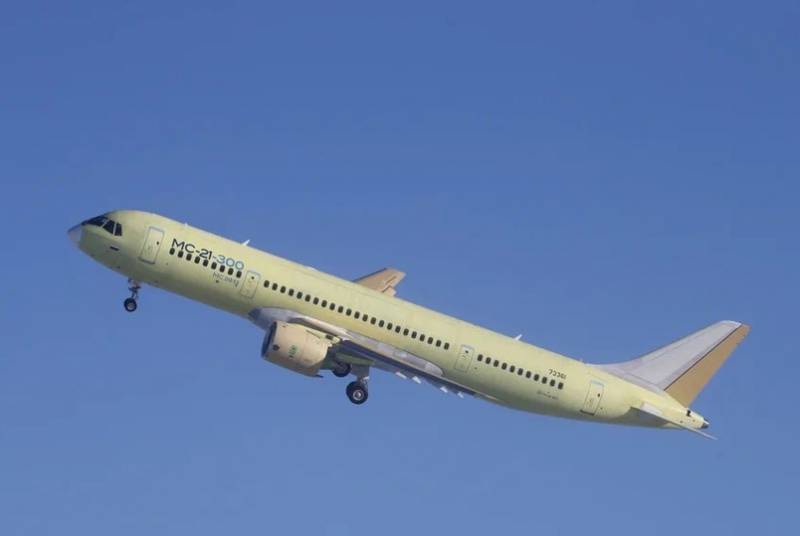 The first flight of the Russian MC-21-300 aircraft with a wing made of domestic composite material took place from the airfield of the Irkutsk Aviation Plant, which is part of the UAC. The test took place as usual.
This was reported in the press service of the state corporation "Rostec", of which the UAC is a part.
The control of the new airliner was entrusted to the Heroes of the Russian Federation, test pilots Roman Taskaev and Oleg Kononenko.
The main feature of the aircraft is its wing made of polymer composite material developed in Russia.
We did everything right, the MC-21 program is consistently and steadily moving forward, despite sanctions and unfair competition
- noted the head of the Ministry of Industry and Trade of the Russian Federation Denis Manturov.
According to the minister, this success was largely achieved thanks to strong government support. In particular, the state allocated 21 billion rubles for the development of a composite for the MS-300-4,4 wing.
Earlier, the head of the State Transport Leasing Company, Yevgeny Dietrich, said that at the initial stage of the operation of the new aircraft, it would need to be supported by budget subsidies.
Flight MC-21-300 with a wing made of Russian composite pic.twitter.com/dMG3uPF1J5

- Volodin-Topwar (@VolodinTopwar) December 25, 2021