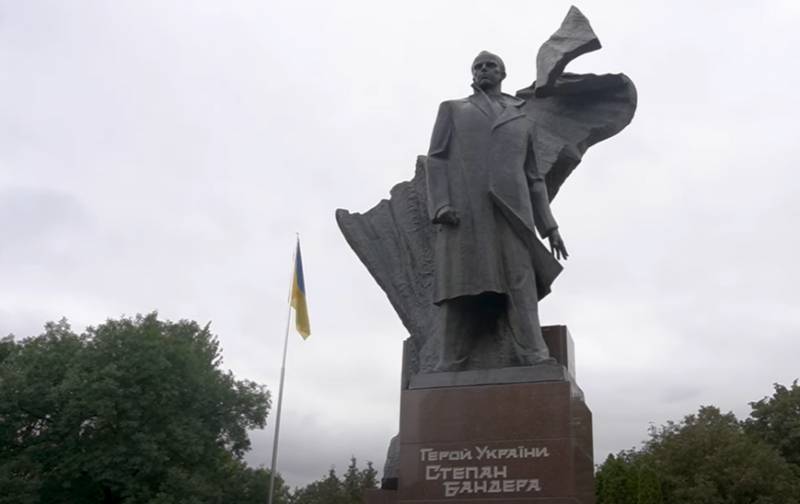 The authorities of the Ternopil region of Ukraine decided to resist those who are organizing acts of "vandalism" against the monument to Stepan Bandera, one of the founders of radical nationalist groups. Let's remind that Bandera initially carried out his activity in Western Ukraine in cooperation with Hitler's intelligence structures. Bandera received personal instructions from the head of the German intelligence and counterintelligence service (Abwehr), Admiral Wilhelm F. Canaris. A monument to Bandera is erected in Ternopil.
Recently, unknown persons have taken actions against this monument, which the Ukrainian national police characterizes as criminal. Bandera's statue was doused with paint, pelted with eggs and rotten vegetables. One of the most recent such cases (pelted with containers of red paint) occurred on December 14th.
The local authorities decided to "take the monument under round-the-clock protection". The initiative on round-the-clock protection of the "monument" was made by local deputies from among the most radical-minded. The deputy of the regional council of the Ternopil region Bogdan Butkovsky decided to expose the radicals as the protection of the Bandera monument.
According to Butkovsky, "now no one will spoil the holiday that will take place on January 1". For reference: this is Bandera's birthday, which for all Ukrainian radicals has become almost the main date on the calendar.
Meanwhile, in the social networks of Ukraine, there were statements from unknown persons that "you will have to guard without closing your eyes, otherwise Bandera will again be painted in the color of the blood of Ukrainians, Poles, Russians, Jews, which was shed by him and his henchmen."