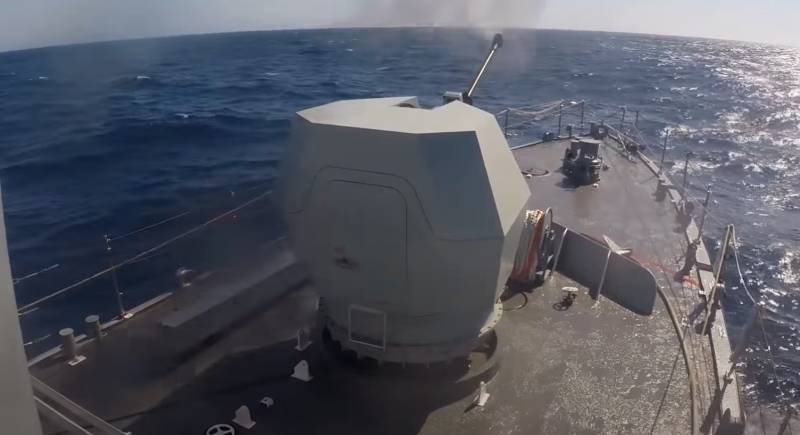 The promising British frigate Type 31 will not receive anti-aircraft artillery systems traditional for warships, such as, for example, the CIWS Phalanx. However on
navy
believe that it is quite possible to do without the "Phalanx", replacing it with a new cannon system Bofors Mk4 (two guns of which must work together with one 57-mm gun mount Mk3).
The new product is planned to be integrated into the sensor system of ships to fight against a wider range of targets than the highly specialized CIWS, and make it fully automated. The Mk4 weighs 2,5 tons (taking into account the mass of one hundred shells), the maximum firing range is 12,5 km, the effective range is up to 10 km, the maximum rate of fire is 300 rounds per minute, the angle of attack is from -20º to + 80º.
The Mk4 was designed from the outset to use the 3P ("pre-fragmented, programmable, non-contact") programmable ammunition created by Bofors. The gun can fire with standard and cheaper PFHE OFS or AP rounds.
Sectional 3P projectile
But in theory, the 3P is more effective, as it requires fewer rounds to neutralize each target.
- noted in the Navy Lookout edition.
According to the developers, due to the use of new Mk4 ammunition, the gun will have greater accuracy and firing range. At the same time, he does not need the rate of fire of traditional ZAK and it will drop significantly.
The Type 31 is capable of thwarting a missile attack with two 40mm and one 57mm cannons.
- explained in the press.
According to the author, upon detonation, each 40-mm 3P projectile creates a "barrier of tungsten granules and shrapnel" of 140 square meters. m, and a 57-mm shot - a kill zone with an area of ​​400 square meters. m.
Combined, these 3 cannons can quickly erect a destructive wall of metal around the ship that will be difficult for any missile, aircraft or small craft to penetrate. For dealing with a massive swarm of boats or UAVs, this is a particularly effective combination
weapons
- indicated in the publication.
As the author notes, if the Mk4 is successfully used on the Type 31 frigate, other warships of the British fleet can receive a promising cannon missile defense system.