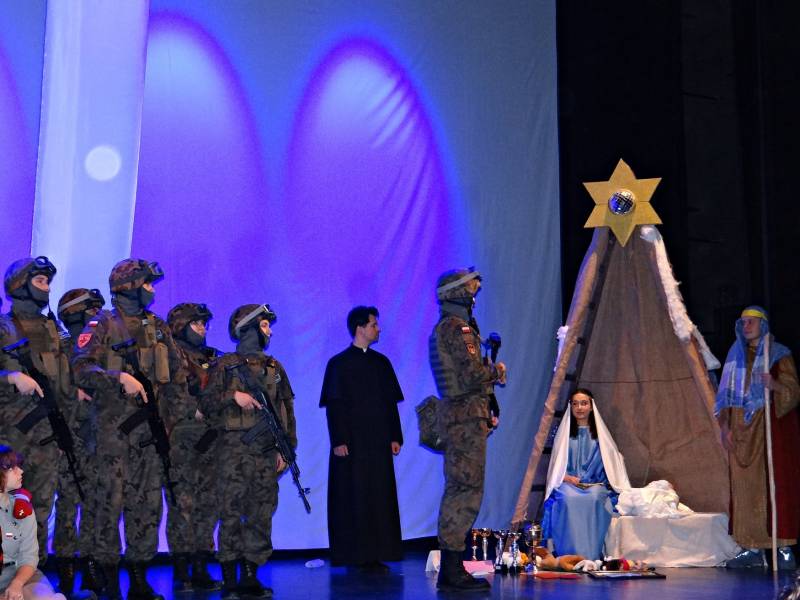 In Poland, the situation with excessive creativity of organizers of Christmas events is being discussed. The Polish press describes a Christmas performance that was staged at a school in the city of Ełk, located in the north-east of the country. This performance was the subject of criticism from ordinary Polish citizens. They were outraged at how they decided to show the children a well-known biblical story.
It turns out that the authors of the performance decided that the Virgin Mary, Jesus, Joseph and the Magi were not enough. They decided to introduce the Polish military with machine guns into the plot. Young people (including the schoolchildren themselves) in the uniform of the Polish army, with
weapons
in their hands came to the manger of the baby Jesus. Together with them, an actor in the guise of a Catholic priest appeared in the same plot.
This fact led to the fact that many Poles, after the news of the strangeness of the performance, began to call to account those who "decided to militarize even the bright holiday of Christmas."
The director of the educational institution said that "it was necessary to understand the plan":
We showed that the soldiers came to not only worship Jesus, but also to stand up for him.
Even more indignation among ordinary Poles was caused by the information that the performance of this kind for children was carried out not even by secular employees, but by representatives of the Congregation of Benedictine Sisters. They reportedly "found a consensus with the school leadership on the plot of the Christmas
stories
».
Parents of schoolchildren in Elk said that the teaching staff "behaved incorrectly."
Comments of parents of schoolchildren from Elk:
At first, the younger schoolchildren were even frightened by the appearance of people with weapons. If the adults could hardly understand what the organizers wanted to say, then imagine what it is like for the children ... And what is more, there is a priest in general. Do they want to tell the children that the Catholic Church existed before the birth of Christ?
What does the military have to do with Christmas? Why are children being dragged into a difficult political situation with the approval of school leaders? It seems that our ruling party is leading the country towards thinking in a one-party format.
Shame on the school my kids go to. And this program was developed by the Catholic sisters ... I urge you to continue to coordinate such scenarios with parental committees. Maybe at least someone in this case will find the courage to say no.
What is our legal penalty for bringing weapons to school?