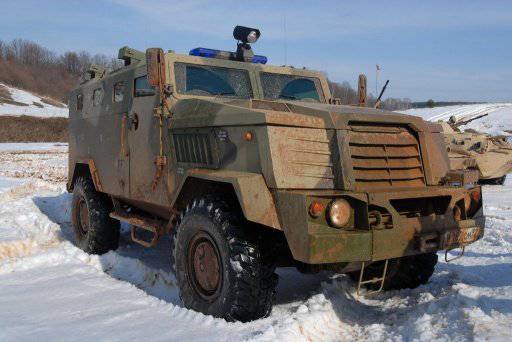 A special vehicle SPM-3, dubbed the "Bear", will be included in the state defense order for 2013 for the Russian Interior Ministry. This was announced today in Nizhny Novgorod by the deputy head of the ground forces of the Ministry of Internal Affairs for armaments, the chief of armaments, Major General Sergey Yerygin. He took part in the meeting of the Coordination Council for Military-Automotive Vehicles under the High Command of the Interior Troops of the Ministry of Internal Affairs of the Russian Federation, which took place at the Gorky Automobile Plant (GAZ), and also got acquainted with the production and perspective GAZ cars.
According to him, an experimental batch of a promising armored vehicle is currently being finalized, which is planned to be completed before the end of this year. "And with the 2013, the multi-purpose SPM-3 special vehicle, the so-called BTR-BB, will be included in the defense order," Yerygin said. "It was planned that this machine will be made in two years, however, for various reasons, the development was delayed for another 1 year," - he explained.
The SPM-3 (Special Armored Police Vehicle) is a fundamentally new development. The body and bulletproof glass of the vehicle "keep" the hit of 7,62-mm armor-piercing bullet fired from a distance of 100 m from a sniper rifle SVD, as well as undermining under the wheel of an explosive device equivalent to 6 kg of TNT.
"Bear" is intended for use as a transport and operational-service vehicle of the Ministry of Internal Affairs during counter-terrorism operations, operations to curb riots, and perform territorial defense tasks. A multifunctional special vehicle can also be used to assist border agencies of the Federal Security Service of the Russian Federation.
At present, the Tigr special vehicle SPM-2, which is mass-produced in the Nizhny Novgorod region at the Arzamas engineering plant, which is part of the Military Industrial Company, is successfully operated in the internal forces.