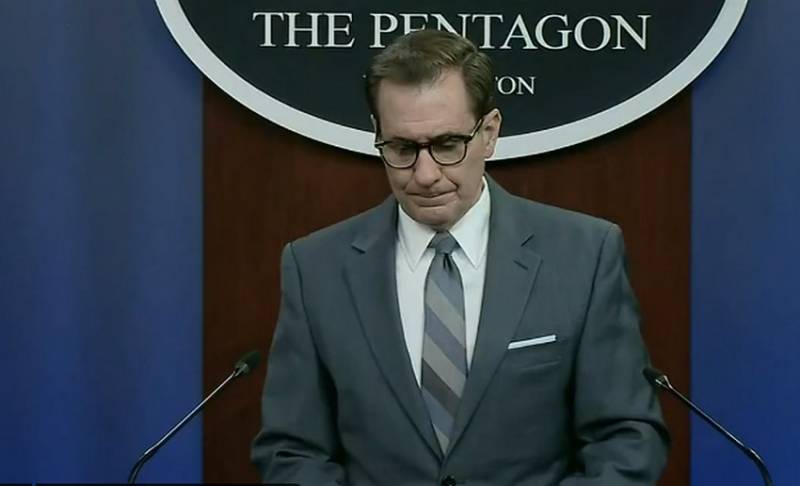 The Pentagon has denied the statement of the head of the Russian Ministry of Defense Sergei Shoigu about American PMCs in Donbas, calling it "untrue." At the same time, Washington called on Russia to stop spreading false information about the United States.
A briefing was held at the Pentagon, at which the spokesman for the American military department, John Kirby, denied the statement of the Russian Defense Minister Sergei Shoigu about a provocation with chemical
weapons
... Answering the relevant question from a journalist, Kirby called Shoigu's words "completely false" and not "true."
As the Pentagon spokesman emphasized, US Defense Secretary Lloyd Austin did not discuss issues on Ukraine with Russian Minister Shoigu and he has no such plans. He also called on Russia to stop spreading false rumors about the situation in Ukraine and to take all possible measures to de-escalate the situation.
Shoigu's statement about the presence of American PMCs on the territory of Ukraine was made the day before during an expanded collegium of the Ministry of Defense. According to him, currently about 120 American instructors from PMCs are training Ukrainian special forces for hostilities in the Donbass. At the same time, tanks with an unknown chemical were brought to the territory of the Donetsk region controlled by Kiev, in particular to Avdeevka and Krasny Liman, to carry out a provocation, which is being prepared by the Americans stationed in Avdeevka and Priazovsky.
Earlier, the White House said that Russia alone bears responsibility for the situation in Ukraine, not Ukraine, and even more so the United States. According to an official representative of the American administration, the United States has nothing to do with the events in Ukraine.