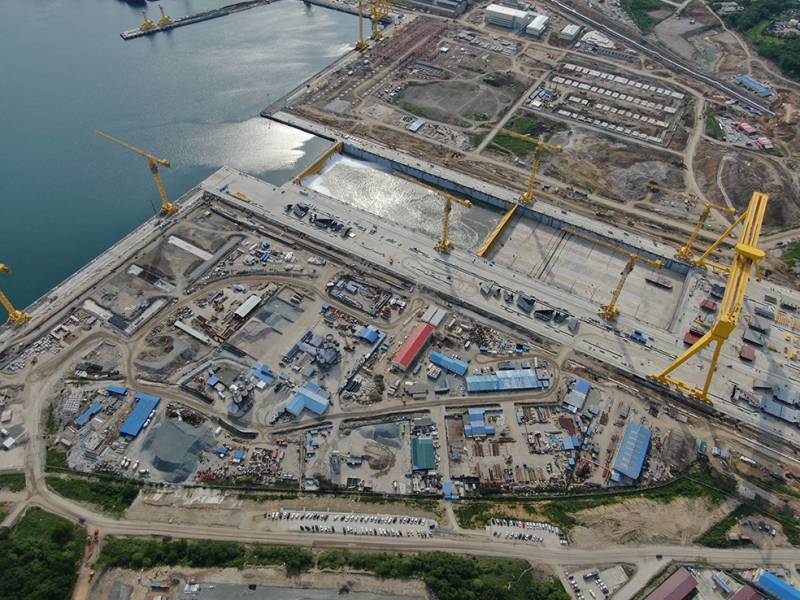 The construction of a new dry dock has been completed at the Zvezda shipyard in Bolshoy Kamen in Primorye. According to the press service of the enterprise, the dock was commissioned three years ahead of schedule.
Commissioning works have been completed at the new dock, and the facility has been commissioned. Prior to that, Zvezda's specialists, together with representatives of regulatory organizations, checked the dry dock for compliance with all the necessary parameters.
It is emphasized that the dry dock is a key element of the second stage of construction of the Zvezda shipyard. The dock is one of the largest structures of this type in the world. Its dimensions are 485 meters long, 114 meters wide, and its depth is 14 meters. It has four tower cranes with a lifting capacity of 60 tons and one Goliath crane with a lifting capacity of 1200 tons, and pumping equipment has been installed. The dock, the bottom level of which is lower, is separated from the water area by a special waterproof bathoport gate 114 meters long and 12 meters high. A carriageway is located on top of the bathoport, which greatly simplifies the passage of vehicles to the other part of the dock.
In the dock itself there is a technological gate, which allows dividing the dock area into several independent compartments when building several ships at once. The dimensions of the dock make it possible to build ships and ships without limiting the tonnage and launching weight of the hulls.
To date, the Zvezda shipbuilding complex has already put into operation: a hull production unit, painting booths, an open heavy outfitting slipway, and a transport and transfer dock. Although the shipyard has not yet been completed, the construction of ships is already underway.