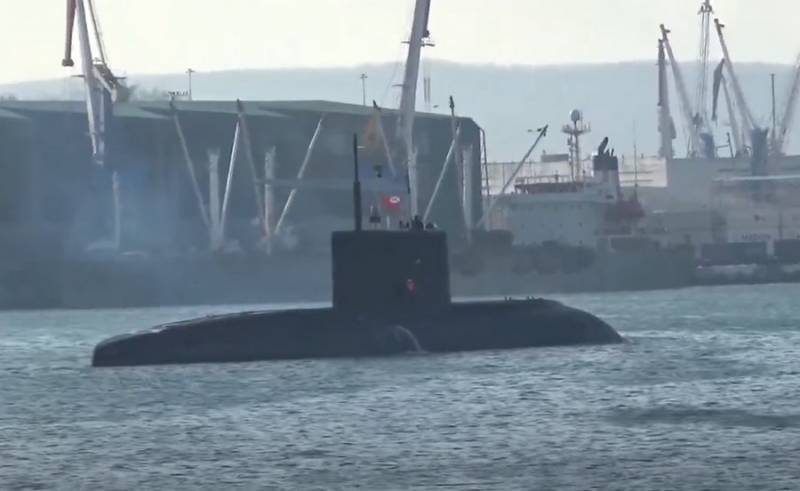 The Kalibr cruise missile was launched by the newest diesel-electric submarine Petropavlovsk-Kamchatsky of the Pacific Ocean
fleet
... This was reported by the press service of the Eastern Military District with reference to the message of the Pacific Fleet.
According to the report, the diesel-electric submarine "Petropavlovsk-Kamchatsky" fired a cruise missile "Caliber" at the coastal target. As part of the mission, the submariners made a covert exit to the area of ​​the firing, after which they launched the Kalibr missile launcher. The shooting was carried out from a submerged position, the rocket hit the target on the tactical field of Surkum.
It is noted that the firing range was more than 1 thousand kilometers, the defeat of the target position was recorded by means of objective control. The shooting took place at one of the Pacific Fleet's maritime ranges in the Sea of ​​Japan. The area was covered by ships and vessels of the Pacific Fleet, as well as naval
aviation
and drones of the fleet.
Diesel-electric submarine "Petropavlovsk-Kamchatsky" of project 636.3 "Varshavyanka" is the lead submarine in a series of six diesel-electric submarines for the Pacific Fleet. Built at the Admiralty Shipyards in St. Petersburg, laid down on July 28, 2017, launched on March 28, 2019, entered the fleet on November 25, 2019. She arrived in Vladivostok in November 2021 together with the second submarine of the Volkhov series and accompanied by the Project 20385 Thundering corvette, having made an inter-fleet transition from the Baltic to the Pacific Fleet.
The length of the submarine is 73 meters, width - 10 meters, the maximum immersion depth - 300 meters, underwater speed - 20 knots, autonomy - 45 days. Crew - 52 person. The submarines are armed with six 533 mm caliber torpedo tubes, mines and Caliber rocket launchers.