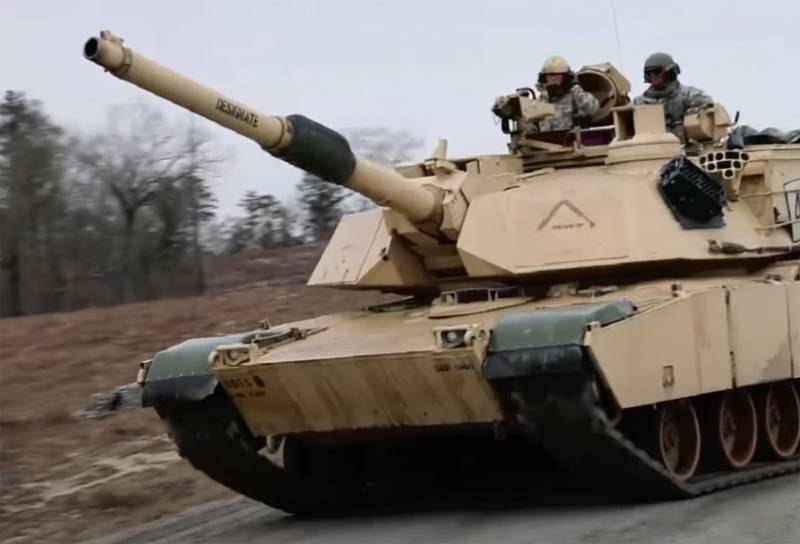 The United States commented on the introduction of a new modification
tanks
M1A2 SEP v3 Abrams. According to the representatives of the American command, this tank "which meets the principles of modern warfare, marks a special stage in the modernization of the armored vehicles of the US Army."
According to Brigadier General Glenn Dean, who is in charge of the US Army's ground combat vehicle program, M1A2 SEP v3 Abrams tanks with enhanced armor are already being used by the US military and "are an effective tool in an era of possible multi-domain war."
A feature of the next modernized version of the American tank is the use of new electronic data processing units with its output on the monitors of the commander and gunner, which are distinguished by increased resolution. The tank received an updated control system, which also acts as a control system for the use of weapons. It is noted that the tank is capable of using electronic warfare equipment, as well as high-resolution thermal imaging sights.
M1A2 SEP v3 Abrams also received an updated navigation system, which, as noted, will allow "finding alternative routes of movement, for example, if the enemy destroys bridges and other transport arteries."
In connection with the emergence of the next version of the modernization of the Abrams tank in service with the US Army, American military experts asked the question whether the US is ready to create a fundamentally new tank or will in the future be guided solely by the modernization of the existing one? While some believe that the Abrams' modernization potential has not yet been exhausted, others are sure that the United States is "on the wrong path." It is noted that the Abrams tanks, which were a weighty argument in the wars in the Middle East, are hardly suitable for the East Asian and European theaters of operations. Such doubts about efficiency are associated with the mass of the tank, which exceeded 63 tons.
Once again, the problem is mentioned with the transfer of heavy American armored vehicles to the "eastern flank of NATO" - to Poland. There, "alternative ways" of movement had to be looked for even without the "destruction of the enemy" of bridges, since often bridge crossings in Poland, for example, turned out to be unsuitable for the movement of such massive equipment along them. But the USA is not yet relying on lighter tanks.