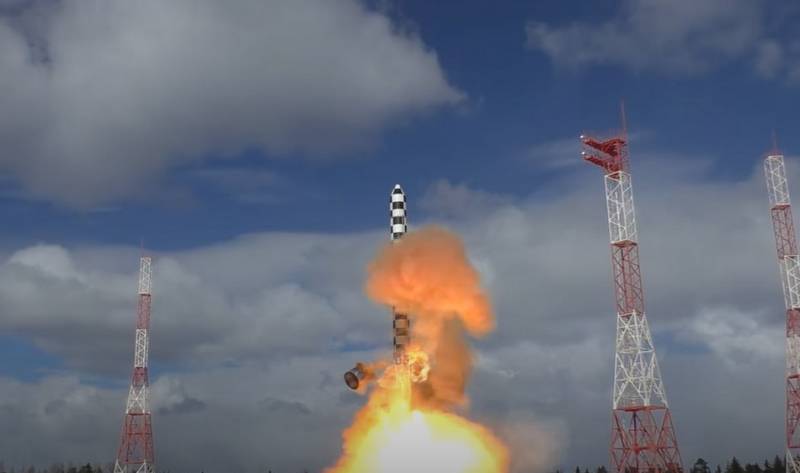 Russia's plans to deploy the new Sarmat intercontinental ballistic missile have seriously frightened the British. London has already said that one of the latest Russian missiles, carrying 12 nuclear warheads, could completely destroy the UK. Writes about this the author of an article for the British edition of The Sun.
Russia is preparing a new Sarmat intercontinental missile capable of carrying 12 nuclear warheads to be put on alert. According to the author, who called the "Sarmat" a hypersonic missile capable of reaching speeds of 25570 km per hour, one ICBM launched is capable of destroying the whole of Great Britain.
Will Stewart, relying on the publications of the Russian media, writes that next year Russia will unprecedentedly increase the number of test launches of missiles with nuclear warheads, fearing the outbreak of World War III amid tensions with Ukraine. In addition, the commander of the Strategic Missile Forces, Colonel-General Karakaev, promised to replace the planning hypersonic unit "Avangard" with a more powerful
weapon
... All this is happening against the backdrop of a concentration of 100 Russian servicemen on the Ukrainian borders.
Regarding the new Sarmat ICBM, the author reports that from 2022 Russia will begin a gradual decommissioning of the Voevoda missile system, replacing it with the Sarmat ICBM capable of delivering 10 to 15 warheads anywhere in the world. At the same time, the rocket is capable of maneuvering in the upper atmosphere along an unpredictable trajectory, which makes it 100% invulnerable to all existing and prospective anti-aircraft systems.
As part of the rocket preparation, Russia will conduct up to 10 test launches during the year, compared with 25 launches in the previous 5 years. This indicates the importance Moscow attaches to the introduction of a new missile into service, he sums up.