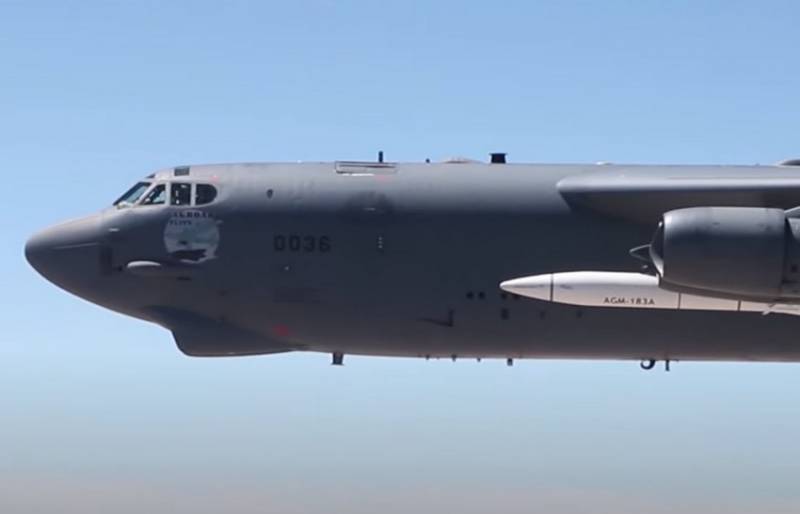 U.S. Air Force failed hypersonic test program
weapons
, having failed to conduct a single successful test during 2021. According to the US Air Force Command, the third attempt to launch a prototype of the AGM-183A ARRW hypersonic missile ended in failure.
The US Air Force conducted regular tests of a hypersonic missile under the ARRW (Air-Launched Rapid Response Weapon) program. According to official data, tests of the prototype of the AGM-183A ARRW hypersonic missile took place on December 15. As in previous attempts, the missile was fixed under the wing of a B-52H strategic bomber, which program the US military was working on was not reported, but the test was interrupted due to the missile's refusal to leave the carrier.
The reason why the tests were interrupted is not yet named in the US Air Force. As Air Force Brigadier General Heath Collins, who is the executive director of the weapons program, said, "The launch sequence was interrupted prior to release for an unknown reason." The rocket has already been sent for research, the timing of the resumption of tests has not been reported.
Note that this is the third consecutive unsuccessful test of the prototype of the AGM-183A ARRW hypersonic missile, although the United States claims that only the second, since it was recognized as "partially successful" in July this year.
In total this year, the US Air Force conducted three tests as part of the development of a hypersonic missile in the interests of the US Air Force. During the first, held in early April this year, the missile did not work in the "launch sequence" and it simply did not separate from the carrier, which was also the B-52H Stratofortress bomber. During the second, at the end of July, the rocket separated from the aircraft, but the rocket engine did not fire. It is noted that the entire launch sequence passed without comment. As a result, the Air Force said that the test "did not meet all flight objectives." On the third test, the rocket again did not separate from the carrier.
The AGM-183A ARRW rocket is being created in response to similar developments in Russia and China. The first to be armed with a hypersonic missile will be the B-52H Stratofortress strategic bombers (four missiles for one "strategist").