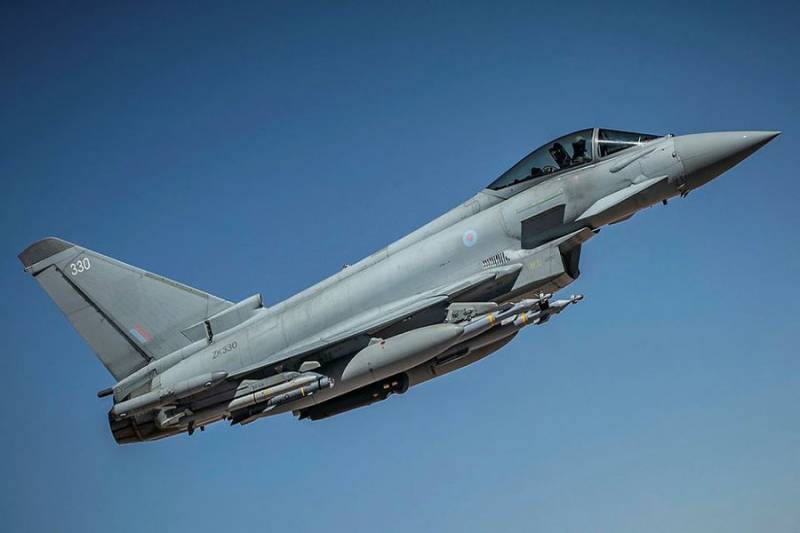 The British Royal Air Force won the first aerial victory since World War II. As reported on the website of the UK Department of Defense, the "dogfight" took place in the skies of Syria.
The UK Department of Defense has confirmed that on 14 December 2021, a British RAF Eurofighter Typhoon multirole fighter jet shot down an unidentified drone in Syrian airspace. According to the report, on December 14, "a small hostile unmanned aerial vehicle" was neutralized. The drone was sighted over the At-Tanf coalition base in Syria, after which the fighter used a short-range air-to-air missile (ASRAAM). Moreover, the identity of the drone has not been established. Other details of the "air battle" are not given
This strike is an impressive demonstration of the ability of the RAF to destroy hostile targets in the air that pose a threat to our forces.
- said British Secretary of Defense Ben Wallace.
It is noted that this is the first "enemy" aircraft since the Second World War, shot down by a British Air Force aircraft. British fighters fought in the Korean War as well as the Falklands War, but these were fighters from the Royal
fleet
, not the Air Force. The first victory after WWII could have been won by the Tornado fighter from the 15th squadron of the Royal Air Force during Operation Desert Storm in 1991 in Iraq, but it was shot down by an Iraqi MiG-29, both pilots were captured.
Britain is part of a coalition of Western countries under the command of the United States, where it has been participating in an air campaign since 2014. At one time, London even advocated the establishment of control over the north of Syria in the event of the withdrawal of the American military contingent from there, and Paris was supposed to help him in this. Such an Anglo-French north of Syria, but these plans were not destined to come true.
The main purpose of the British
aviation
in the coalition - strikes against ground targets and positions of the "Islamic State" (a terrorist organization banned in Russia). In 2018, the British Air Force was involved in strikes against the positions of the Syrian government army.