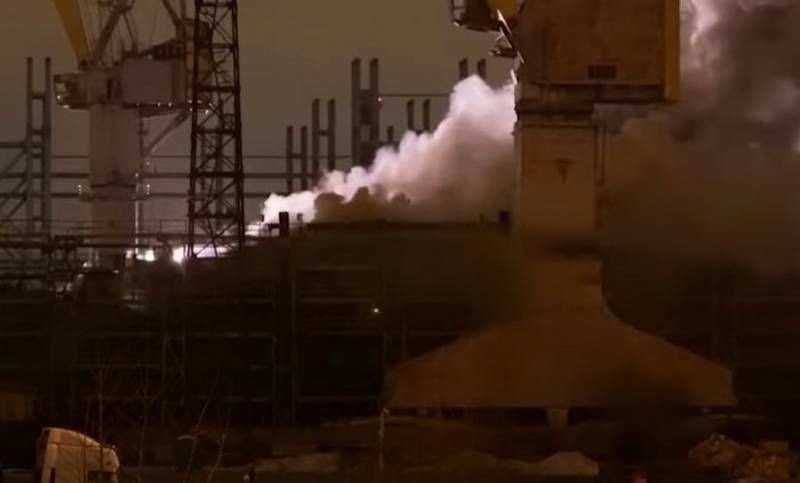 The fire at the Severnaya Verf shipyard caused significant damage to the Project 20385 corvette Provorny under construction. According to the press service of the enterprise, the ship's superstructure was damaged.
The fire that broke out on Friday at the "Severnaya Verf" area of ​​400 square meters. meters damaged the upper deck of the corvette, the ship's superstructure suffered the most. The company's message does not contain detailed information about the damage, it says about the creation of a special commission, which will assess the damage caused. It will include representatives of USC and Severnaya Verf.
Judging by the photos posted on social networks, the damage will be significant, except for the superstructure itself, the fire also affected the universal launchers. The photos posted on Twitter show the burned-out UKSK 3S14 (universal ship firing complex), the sunken deck of the ship. Earlier it was reported that the Project 20385 corvette "Provorny" was supposed to become part of the Navy at the end of 2022, now the deadline will be shifted significantly to the right, by how much the commission will determine after assessing the damage.
Consequences of a fire at Severnaya Verf. © "Petersburg Diary" pic.twitter.com/eY7z7ygUOd

- GodnotA (@mahmud_aheli) December 19, 2021
Recall that a fire on a corvette under construction broke out on Friday at 18:22. By 22:49, the fire was localized over an area of ​​400 square meters. meters, extinguishing and pouring were carried out until 9:00 am on Saturday. The fire was assigned the 4th level of difficulty. During the extinguishing, two firefighters were injured, who were taken to the hospital in a state of moderate and mild severity. There were no casualties among the workers of Severnaya Verf.
According to preliminary information, the cause of the fire was a violation of safety rules. It is under this article that a criminal case has been initiated, the exact reasons will be established by the commission.