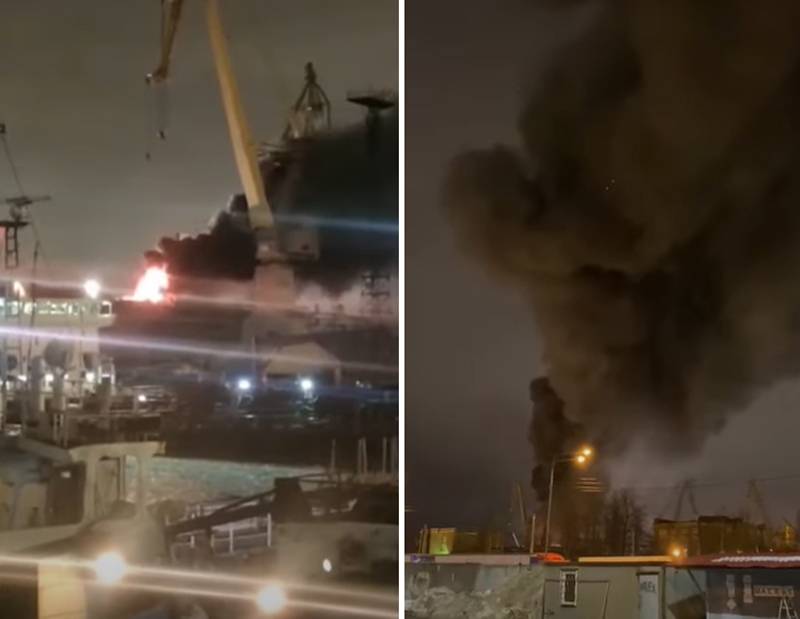 On the eve of the evening, reports began to appear about a fire that had arisen at one of the shipyards in Russia. This is the Severnaya Verf enterprise located in St. Petersburg. The first reports said that one of the ships under construction caught fire. Then more detailed information about the incident began to appear.
It became known that the fire occurred on the "Provorny" corvette belonging to the project 20385. It is the second in the series. Corvettes of this project are equipped with guided missile weapons. Therefore, in some media, primarily in foreign ones, statements began to appear about "the likelihood of an explosion, which may follow the appearance of a flame."
The ship has been under construction since 2013.
At the moment it is known that the total area of ​​the fire was about 800 sq. M. To fight the fire, up to 90 firefighters and 22 units of special equipment were involved. The fire was reported to have been ranked 4th. It is distinguished by a complex environment and a request for additional forces. With this rank, 16 departments work at the site of the fire. The highest rank, for reference, is fifth.
According to the latest information, the fire occurred on the upper deck of the corvette. Two firefighters suffered burns and injuries were taken to the hospital. This is a 35-year-old sergeant and a 42-year-old senior warrant officer. Their names have not yet been announced.
The total number of victims is 4.
A preliminary version of the causes of the fire has also been named.
According to preliminary data, the fire could start due to non-observance of safety precautions during work related to painting. It is not final yet.
The Investigative Committee of the Russian Federation has begun checking the incident at the shipyard.
Also, now it is necessary to find out the degree of damage that was caused by the fire to the warship and its onboard equipment.