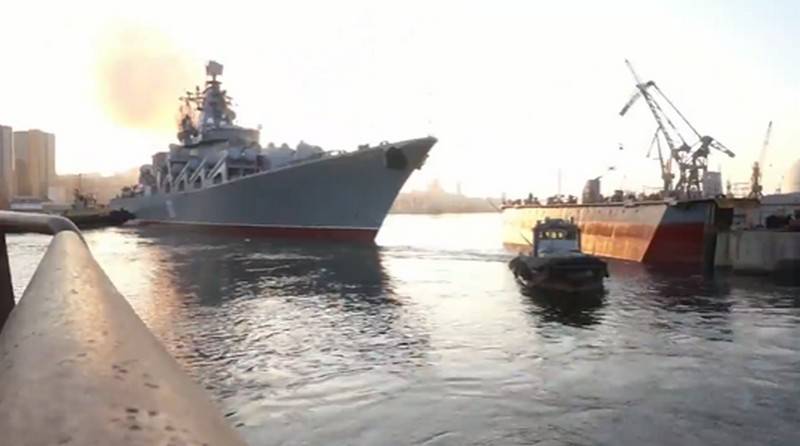 Pacific flagship
fleet
the guards order of Nakhimov missile cruiser Varyag returns to service after scheduled repairs carried out at Dalzavod. The completion of the renovation is reported on the company's official Instagram page.
The message does not contain any information about the work carried out on the cruiser, only the fact of their implementation is stated. It is emphasized that high professionalism, reliability, competence and efficiency of the company's employees allowed to complete the work on time.
Note that the "Varyag" got up for scheduled repairs at the end of last month. On November 24, the ship was already in the dry dock of Dalzavod. The company did not comment on the scope of work and the timing of the work, stating that they were planned. All work on the ship took a little over three weeks.
Guards cruiser Varyag is a missile cruiser, the third ship of Project 1164 Atlant. Laid down on July 31, 1979 at the shipyard "Named after the 61st Communards" in Nikolaev as a missile cruiser "Chervona Ukraine". Launched on July 27, 1982, entered the fleet on January 7, 1990. In September of the same year, he began an inter-fleet transition from the Black Sea Fleet to the Pacific Fleet.
In 1996 it was renamed, changing the name "Chervona Ukraine" to "Varyag", since 2002 it has been the flagship of the Pacific Fleet. In 2018, by decree of the President of Russia, the ship was awarded the Order of Nakhimov, becoming the third ship of the Russian fleet to be awarded the order after the nuclear-powered missile cruiser Peter the Great of the Northern Fleet and the guards missile cruiser Moskva of the Black Sea Fleet.