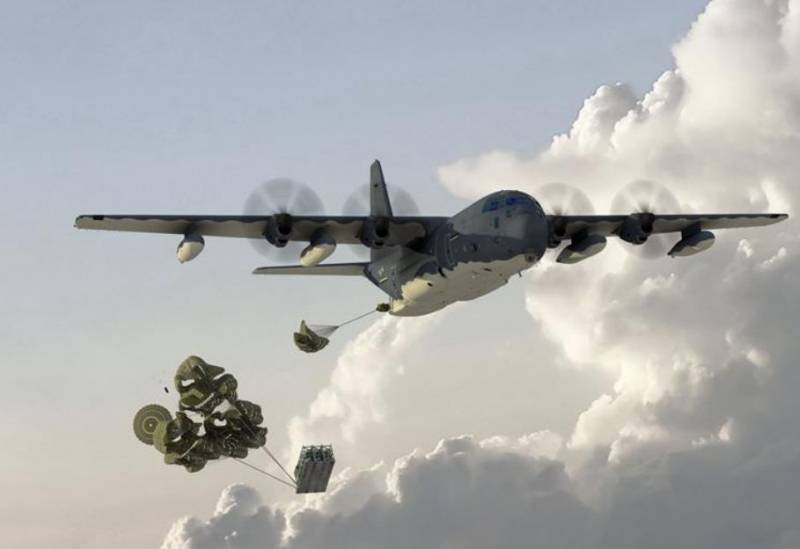 The US Air Force has long had the idea of ​​using cruise missiles from special platforms mounted on cargo ships. On December 16, a cruise missile with a combat warhead from the rear of the MC-130J Commando II special operations vehicle was tested at the Eglin airbase surface on the Gulf of Mexico.
The Rapid Dragon system with cells for several cruise missiles was dropped from the ramp of an MC-130J transport aircraft. A cruise missile was then fired from the underside of the platform from the cell. Immediately after launch, it performed a maneuver and moved towards its designated target, according to a release from the US Air Force Research Laboratory. As a result, the cruise missile successfully destroyed the target.
At the same time, the Air Force has not yet disclosed the type of sea target and the type of cruise missile involved in the tests. However, previous demonstrations of the Rapid Dragon platform are known to have used extended-range anti-ship air-to-surface missiles. It is possible that they were used now too.
According to the US military, the very name of the Rapid Dragon concept comes from the crossbow catapult developed by the Chinese military, which fired multiple crossbow arrows with one click, which made it possible to inflict heavy damage on enemy armies from an impressive distance. Now the US Air Force has decided to adopt this principle.
Expanding the use of cruise missiles plays an important role in the development of actions against potential adversaries of the United States, especially China. After all, the same anti-ship missiles can be used against PLA naval ships if they approach the targets that will be protected by the American armed forces, and this, by the way, is not necessarily the coast of the United States, but, for example, the same island of Taiwan or Japan.
If the US military is faced with the task of repelling the Chinese invasion of Taiwan, it will have to sink a large number of Chinese ships. Then missiles on pallets will play a very important role, and the Pentagon is well aware of this, expanding the test program for this type of weapons.
The next step in testing has already announced the use of cruise missiles from the strategic Boeing C-17 Globemaster III in the spring of 2022. The Air Force also plans to launch other types of weapons from aircraft, including unmanned aerial vehicles.
Within the next two years, the US military expects to begin operating the Rapid Dragon.