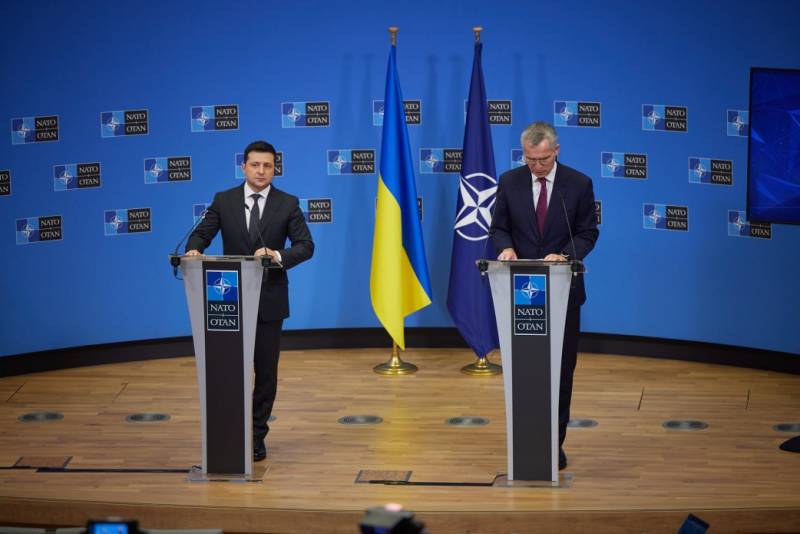 Ukrainian President Volodymyr Zelenskyy asks NATO to conduct more exercises in the Black Sea. He believes that military maneuvers should take place in this region as often as possible.
According to information
RIA News
, the head of the Ukrainian state spoke about this immediately after the talks with the Secretary General of the North Atlantic Alliance Jens Stoltenberg.
Zelensky stressed that it was Kiev that initiated the negotiations with partners, urging them to more often conduct joint maneuvers in the Black Sea and in the territories adjacent to its coast. As the Ukrainian leader noted, the purpose of the meeting was "to increase the means of trust, increase the number of exercises and training means."
The head of the Ukrainian state hopes that he was heard by the partners, and he managed to convince them, because, in his opinion, they are also interested in the security of the Black Sea region. He said that he discussed with Stoltenberg issues of cooperation between Kiev and NATO in the Black and Azov Seas. At the same time, Zelensky does not take into account that in the Azov water area, which is an internal reservoir of Russia and Ukraine, according to international law, warships of third countries cannot be located without the consent of both Kiev and Moscow.
According to the head of the Kremlin press service Dmitry Peskov, Ukraine is in favor of increasing the military presence of the North Atlantic Alliance in the Black Sea region in order to solve its problems by force under the cover of NATO. Perhaps he meant an attempt to return the rebellious Kiev Donbass by armed means.