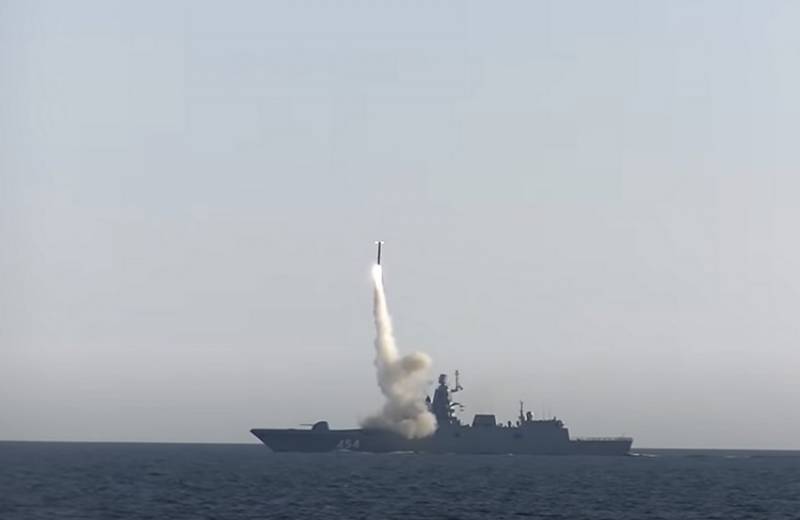 Despite the start of mass production of the Zircon hypersonic missiles, the Ministry of Defense continues testing the latest missile. The next launch of the Zircon was carried out by the frigate Admiral Gorshkov. This was reported by the press service of the military department.
According to the report, the next launch of the Zircon hypersonic missile was carried out as part of the completion of the test cycle of a new
weapons
... The rocket was launched from the board of the frigate "Admiral Gorshkov", from the very beginning participating in the tests. The ship was at one of the sea ranges of the Northern
fleet
in the White Sea. Shooting was carried out at a coastal target, a rocket launched from a ship successfully hit the target at the Chizha training ground in the Arkhangelsk region.
According to the objective control data, the rocket flight corresponded to the specified parameters, the rocket confirmed the inherent characteristics. Ships and ships of the Belomorsk Naval Base were involved in the provision of firing and the closure of the area, as well as
aviation
Northern Fleet.
Earlier, the Ministry of Defense said that tests of the Zircon from a surface launch vehicle would continue, the two previous launches took place in November, both times against sea targets. The frigate of the Northern Fleet "Admiral Gorshkov" took part in the tests. Later, information appeared about the tests of "Zircon" from the board of the first standard missile carrier - the nuclear submarine "Perm" of the "Yasen-M" project. They are planned in 2024 or in the first half of 2025 and are associated not with the rocket itself, but with a modified design of the submarine.
The supply of Zircon hypersonic missiles for surface ships will begin next year after the missile is officially adopted, for submarine carriers - later, a source in the defense industry named 2025.