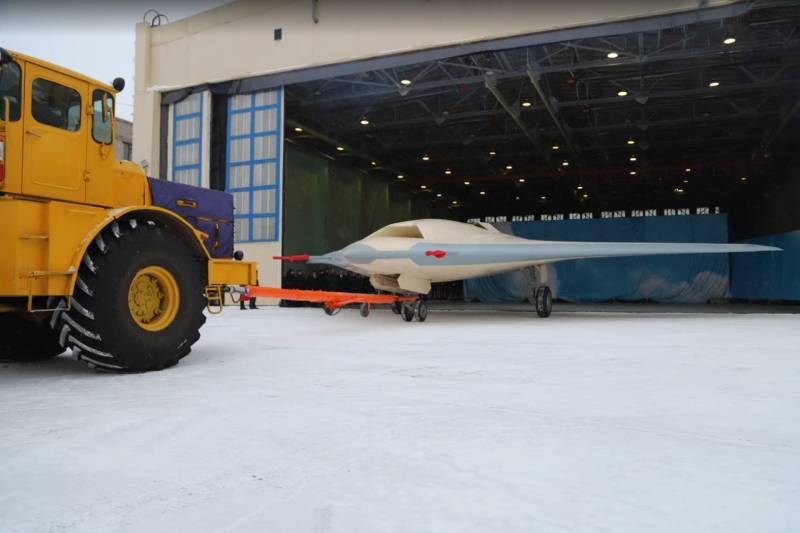 The Russian heavy attack drone S-70 "Okhotnik" has changed the engine nozzle. The second prototype of a promising UAV was rolled out at the Novosibirsk Aviation Plant.
For the first time, the developers presented the Okhotnik strike drone with a flat nozzle, which significantly reduces the radar signature of the vehicle. This is the second sample of a drone that was rolled out at the Novosibirsk Aviation Plant. The new "Hunter" will soon start testing along with the first prototype, on which all technologies were tested.
According to Rostec, a new ground control post has been developed for Okhotnik, which will also be tested in the near future.
The fact that the second prototype of the S-70 Okhotnik strike drone will receive a flat engine nozzle has been reported more than once. Just two months ago, Sergey Kuzmin, deputy general designer of the Motor Design Bureau, UEC UMPO PJSC, explained that a flat nozzle scatters a jet stream, and its design feature is that its internal parts cover the hot parts of the engine. According to him, the "Okhotnik" will be the first to receive a flat nozzle, which is not currently available on any Russian fighter.
The fact that the second attack drone "Okhotnik" will be structurally different from the first sample was reported back in the spring of this year. In particular, it was noted that the second machine will be primarily different from the experimental first version in that it is a pre-production sample, created taking into account the tests of the first UAV sample.
It is noted that the use of a flat nozzle will allow the drone to be stealthy when it performs certain combat missions.