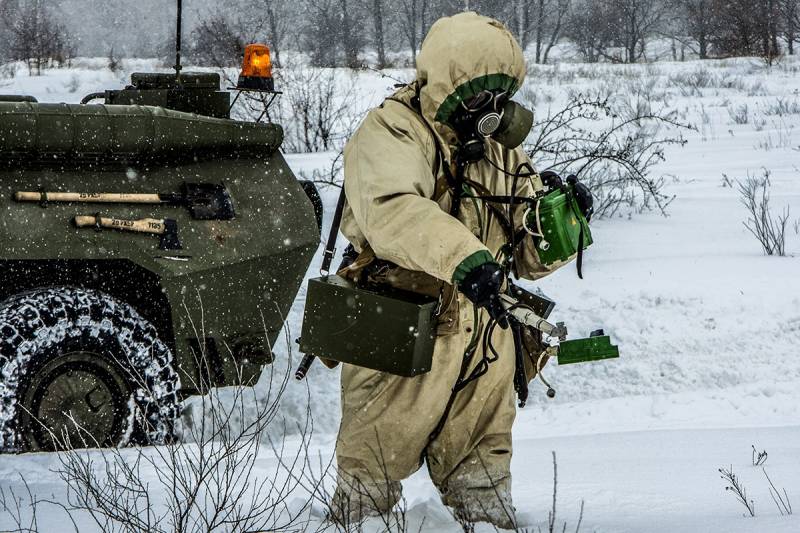 In the future, the Russian army may be armed with a new personal protective equipment. The development of a new gas mask, simultaneously performing the functions of an armored helmet, is reported by the Russian media with reference to a patent received by the developers.
The so-called armored helmet-gas mask was developed at the 27th scientific center of the Ministry of Defense. The new personal protective equipment not only protects breathing equipment, but also performs the function of protecting against damaging elements - bullets and shrapnel. The level of protection is not disclosed.
According to the description, the new gas mask consists of a body, a protective glass is made in the form of a visor, there is an intercom and a device for the safe intake of liquid. To protect against toxic substances, three types of filtering and sorbing elements are used. At the same time, the filters are not located on the front side of the helmet, as in modern gas masks in service with the Russian and foreign armies, but symmetrically on both sides in the temple-ear area. Filters made in the form of flat discs provide protection of military personnel from poisonous and toxic substances, radioactive dust and biological agents.
The new gas mask, according to the developers, has a number of advantages over existing models. So, the filters located in the area of ​​the temple-ear do not interfere with firing, in addition, they can be changed while in the area of ​​action of weapons of mass destruction. The gas mask can work in passive mode without discharging the battery, which was not the case on previous models of gas masks. Also, the new personal protective equipment has a "ready" mode, when using which, the transition to a combat position will take only 3-4 seconds, which is very important when the enemy uses chemical weapons.
Another and very important property of the new gas mask is the ability to protect a serviceman from shrapnel and bullets without using a combat helmet.
At what stage the work on the gas mask-armored helmet is not reported. Most likely, in the future, such personal protective equipment will be in demand not only in the RChBZ troops, but also in the entire Russian army.