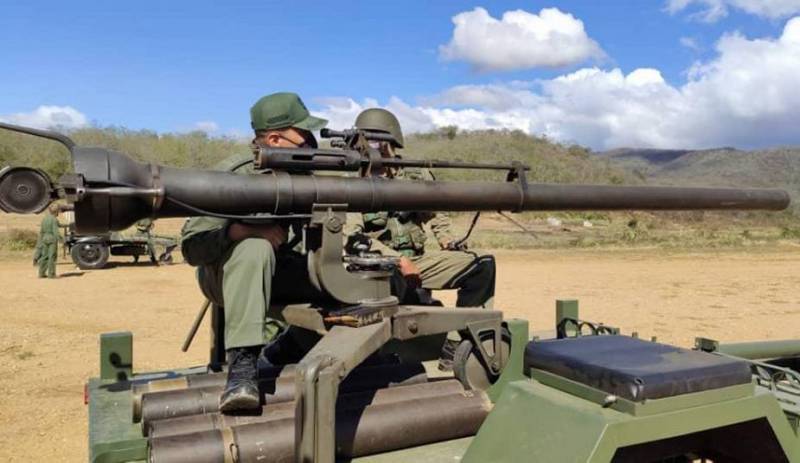 The Venezuelan army is modernizing its outdated 106mm M40A1 recoilless guns, installing PSO-1 4x24 sights, which are used in Soviet-made SVD-63 Dragunov sniper rifles, and equipping them with HEAT-type high-explosive anti-tank ammunition.
According to InfoDefensa, the American-made M40A1 guns used by the Venezuelan army since the early 1960s are installed on self-propelled Ontos platforms, which were first presented to the public in May 2020. It is based on the chassis of the French
tank
AMX-13, which received the IMI Systems LAR-160 multiple launch rocket system instead of the gun. Instead of MLRS, the Ontos product is armed with six 106-mm M40A1 cannons. The guns are equipped with PSO-1 - Venezuela acquired almost 5000 sights in the middle of the first decade of the 21st century.
With new Dragunov optical sights and high-explosive ammunition, armored vehicles will increase their combat power and accuracy
- said the commander-in-chief of the country's army.
Apparently, the Venezuelan military, when creating Ontos self-propelled guns, claimed the experience of the American army, which developed the M50 Ontos multi-barreled self-propelled gun with M50A1 cannons, the name of which was copied. In total, 1963 of these machines were delivered to the US troops from 1965 to 176. They were actively used during the Vietnam War.
The American-made M40A1 cannon has been used by the Venezuelan Army and Marine Corps since the early 1960s.