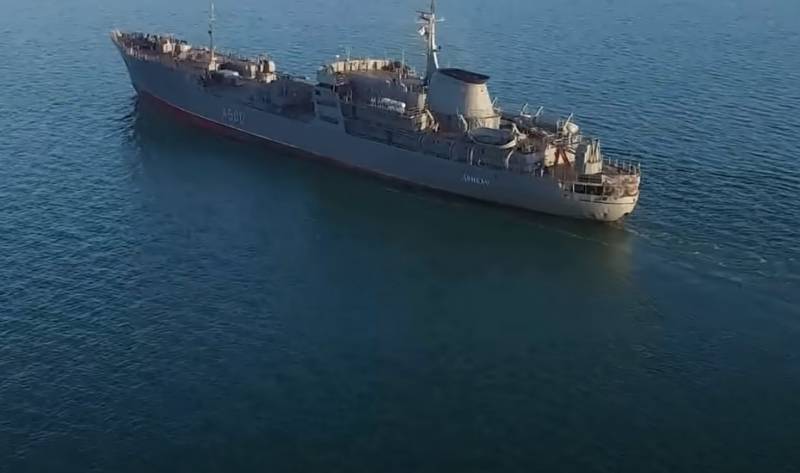 Another provocation of the Ukrainian Navy may occur in the Kerch Strait, where the Ukrainian command ship "Donbass" (A500) is moving, which does not respond to warnings from the border service of the FSB of the Russian Federation. The Ukrainian ship does not have a permit to cross the strait.
According to the press service of the FSB of the Russian Federation, the command ship of the Ukrainian Navy "Donbass" on the morning of December 9, 2021 left the port of Mariupol and headed towards the Kerch Strait. He did not submit applications for the passage of the strait. At about 13:15 pm, the ship of the Coast Guard of the Russian FSB Border Service, accompanying the Donbass, warned the commander of the Ukrainian ship about the need to apply for passage through the strait, to which the reply was received that the ship of the Ukrainian Navy did not plan to pass through the strait.
At the time of publication of the material, "Donbass" was about 18 nautical miles from the strait, moving in its direction, does not react to requests to change the course.
The control ship "Donbass" of the Ukrainian Navy was built as a floating workshop "PM-9" of project 304 in Poland. Laid down on July 17, 1969, launched on November 29, 1969, commissioned on September 30, 1970. Full displacement 5520 tons. Length 121,7 meters, width 17 meters, draft 4,62 meters. Full speed 14 knots. Cruising range 13000 miles at 8 knots. The crew is 131 people.
It became a part of the High-Speed ​​Line of Ukraine in 1997 as a floating workshop, in 2001 it was retrained as a command ship. Since 2014 he has been stationed in Odessa. He arrived in the Sea of ​​Azov in 2018 together with the tugboat Korets, passing the Kerch Strait accompanied by Russian border ships without any incidents. Based in Mariupol.