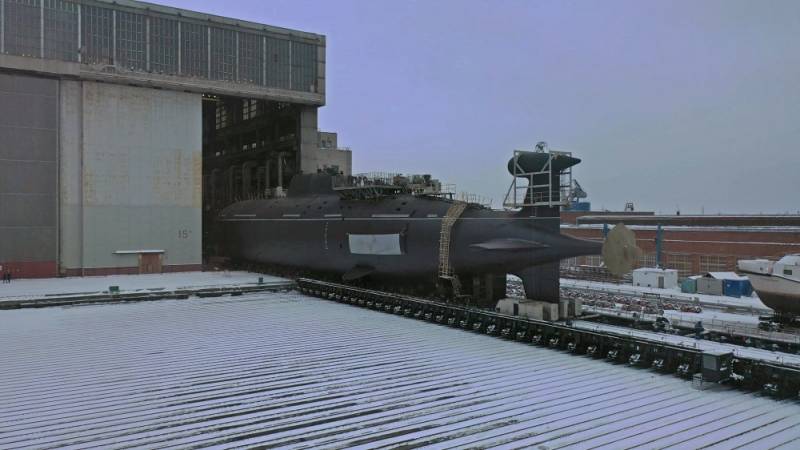 Withdrawal of the nuclear submarine "Leopard" from the boathouse. December 2020
Testing of the modernized project 971 nuclear submarine Leopard is planned for the next year, 2022. After passing all the necessary tests, the submarine will return to the combat composition of the "Animal Division" of the Northern
fleet
.
The project 971 multipurpose nuclear submarine Leopard, which has undergone repair and modernization, will be tested in 2022, said Sergei Marichev, general director of the Zvezdochka Center for Strategic Research, answering a related question. But he did not name a specific date. There is also no exact information about the beginning of tests of the submarine at a source in the defense industry, the words of which are quoted
TASS
... The source confirmed the plans to withdraw the nuclear submarine for testing next year and added that the arsenal of means of destruction of the submarine in quantitative terms will remain the same - 40 missiles and torpedoes, but it includes the KR "Caliber".
The multipurpose nuclear submarine K-328 "Leopard" was laid down at Sevmash on October 26, 1988, launched on June 28, 1992, and entered the fleet on February 5, 1993. She arrived at Zvezdochka at the end of June 2011. In May 2012, the ship was placed in a boathouse and equipment dismantling began on it. In 2014, it was reported about plans to complete work on the submarine in 2015, but the work initially went behind schedule due to a delay in documentation from the designer of the SPMBM Malachite.
On December 25, 2020, the submarine was taken out of the boathouse and launched. According to the Ministry of Defense, the boat underwent medium repairs with deep modernization. In the course of work on the submarine, the replacement of electronic weapons, control systems, communications, navigation, hydroacoustics, BIUS was carried out. The submarine received new weapons (KR "Caliber"), and the acoustic signature was also reduced.
The nuclear submarine Leopard is part of the 24th Animal Division of the Northern Fleet of the Russian Navy, together with the nuclear submarines Tiger, Vepr, Panther, Wolf, and Gepard.