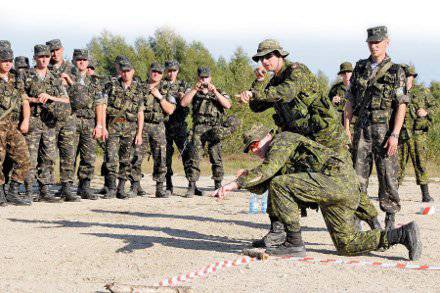 The opening ceremony of the Maple Arch - 2012 multinational tactical exercises took place at the Pabrade military training ground in the Republic of Lithuania. This is the press service of the Ministry of Defense.
During the ceremonial construction, the participants were addressed by the commander of the Iron Wolf wolf brigade of the Armed Forces of the Republic of Lithuania, Colonel Valdemar Rupsiis, who noted that the conducting of the Maple Arch 2012 exercises is evidence of the high level of cooperation and partnership between the armed forces of Canada, Poland, Ukraine and Lithuania of the republic.
"This is a good opportunity to prepare our soldiers to perform common tasks," he stressed.
On the eve, about 120 soldiers from Ukraine, Canada, Lithuania and Poland took classes on the observance of security measures and rules for handling
weapons
and military equipment during exercises.
The international tactical exercises "Maple Arch - 2012" are attended by servicemen of the 80 separate airborne regiment of the 13 Army Corps, the Academy of the Ground Forces named after Hetman Peter Sagaidachny and the Regional Media Center of the Ministry of Defense of Ukraine. Together with their Canadian, Lithuanian and Polish colleagues, they are trained in performing tasks as part of multinational forces during peacekeeping operations.
We will remind, with 23 on 27 of July on the Shirokolanovsky range in the Nikolaev area there passed the Ukrainian-Russian-Belarusian battalion tactical doctrines "Slavic Commonwealth-2012".