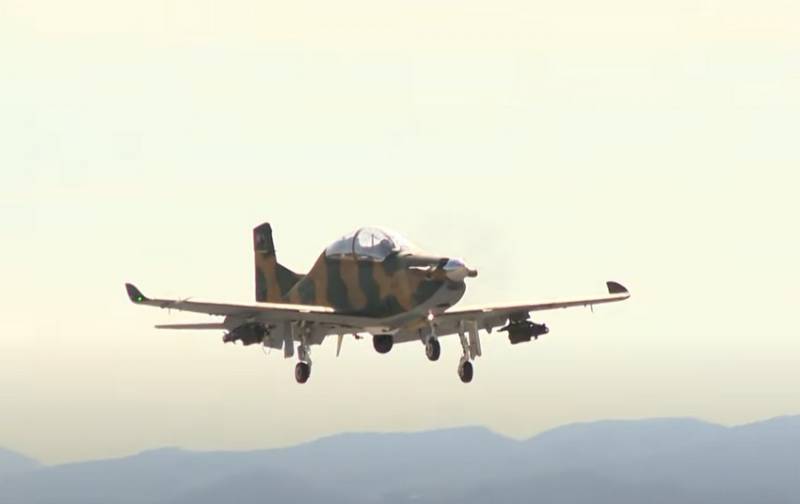 Azerbaijan is likely to purchase the Hurkus trainer aircraft developed by Turkish Aerospace Industries (TAI); Baku has shown great interest in this aircraft.
Azerbaijan may become the second foreign customer of the Turkish Hurkus training aircraft after Niger, which ordered 12 aircraft. Although no statements have been made on this topic in Baku itself, they have spoken out in Turkey. Ismayil Demir, head of the republic's defense industry, said that the Azerbaijani military are showing "great interest" in this aircraft. Another plus in favor of this version is the tests of two Hurkus aircraft in Azerbaijan at the beginning of December this year in the presence of the country's air force commander.
While there is no other information, it is not even known what kind of aircraft model we are talking about. Perhaps it will be the training Hurkus-B or the Hurkus-C turboprop attack aircraft developed on its basis.
If Hurkus-C is chosen, the Azerbaijani Air Force will receive a two-seater turboprop attack aircraft with six external suspension points, on which it can carry up to 1,5 tons of weapons. The armament includes conventional bombs, unguided rockets, suspended containers with 12.7-mm machine guns and 20-mm cannons, guided
aviation
GBU-12 bombs and the new Turkish guided bombs Tubitak SAGE KGK 82 and HGK 3, 70-mm Roketsan Cirit missiles and anti-tank guided missiles Roketsan UMTAS.
Earlier, Azerbaijan showed interest in another Turkish project - the Hürjet single-engine combat training aircraft, which is a further development of the Hurkus series. It is planned that the new aircraft with a length of 13,4 m and a wingspan of 11 m, will be able to develop a maximum speed of 1,2 M, climb to an altitude of almost 14 km and carry up to 3000 kg of payload. The first flight of the aircraft is scheduled for 2022.