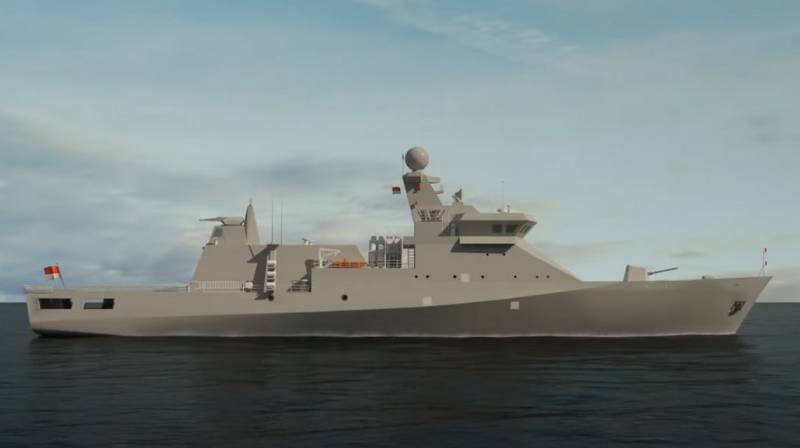 A patrol ship of the OPV90 project, on the basis of which the Bulgarian corvettes will be built
The Bulgarian Navy will soon be replenished with two new MMVP type multipurpose patrol ships. The laying of the first ship took place in Varna, at the MTG Dolphin shipyard.
The project of multipurpose patrol ships was developed on the basis of the OPV90 project. The project is being implemented by the German company NVL Group, formerly known as Lürssen Defense. As part of the contract concluded last year, the Germans undertake to build two ships by mid-2025 (lead) and by mid-2026 (the first serial and also the last).
It is emphasized that the construction of these ships will cost Bulgaria 420 million euros, which is quite an impressive amount for the country. The contract has already been named the largest for the Bulgarian
fleet
.
Details about the project were not disclosed, but if it is based on the OPV90, then you can roughly imagine the armament of the new corvettes. Presumably, the ships will receive one 57 or 76 mm gun mount, two 20-mm automatic artillery complexes, a vertical-type launcher for anti-aircraft missiles and anti-ship missiles. Perhaps it will be MM40 "Exocet", RBS-15 or NSM. The length of the ships will be 90 meters, a displacement of 2300 tons, this is officially stated. There is also information about the possible installation of a new BIUS on ships from the Swedish company SAAB.
Note that for the first time they started talking about the construction of patrol ships for the Bulgarian Navy back in 2017, although the decision was made a year earlier. The Bulgarian company MTG Dolphin ("Dolphin") became known after the construction of warships for Equatorial Guinea according to a Ukrainian project developed at the Nikolaev Research and Design Center for Shipbuilding.