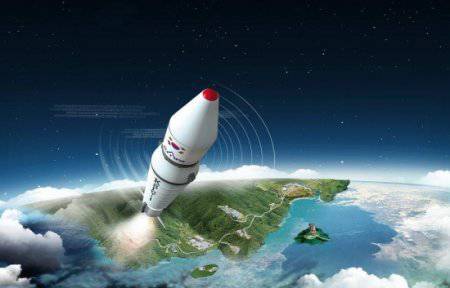 In order to provide protection against the most powerful
weapons
в
stories
humanity - intercontinental ballistic missiles - the Pentagon is already implementing a number of ambitious and expensive programs to create interceptor missiles. Especially difficult was the concept of the destruction of missiles in the middle and upper parts of the trajectory. For this purpose, special means were developed, such as the GMD missile, an extra-atmospheric homing kinetic EKV ammunition, and a SBX floating radar.
However, a report by experts from the National Research Council of the United States brings a disappointing outcome of these projects. According to the researchers, no more money or resources should be invested in missile interception systems in the final segments of the upward trajectory. It is better to spend money on missile defense systems that can destroy missiles immediately after launch. The publication of the report required more than one package of paper in the foot, because The report analyzes almost all aspects of this issue.
Thus, experts advise not to deploy expensive GMD rocket batteries in favor of other systems. Most likely, the use of GMD will not stop: the United States needs a layered defense, and, moreover, a GMD missile with an EKV interceptor can also be used as an anti-satellite weapon. However, apparently, the emphasis will be placed on the interception of ballistic missiles directly in the launch region.
For this, there are already more or less reliable systems like the Aegis with the SM-3 rocket. Also in the first echelon of missile defense it is planned to use unmanned aerial vehicles, stealth planes, airships, satellites and ground-based launchers of the same SM-3 missiles with an increased radius of action.
Until now, American military experts have said that it is very difficult to shoot down a ballistic missile at the initial stage of dispersal. The time window for a reliable defeat is too narrow - 3-4 minutes before the rocket reaches the longer middle section of the trajectory, in which it is vulnerable only to GMD missiles. Therefore, interception in the middle segment of the trajectory was considered optimal.
Now the Americans will focus on improving systems and increasing the capacity of the missile defense system in the first echelon - the "four-minute one". This will require a lot of money, which, however, promise great opportunities. So, only early warning satellites will need 650 pieces worth 300 billions of dollars. But to make the missile defense system truly effective, it will take even more satellites - around 2 thousand.
How hard it is to say. New technologies, such as networks of nanosatellites, reusable platforms like X-37В, unmanned aerial vehicles are possible and could solve this problem. In the case of the implementation of such a missile defense system, the United States will receive an unprecedented situational awareness of any region of the planet and, in fact, complete power over the entire Earth.