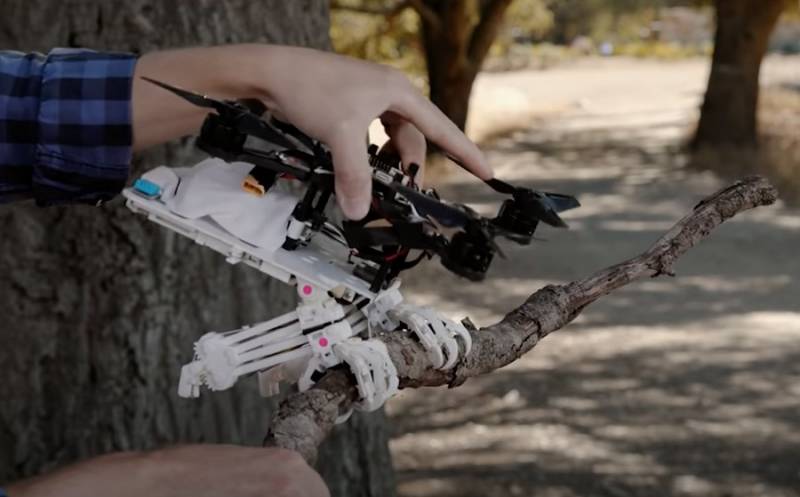 In the United States, a new quadrocopter has been developed, capable of "landing" on branches and wires "like a bird." For this, the drone was equipped not with a chassis, but with a mechanical landing system similar to a bird's paws.
A new quadcopter called SNAG (Stereotyped Nature-inspired Aerial Grasper) was developed by specialists from Stanford University based on bird observation, or rather, their landing. The chassis developed from these observations is a fairly accurate imitation of the paws and claws of birds with a similarity of tendons and muscles. Tendons were replaced by wires, and muscles were replaced by special motors. Upon landing, the structure absorbs impact and forces the claws to clench. After that, the command is given to stop all engines and the balancing system is activated, allowing the drone to stabilize and not topple forward.
As explained at the university, birds use the same algorithm when landing, no matter what surface they land on. Deciphering this algorithm helped create new "chassis" in the form of bird paws for the drone. Moreover, it is stated that this landing system can become universal and be used on other UAVs.
In addition to the landing process itself, a quadrocopter equipped with "bird paws" is able to catch objects in the air and carry them, clamping them in "claws". Tests in the forest showed that a drone, like a bird, does not matter where to land. Regardless of the thickness of the branch, its irregularities, moisture, etc. claws fixed the UAV on the surface. Tests were also carried out with throwing objects that the drone picked up in the air and successfully held them.
It is assumed that drones equipped with such a landing system can be used in rescue operations, especially in areas where there are problems with landing. However, if the usefulness of this invention is proven, it will be used, especially since this system can be installed on other drones.