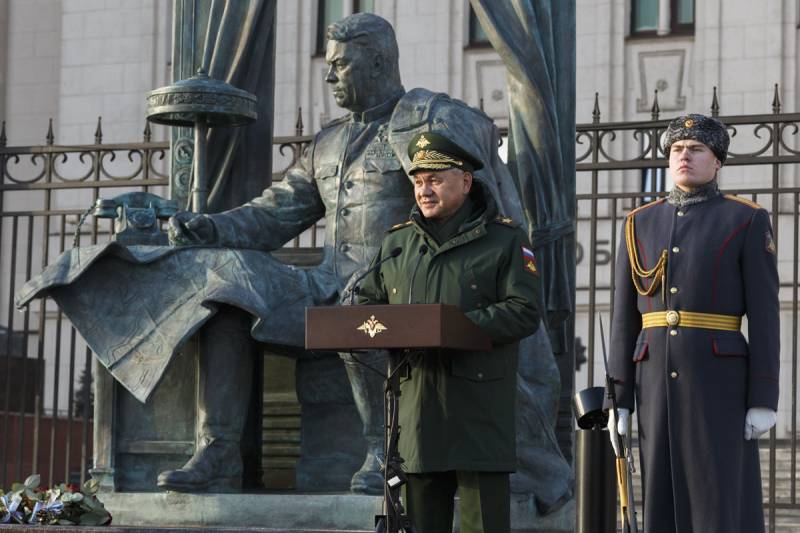 A monument to Marshal of the Soviet Union Alexander Vasilevsky was unveiled on the Frunzenskaya Embankment in Moscow near the building of the RF Ministry of Defense. The ceremony took place on December 4.
The opening ceremony was attended by Defense Minister Sergei Shoigu and Assistant to the President of Russia, Chairman of the Russian Military Historical Society Vladimir Medinsky, who addressed the audience.
The monument was created by sculptors from Grekov's studio; it is a figure of a marshal in field uniform with an overcoat draped over his shoulder. Vasilevsky sits at his desk over a map of military operations. A lamp on the table lights up at nightfall and illuminates the marshal's desk.
As the head of the Ministry of Defense said at the opening of the composition, Vasilevsky planned many operations of the Great Patriotic War, which brought closer the complete defeat of the Nazi troops. He was a talented employee of the General Staff and an operations planner, many of whom are included in textbooks and are still being studied.
Marshal of the Soviet Union Vasilevsky Alexander Mikhailovich (30.09.1895/5.12.1977/1945 - 3/XNUMX/XNUMX) - Soviet commander, chief of the General Staff, member of the Supreme Command Headquarters, commander-in-chief of the Main Command of Soviet troops in the Far East, Minister of the Armed Forces of the USSR and Minister of War of the USSR. During the Great Patriotic War, he led the General Staff, took part in the planning and development of almost all major operations of the Red, and then the Soviet armies against the Nazi invaders. In XNUMX he commanded the XNUMXrd Belorussian Front, led the assault on Koenigsberg.