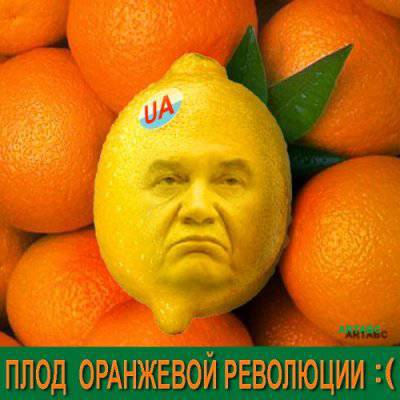 I don't even know where to start ... Probably, from the very beginning, for those who don't like to read for a long time, it's better not to start at all, however, as I was convinced, quite smart people have gathered, so I think for many people it will be a joy. In my short life example, a segment in 7 years, I want to show why the Orange Revolution triumphed in 2004 and why it fell, and why there are no winners from any side.
I am a simple Russian guy, a citizen of Ukraine, I am 26 years old today. I remember the Soviet Union by kindergarten, shortage of goods, airplanes (which flew even in my small town of Berdyansk) and, oddly enough, by a high moral culture, well, of course, I didn't understand this then, but remembering those years today I see the difference. Until 2004, I was warm and friendly towards Russia, at times restrained and even neutral, the latter, however, in rare cases, such as Tuzla Island, football, etc. The ideas of the "Russian world", the revival of the USSR periodically found support from me, though not fanatically, but at the level: in "principle it is possible", "probably", "the Slavic peoples need to stick together." But the state concept of education in Ukraine was doing its job, I left school with such a centrist, respecting my country, and still loyal to Russia, since the mass culture and Russian media penetrated us. I went to university at
historical
faculty .... And then the slow movements of consciousness began ... I won't say that I was affected by the obligatory use of the Ukrainian language in higher educational institutions, and not even textbooks by Canadian historians, but more living people-teachers with Russian surnames. This process went slowly, practically in line with the same centrist, but with a small right deviation, almost imperceptible. At this time, Putin was in power in Russia, his first term was on. Here in Ukraine, and not only in the Southeast, and even in the central regions of Ukraine, he aroused admiration, and by the way, with me too. I curbed separatism in Russia, regained the prestige of the army (compared to Ukraine, I know that for many in Russia, this is still not enough), strengthened foreign policy. In short, Putin was raving here, too, and right now. 2004 was drawing near ...
In 2003-2004, Ukrainian society is morally and psychologically tired of President Kuchma, a series of scandals and corruption (as it turned out, they were flowers). The political and electoral company went sluggish until August 2004. It was not yet clear who was coming from the opposition; one thing was clear that Yanukovich was a continuation of Kuchma. Great hopes were pinned on S. Tigipko (a successful state and bank manager), by the way, he also often flashed on the screens at that memorable time. Still, the choice of power fell on Yanukovych, to whom I and my family (mom and dad) were somehow purple. Towards the end of the summer of 2004, the election campaign literally began to enter homes, work and business. I will start with the latter, since my parents at that time were entrepreneurs, they were in for a surprise. The tax authorities have begun to stimulate small businesses to pay more vigorously and preferably "in advance" !!! In a private conversation, they openly admitted that they were from the "I" power to the election campaign. The first rejection came. The second rejection also came at lightning speed, when students began to drive us out to election rallies in support of the authorities, the third, perhaps most important, for my father as a military man and me personally, are our two previous criminal convictions of the "I" in the country and the absence of a priori military service. Of course, one could even neglect this, writing off the mistakes of youth, but the problem is that the dark world remained, and the Donetsk region spread throughout Ukraine de facto in the form of both appointees and strong guys of dubious appearance. At that time, the opposition was nominated by Yushchenko, who, of course, was perceived as a "stranger", although he came from the Sumy region. No one knew then that he was more a lecturer, a museum specialist than a European type manager. All that attracted him was the Western style of conducting an election campaign, really direct meetings with voters, not meetings, more precisely, driving in "DC", and, of course, "promises" to go through the development of Poland and Eastern Europe. Of course, as a first-year student, I understood that we would not live like in Europe, but what tempted was the possibility of building a state of law. It was with me, and in my environment: parents, students, teachers - it was at the forefront. For small businesses, the thirst for transparent rules of the game, the intelligentsia is a salvation from the criminalization of the country, well, and hurray for the patriots — Ukrainization, etc. All layers and social groups are covered under Yushchenko, with the exception of the workers. It seems that Yanukovych himself was a technology of success for Yushchenko. So it turns out that the Russian city of Berdyansk gave Yushchenko 2004% in 22, and the neighboring worker Mariupol, only 4%. Our city lives in resort business and study, as it would be said today, this is a city of network hamsters.
And my Russian friends from Russia call, write to me, especially a classmate who left for permanent residence in Moscow in 1997, and the message of almost everyone is: "Did you sell the US there with giblets, how much do you get paid?" By that time, I already participated in opposition rallies. And what should I tell them? Imagine that the president of the Russian Federation is becoming not Moscow (Kiev as we do), and not St. Petersburg (Kharkov as we do), but some kind of "Kushchevsky" (Enakievsky as we do now) candidate, but a unit. An alternative to him is Nemtsov (Yushchenko), who at least served in the army, and normally speaks without notes and makes no mistakes! Normal choice, huh ?! So we had to go to the "barricades", first in our city, then in the regional center and, finally, in the capital, in order to defend, as it seemed to us, the lesser evil. Yes, I will not hide - they drove us, who himself traveled for his money. At the expense of the promoted trend that everyone has been paid there, this is nonsense. I know that I will upset many people, but I hope that people on this resource understand that the revolutions of 21 have been paid for by their organizers, not just by the participants, and it's silly to beat each other in public squares and accuse the State Department of corruption. Simply, there are real problems in the country, which we face every day, of course, you can grit your teeth, ignore them every day, even when you hit them right in the head (major accidents, raider seizure of your business, which you yourself raised, and etc.), but the openness of borders and information gives other examples of the development of relations between society and the state.
And then Mr Putin is disappointing. It is clear that for geopolitical reasons, Yushchenko is not suitable for the Russian leadership. But the support of the openly "gangster" "I" only exacerbates its authority in Ukraine. It turns out, we, for example, must vote, at least for the "pig"? But only because he arranged for the Russian leadership? Further the situation only aggravated.
With the arrival of Yushchenko, alas, it did not get better, on the contrary, it became even worse. Reform a la Poland, Slovakia, Georgia did not follow. Instead, we got verbiage in the media and oligarchic lawlessness, and the most complete. You can even recall the words of Yeltsin: "Take freedom as much as you can carry (take)." It became approximately the same as in Russia in 90.
But back to the "origins". As a result, the country has become a huge museum in memory of everything and everyone. No one argues that it is necessary to revive the national memory, this is normal for each country. But under Yushchenko it was brought to complete insanity, and for some reason Russia became the main enemy. Instead of fundamental reforms of the economy and law in general, for 5 years in a row they have been rewriting history textbooks in the country. To the questions of people who sincerely came to the Maidan in the 2004 year, they say, when will the very changes begin, why only history and culture, where are the economies and independent courts? They answered us philosophically mockingly: "Without awareness of the past, there is no future." Everyone instantly remembered and got bored with Pan Kuchma, who was a statesman, as Putin is today in Russia !!! All the same, Yanukovych did not want to, because the oligarchs surrounded him even more abruptly - "Donetsk", but he returned. As a result, Ukraine ceased to be a de facto state, the signs of which it even possessed in the harsh 90's, because then the "red directors" headed by Kuchma held power. Ukraine has become a territory for making big money. Therefore, the current government is not interested in integration processes with both the Russian Federation, Belarus, Kazakhstan, and the EU. In general, nothing is clear now. What is the course of the country ?! But no way! For example, even the idea of ​​a Customs Union, our elite sees, at best, according to the mysterious formula: "3 + 1". We have become a ZAO Ukraine. Now again in Ukraine there will be elections. But there really are two choices. The first option is to vote for the people who Yushchenko brought to power, or for Yanukovych with his conservation, degradation of the state? A thinking person in the country has no one to vote for! As for the communists, so .... I'll swear, better not say anything. If you want to feel the full venality of today's communists, come to Ukraine. Neither Moldovan Voronin, nor Russian Zyuganov, stand close.
Now the most important thing. Of course, everything can be attributed to the absence of democratic traditions, historical memory, and statehood. And try again and again to synthesize a new liberal-patriotic elite, which will lead us, if not to the European Union, then to the rule of law on the principles of building a civil society. Therefore, in the 2010 year, recalling those memorable orange days, I sincerely hoped for the blockade of the Ukrainian authorities by the West, for the aid of the West, etc. I followed closely the emergence of new political forces, but the political life was dimming in Ukraine, and I decided to fix my eyes on the world as a whole, what do we have there today? The benefit of information is enough, from the Internet and TV, to a dozen relatives arriving at work in Europe. This is where the problems started in my liberal mind. I could not understand why 90% of those who returned from there, were skeptical and critical of life in the West ?! I have not been small for a long time, and I understood that there is no sweet life in everything, and I also need to turn around. But all the conversations boiled down to, perhaps, the key idea: "Living there, you do not feel yourself the master of life, home, work, car and part of the family." But what about the original right to private property and personal life? Alas, I did not discover America, I knew it before, but I did not betray such things as: bank loans and rental housing. The whole philosophy and model of the Western way of life: "this is life on credit, life on lease". But what about freedom, where is she? Stop, crumple cruelly, so out? Especially I was morally killed by the housing and communal services reform in Ukraine, according to which (according to the media), as a result of a long non-payment, really long, they can take a house (apartment) in court without notifying the debtor, even if it is privatized !! My cousin is no longer a joke, but seriously talks about the advantages of the private sector and the village, where for non-payment, they can only cut off communications, and there, even if you take it with a stove, warm yourself. I thought about it, but for the final break in my liberal mind was not enough. Just think what's so bad about living in the West in a rented house on 49 years in advance? There is a lot of work, high employment, and any unemployment benefit, is anyway higher than our coolest Ukrainian salary and is enough for living in its own "corner" of the working district, but then London, Madrid, Paris, Rome, etc. We, too, can achieve this, just to change the elite !!
Soon came the second blow to my liberalism. Libya. I will not stop for long, then everyone understands everything. For the first time there was not even a high-quality information coloring. Yes, what could be the coloring, when the world media discussed which oil companies in France and the UK would pump Libyan oil !! If for Iraq, Western media in 2003 said anything from chemical
weapons
, before the violation of human rights, then in the Libyan company in the media, the topic of oil ranged from 30% to 50% of airtime! The masks were removed, although many of our liberals are still out of habit or do not specifically want to admit it. What was the shock for me? Shock as such was not strong, just really there was nothing to hide "scoops" (I confess) in the forums and in conversations. I discovered an internal conflict in myself.
The third blow and control in my liberal thinking at the end of 2011 of the year was not even delivered by the Russian World project, and not by the club a la Slavic Union, but by the MMM-2011 financial pyramid. It can be treated differently, personally I consider it to be either an adventure or a conscious scam. But that's not the point, and not even in money. For the first time in my adult conscious life, I was mentally, consciously on the same frequency as a resident of Vladivostok, Astana, Minsk, Riga, etc. total former Soviet Union. What politicians failed to do was made horizontal links of a certain social network connected by one goal. As a result, I learned a lot about the financial structure of the world and its backstage, puppeteers. Of course, I even seemed to know that the United States prints dollars, and there is freemasonry, and I even watched films. But all this was perceived as a marginal and partial right to the existence of such a version. Why did this blow become a control for me? Because the previous two blows to my perception and attitude were united: the credit way of life and the Libyan military campaign of the West. The entire mosaic lined up - the world of consumption, of which the West is the locomotive. I realized for the first time in my life that under any authority, in Ukraine, there will never be a good GDP and income like in Western Europe, because for this it is not enough to become the 100% part of the world dollar pyramid, since we will be downstairs and play by their rules. We will never have a rule of law in the West. Because the basis of their legal culture is Anglo-Saxon law, which, in turn, is based on their traditional mental-economic way of life, with all the economic relations arising from this. And what is this relationship? Again, a loan for a loan, rental of everything and everything. And this is alien to us and our land! To become part of Western civilization, you need to travel and dissolve there, or kill yourself spiritually! Liberals would now object to me, and I would have shouted: "Hey, Scoop, but what about Slavic Poland, the Czech Republic, Slovenia and former socialist republics?" Minute, I don't want to raise the religious and cultural aspect, they just they have already taken that other side somewhere after the 14 century and still, their limit is 500-1000 euro of income, they won't give you anymore, they will still take it away when the "X" time comes to pay the bills.
And now, returning to liberalism in the CIS, I remember one cartoon (I will not give advertising), where it says: "it's impossible to win in a game where the rules change constantly and you don't invent them, and you don't change them!" Unfortunately, liberalism , as a phenomenon on our lands, is a chimera, a dummy, an instrument, a technology, call it what you will, but this is not the force that leads to the prosperity and development of society. And in the world as a whole. Simply, mentally, we reject it more, probably because we have a piece of the East. (This is my personal subjective opinion).
Which exit? As I already mentioned, it is possible to create a dozen of clubs and public organizations and forums with a noble name: "Russia", "Soviet Union", "Slavic Union", "Eurasian Union", and the effect on ordinary citizens will be close to zero. We live in the cares and efforts. We need a social interactive media virus that is able to go out of the world of the Internet into real life, which will force people to ask questions and encourage them to create, within the framework of the Law, of course. Need a social idea that will grind ideas and beliefs, will not be with all due respect to the past (1917), and, of course, not a sect. Something that again will unite Berdyansk with Vladivostok, Astana and Minsk. By the way, going back to the sad experience of MMM, I would say that our enemies immediately appreciated this threat, the Baltic authorities reacted harshly, it is interesting that their formidable rhetoric did not come down to the Belarusian scenario: "crush the scammers", but to prevent crazy Russian ideas: " to stop the Russian economic intervention ", and even, I don't immediately remember, it seems ideological. (for reference, the goals of MMM were: the Venus project, the elimination of the dollar / money, etc.)
Thus, whether we like it or not, the liberals will not stop the workers from Uralvagonzavod, or the Nashi movement, etc. They are creative, active and convinced that they are fighting for a just cause: independent courts, freedom of speech, democracy and economic prosperity. And in their understanding, this is the classic Western model. I thought the same way. Therefore, the liberals can only be wrapped back in the Russian, Soviet, noble, call as you like, people. How I turned myself. No financial pyramids are needed, etc. I see only a sketch of the exit. It will open when every citizen sees that a result appears from his action, which in turn changes society, people's relations and, finally, the country. Abstract? I agree. To make it clearer, such a primitive example: mass Saturday. But its organizers are us. Or, for example: a meeting on the border of Belarus, Ukraine and Russia - a living chain, a circle, etc. Unfortunately, these examples are part of what has not yet been invented. It is clear that the shares themselves will be few in number and ineffective. Need a rod, engine ...
And the last. My classmate from Moscow, who, in 2004, reproached me for the corruption of the United States for participating in the events of Oranzh, posted his winter masterpieces from Bolotnaya on the Internet ... As you can see, fate is still ironic.