Russian President Vladimir Putin has proposed starting negotiations with NATO regarding the fact that the alliance will not move east. And not trusting oral promises, so as not to repeat the mistakes of one too gullible predecessor, formalize all this in a written agreement. Moreover, with legal guarantees that the gentlemen from the alliance will again not give up their words.
Good deed, only it was a little late. For 20 years.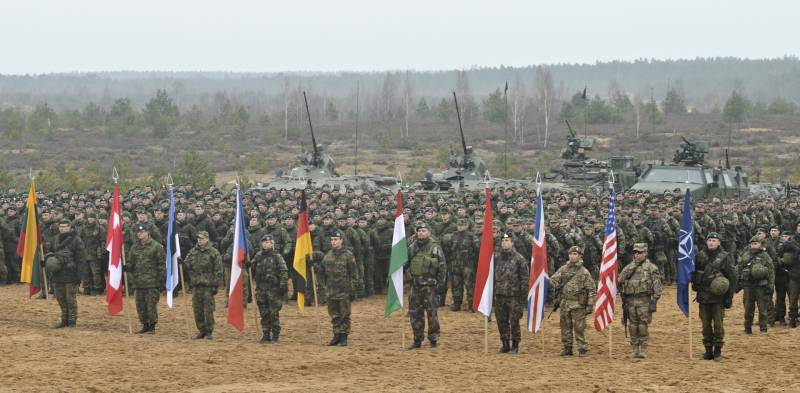 Then, while the power of the Soviet Union was still there, there was an army and a navy, it was possible and necessary to try with all our might to stop the alliance on the way to our borders. Today all this can be described in one word - late.
Let's take a look at a map of NATO in Europe. We are most interested in it, and everything is clear with North America.
As you can see, the alliance picked up everything that could be picked up. In fact, only Ukraine, which has territorial disputes with Russia, and Moldova, which has territorial disputes with Transnistria, remained in the European part. And on the other side is Georgia, which also really wants to join NATO, but it also has territorial disputes with Russia.
Both Ukraine and Georgia sleep and see how to get into NATO. For some reason, they are confident that joining NATO will solve all the problems of these countries in terms of disputed territories and security.
There seem to be no more people around Russia who want to join the alliance. So, most likely, speaking of not moving NATO eastward, Putin was referring to these two countries.
In general, of course, when the OVD collapsed, then it was necessary to move. Now there are the wretched remnants of the empire. But even for them, apparently, there is a life-and-death war.
"In dialogue with the United States and its allies, we will insist on the development of specific agreements that would exclude any further NATO moves to the east and the deployment of systems that threaten us. weapons in close proximity to the territory of Russia ".

Putin has more than clearly stated his vision of the issue. Do not accept Ukraine and Georgia, do not deploy attacking weapons. Otherwise…
And NATO heard the Russian president.
"We will also respect Ukraine's decision that they seek NATO membership. We announced that they will become its members, but, of course, it is up to us, the 30 NATO allies, to decide when Ukraine is ready for membership, when they meet NATO standards. Russia has no veto. Russia does not have the right to vote. And Russia has no right to create a sphere of influence. "
This is the answer of NATO head Stoltenberg.
More than understandable, the answer is no. In the daytime with Russia, you can not stand on ceremony. It's too early to be rude, but you can already demonstrate your confidence.
In general, this is a new step for both sides. Both for Russia and for NATO.
For quite some time now, Russian leaders have been talking about NATO expansion worries. And the entry of Ukraine will be the last feature. What is behind this line has not yet been announced, but it is clear that leveling off the offensive weapons deployed in Ukraine will require enormous efforts and costs from Russia, but will not bring confidence in its own security.
Distances are too small. Shooting point-blank.
And so, after so many years, Russian politicians came to the conclusion that it is not enough to receive verbal statements and guarantees from NATO, it is time to move on to documentary evidence. At least with regards to Ukraine.
However, the map of military-political influence in Europe has already been drawn almost completely, and the allies in the alliance are clearly pursuing their policy, not taking into account the opinion of Russia especially. Therefore, the Russian Foreign Ministry and other top-ranking politicians can talk as much as they want about the fact that Russia is not going to attack Ukraine, give any arguments, the most important of which is, perhaps, the one that we can't pull the content of the square - all in vain.
If Mr. Biden said that crocodiles fly, then they fly. Low, at night, but fly.
Accordingly, the alliance will "defend" Ukraine with all its might. Most likely, this will result in a further bombardment of the Armed Forces of Ukraine with various weapons until the time comes to accept the country into the ranks of the alliance. This is familiar.
Here, of course, the right of countries (Georgia and Ukraine in the first place) to conduct their policies as if non-admission to NATO is a terrible omission that must be corrected at any cost. A panacea for all problems.
The most piquant aspect of the situation is that most of the NATO member states are categorically against Ukraine's entry there. Precisely because of the situation with Russia. Everyone understands perfectly well that poverty-stricken Ukraine will have to be supported at their own expense, and also (God forbid) to be protected from Russian aggression.
Therefore, many today assess Ukraine's chances of becoming a full-fledged member of NATO as zero. It is too expensive - Ukraine, as a member of any bloc. Therefore, until now, both candidate countries are in a very, very uncertain status in NATO. On one side of the scale there are two new members near the borders of Russia, on the other - the need to support these militarily poor allies (do not forget that NATO membership costs money that neither Georgia nor Ukraine has), and a very likely confrontation with Russia itself.
NATO membership is an average of 1,5 to 2% of GDP. There are those who pay less (Luxembourg, 0,58%), there are those who pay more (Greece, 3,82%). We calculate: Ukraine's GDP is $ 181 billion. 2% is $ 3,62 billion.
Who will believe that such an amount is within the reach of Ukraine? Nobody believes in NATO either. Even a billion can hardly be knocked out of them. So nothing personal, just money.
And here you should not clench your fists in righteous anger. The fact that the alliance through the mouths of Stoltenberg and Biden says that they do not care about Russia's opinion is normal. You must admit that all these years NATO has taken into its ranks all the former republics and the wreckage of the republics of the former USSR and the OVD bloc and did it quite calmly.
Putin's desire, at least in theory, to secure Russia from the deployment of NATO contingent on the territory of Ukraine is understandable, but today the level of Russia's influence is somewhat different from what it was, say, 30 years ago. Here you can definitely ignore the opinion, which NATO is doing.
The only difference is that earlier it was done surreptitiously, but today it was done openly and without hesitation.
Actually, there is not much difference, the result is more important here.
But the "take / not take" result will be decided not in the confrontation with Russia, as the top officials of NATO have already announced, but within the bloc itself. And here everything is, perhaps, even worse for Ukraine than the negative on the part of Russia.
Stoltenberg correctly pointed out that Russia has no "veto" right. And no one will ask her. But Poland and Hungary have the right to "veto", with which Ukraine has very, very tense relations today. But if the Poles are blowing the same anti-Russian tune together with the Ukrainians, then Russian-Hungarian relations are experiencing a very serious warming.
There are also countries with which Russia has significantly improved its relations today. In addition to Hungary, this includes the Czech Republic and Italy. Yes, also Turkey, but only in terms of buying a vote, because the Turks will easily sell or change it.
As a result, at least four NATO members can vote against the admission of Ukraine, taking advantage of the opportunity to receive preferences from Russia.
I speak so calmly about buying votes, because this is a completely normal practice, including in our country. Buy, and easily and naturally. Fortunately - there is a reason.
And since the adoption of the same Ukraine requires the votes of ALL 26 NATO members, it is quite possible that political games around this process will drag on for more than one year.
Yes, in 2008 NATO drove itself into a corner, if not into a trap, when an agreement was signed in Bucharest, which clearly stated: Georgia and Ukraine will join NATO. Since then, no one has withdrawn their signatures, they have not refused their promises. True, the document does not say at all when this will happen. Nobody named any dates. So today the cries of Ukraine "Well, when, when?" don't get intelligible answers. And this is no less normal than Russia's attempts to secure itself against the deployment of NATO troops near its borders. Once again.
However, while the alliance has enough footholds in the Baltics. But - that's what for now. If a decision is made within NATO to accept Ukraine, there is no doubt that they will. Moreover, the promise was given.
In any case, Ukraine tomorrow is a springboard for trade between Russia and NATO. Yes, we can say that NATO operates in a moratorium on the admission of Ukraine, but at the same time it saves its face.
On the other hand, Russia has absolutely no leverage whatsoever on the alliance. Neither military nor political. Alas. Of course, a number of documents could be signed promising not to admit Ukraine to NATO. And this can be done in the same Minsk.
And that will be quite symbolic. The Minsk Agreements are something that has been written, but no one is going to fulfill it. And, most importantly, it does not bear any sanctions or punishments for this.
The NATO Nonproliferation Treaty on the territory of Ukraine and Georgia (the proud word "East" does not look here anymore) would be a document from the same opera - they would forget about it immediately after the ink had dried.
Alas, but the politics of our time is as follows: who is stronger, he acts as it is more convenient and profitable for him.