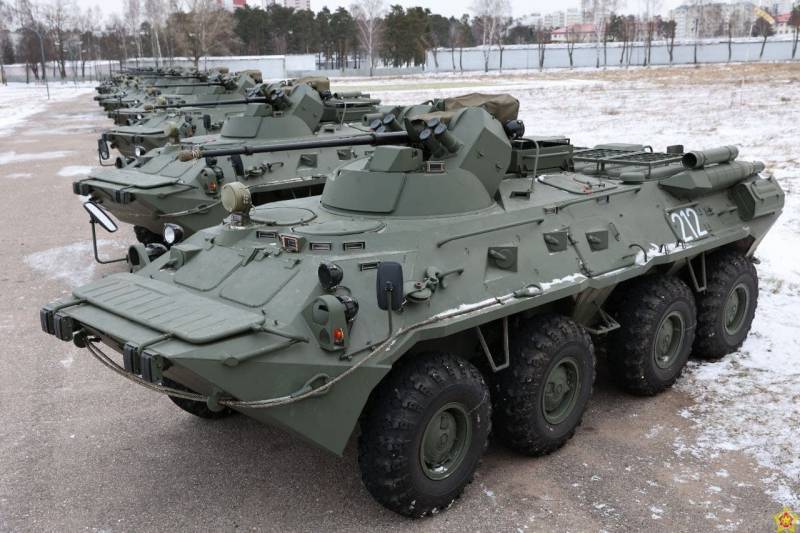 The Belarusian army has been replenished with new Russian armored personnel carriers BTR-82A. The solemn ceremony of the transfer of new equipment took place on December 1 on the parade ground of the 120th separate guards mechanized brigade.
A large batch of new armored personnel carriers BTR-82A produced by the Arzamas Machine-Building Plant arrived in Belarus in October this year, there were no more official reports on the supply of armored personnel carriers. At the same time, the Belarusian Ministry of Defense announced that the equipment was intended for the 120th separate mechanized brigade. In addition, several pieces of equipment will enter service with the 72nd Joint Training Center and the Military Academy of Belarus. It is emphasized that all the armored personnel carriers of this batch are equipped with means of communication and sights made in Belarus.
On December 1, the 339th separate motorized rifle battalion from the 120th separate guards mechanized brigade received new armored personnel carriers. The equipment was handed over by the Commander of the North-Western Operational Command, Major General Alexander Naumenko. After the ceremony, the personnel of the battalion on the new BTR-82A departed to the place of duty.
The BTR-82A is a further development of the BTR-80. It uses anti-splinter protection made of multi-layer synthetic material on the inner surfaces of the case, as well as an anti-mine floor covering. In addition, the seats in the BTR-82A are made on a special suspension. The armored personnel carrier is armed with a combat module with a 2-mm 72A30 automatic cannon and a 7,62-mm PKTM machine gun. In addition, all armored personnel carriers are equipped with an additional protection kit, which includes armor plates and lattice screens.
As previously reported, all the BTR-82A supplied to the Russian and Belarusian armies are armored personnel carriers of a new construction, which have undergone the modernization of the BTR-80 to the level of the BTR-82, and are called BTR-82AM.