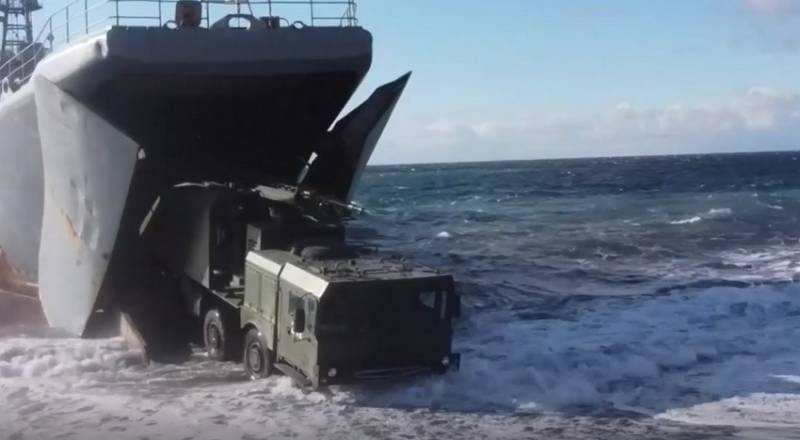 The Kuril Islands were covered with coastal missile systems. BRK "Bastion" was first deployed on the island of Matua in the central part of the Kuril ridge. This was reported by the press service of the Eastern Military District.
The Ministry of Defense has decided to deploy coastal missile systems on the Kuril Islands. A small island of Matua with an area of ​​only 52 square meters was chosen to accommodate them. kilometers. According to the Okrug's press service, the DBK will be on combat duty all year round, controlling the adjacent water area and straits.
An autonomous military town has been deployed on the island, which has everything necessary for a year-round residence of personnel and service. The missile systems were delivered to the island on large landing ships of the Pacific
fleet
, for the DBK, positions have already been equipped, the calculations have taken up combat duty.
Note that the Russian Ministry of Defense pays great attention to the protection of the Kuril Islands. Earlier, Su-35S multipurpose fighters were deployed on Iturup Island, and Bal and Bastion mobile missile systems of coastal defense were deployed to Kunashir and Iturup. All the necessary infrastructure is being built for the military, including housing. From December 1, 2020, the S-300V4 anti-aircraft missile systems, deployed again on Iturup, took up combat duty.
All actions of the Russian Ministry of Defense react painfully in Tokyo, where they still consider the southern Kurils as their "Northern Territories." Japan still hopes that Russia will give them these territories, although it was clearly stated earlier that the Kuril Islands belong to Russia and Russian sovereignty over them is not negotiable. Today, the Japanese prime minister said that the issue of signing a peace treaty with Russia should not be postponed until future times and generations.