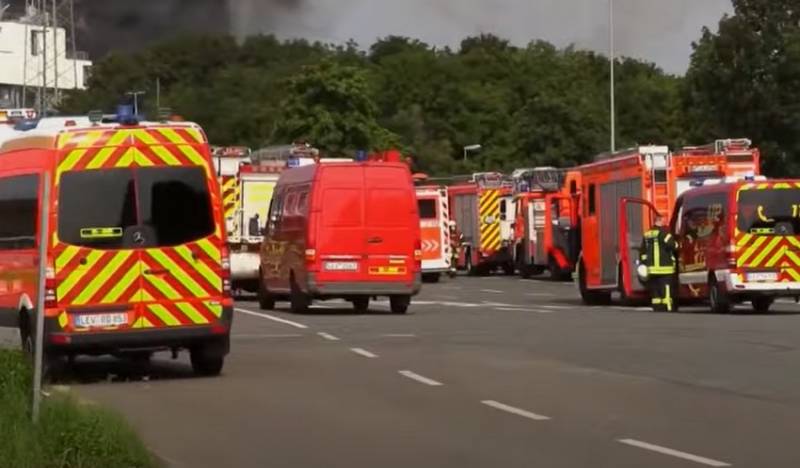 In Munich, Germany, a powerful explosion thundered, three people were injured. According to the city police, the explosion could have been caused by an aerial bomb from the Second World War, which had lain in the ground for more than 75 years.
According to the published information, the bomb was located at a construction site near the Donnersbergerbrücke railway station in Munich (federal state of Bavaria), where the contractors of the Deutsche Bahn railway company are working. As a result of the explosion, according to one information, four people were injured, according to the other - three, one of them has serious injuries, he was taken to the nearest medical institution. The explosion was heard within a radius of several kilometers from the epicenter.
The cause of the explosion was preliminarily named as a detonation of an aerial bomb from the Second World War, disturbed during the work, but this is a "working" version; a special commission, which will include representatives of the police, prosecutors and other law enforcement agencies of Germany, will establish all the reasons for the incident. Currently, the site of the explosion is cordoned off, explosives technicians, emergency workers, firefighters and police are working on the site, about 40 people in total. Two helicopters are involved.
It is reported that there is no further threat of explosions, but the movement of passenger and freight trains through Munich Central Station has been suspended indefinitely.
It should be noted that unexploded shells and bombs from the Second World War are not so rarely found in Europe, the earth keeps many more such "gifts". Last year, a British 5-ton bomb detonated during mine clearance in Poland. This year, two people died in the Solomon Islands after lighting a fire at the site of a WWII bomb. On the territory of Russia, in places of fierce battles of the Great Patriotic War, unexploded shells and bombs are also often found.