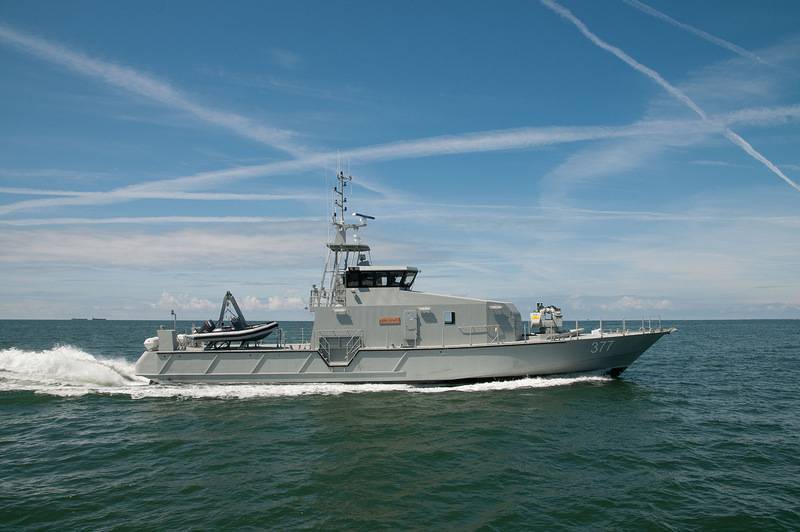 The Ukrainian border service will receive 20 French boats FPB 98 MKI, five of which will be Ukrainian-built. The French allowed Kiev to build five boats for the Ukrainian border service at a shipyard in Nikolaev.
As reported in the border service of Ukraine, on November 30, 2021, an agreement was signed providing for the construction of French boats at the Nikolaev shipyard "Nibulon". The fact that this enterprise was chosen by the French for the construction of part of the boats was known for a long time, but it was documented only on November 30.
As explained in Kiev, the issue of localizing part of the production of boats at the Ukrainian enterprise was important for Ukraine. Now, after the signing of the document, it was announced the start of the official construction of boats in Nikolaev, although the first boat was laid on the Nibulon back in July 2020. It is planned that all five boats will be transferred to border guards by 2023.
By the way, in the message of the Border Service of Ukraine it is noted that representatives of the French company OSEA have thoroughly studied Ukrainian shipbuilding enterprises and found that Ukraine produces "the best in the world" inflatable boats with a rigid hull - the Brig brand. And earlier it produced aircraft carrier cruisers.
Recall that Ukraine signed a contract with the French company OCEA in 2019. As part of the agreement, the French will build 20 FPB 98 MKI patrol boats, five of them at the Ukrainian enterprise. All this will be allocated for three years and 136,5 million euros, of which 85% of the amount is credit funds provided to Kiev by Paris.
The FPB 98 MKI is said to be a 32 meter long light aluminum patrol boat that can reach speeds of up to 30 knots with a cruising range of 1200 nautical miles. Armament: 30-mm artillery mount DS30B. Crew - 14 people. The boat has a shallow draft for sailing in shallow water. Ukraine intends to use these boats to guard the state border, monitor and control, as well as to conduct search and rescue operations and counter sabotage and reconnaissance groups of the enemy.