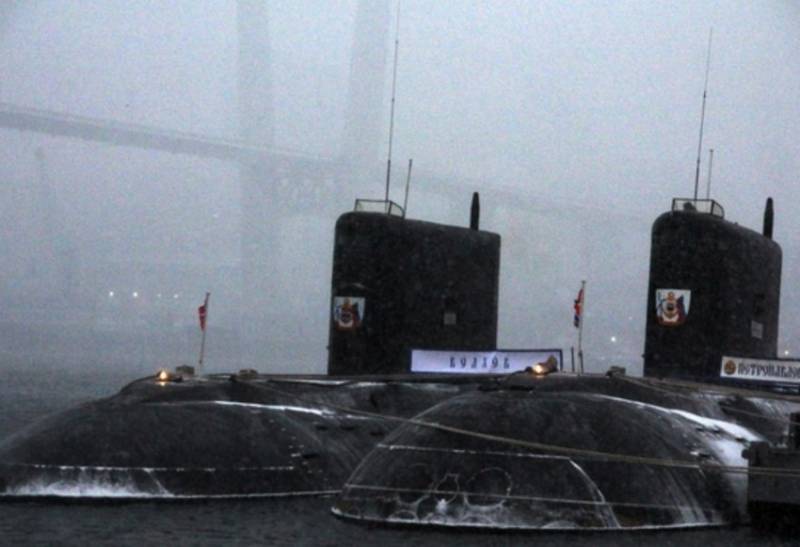 Pacific Ship Squad
fleet
, making an inter-fleet passage from the Baltic, arrived in Vladivostok. The detachment includes a corvette "Gremyashchy" and two Project 636.3 submarines "Varshavyanka" "Petropavlovsk-Kamchatsky" and "Volkhov".
A solemn meeting of the crews of submarines and corvette took place at the main military base in Vladivostok. The ceremony was held at the 33rd berth of the Primorsky flotilla of heterogeneous forces, the commander of the Pacific Fleet, Admiral Sergei Avakyants, congratulated the sailors who had made an inter-fleet transition in their home harbor. The ceremony was also attended by relatives and friends of the sailors, representatives of the city and regional administration.
While there is no information about the further redeployment of submarines and corvette, it is reported that they will carry out replenishment of inventories and scheduled maintenance after a perfect transition. Most likely, after all the activities and rest of the crews, the submarines will go to Kamchatka to the main submarine base in Vilyuchinsk, and the corvette may remain in Vladivostok and become part of the Primorsky flotilla of heterogeneous forces.
Recall that the submarines Petropavlovsk-Kamchatsky and Volkhov left the Baltic for the Pacific Fleet back in August this year, along the way they were joined by a project 20385 corvette "Thundering". The detachment of ships sailed along the "southern" route and during the passage crossed 7 seas (Baltic, North, Mediterranean, Red, Arabian, South China and Japan), as well as two oceans (Indian and Atlantic).
Diesel-electric submarines "Petropavlovsk-Kamchatsky" and "Volkhov" are the first and second submarines of project 636.3 "Varshavyanka" out of six for the Pacific Fleet. They entered the Navy in 2019 and 2020, respectively. Corvette "Thundering" project 20385 is the lead ship of the series, entered the fleet in December 2020.