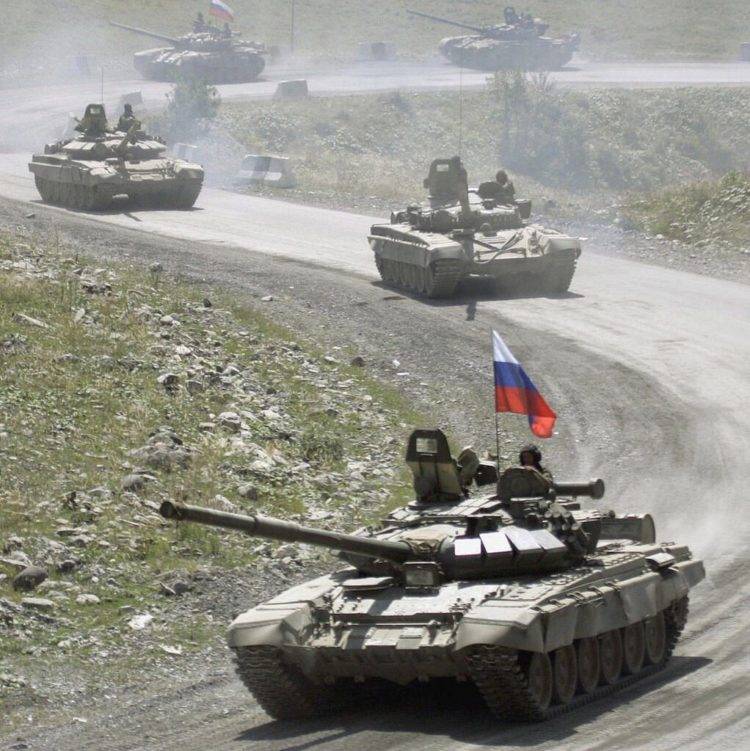 Source: flickriver.com / k.aksoy93
In the American analytical magazine "War on the Rocks", which, although inferior to such dashing publications as "The National Interest", is nevertheless famous for deep diving into analytics and predictions based on analyzes, the following article was published:
Feeding the Bear: A Closer Look at Russian Army Logistics
Alex Vershinin, a US Army Lieutenant Colonel with experience in Iraq and Afghanistan and modeling for NATO's Concept Development and Research Department, has published his vision of how Russia will attack Ukraine and what will come of it.
In general, Vershinin demonstrated his knowledge of the specifics of our army, which suggests that he began his career in one of the armies of the post-Soviet space. But in the end I disappointed.
Surprisingly, Vershinin does not criticize the opinion of some American authors (specifically David Shlapak and Michael Johnson), who believe that, if desired, Russia will conquer the entire Baltic region in three days without much stress.
And the main question posed by the lieutenant colonel: how should NATO react to such an outrage? Either to start a nuclear Apocalypse, or to launch a counteroffensive (which implies large losses of the alliance), or to spit and recognize Russia's aggression as a fait accompli.
The third option hits NATO's reputation no worse than a low-yield nuclear warhead.
But this is the Baltics. Small and compact republics that are a pleasure to occupy. In our case, with Ukraine, everything is somewhat more complicated, the country, to put it mildly, is the largest in Europe in terms of territory. And, if you compare with the Baltics, there are no comparisons. Odessa region with its 33 thousand sq. km and Estonia, which is 45 thousand ... Well, you get the point.
Vershinin quite rightly believes that the main enemy for Russia will not be the Ukrainian army, but logistics. According to the lieutenant colonel's conclusions, the Russian army will have enough strength to carry out the invasion and seizure of several regions, but in the future, Russia will not have enough forces for a major invasion and seizure of large territories.
More precisely, the structure of material and technical support, which will be obliged to supply the advancing troops with everything necessary, will not cope. That is, the Russian army, crossing the border, at the first stage of its offensive, will not experience problems, however, the further the offensive develops, the more pauses will have to be made to pull up the rear and supply troops.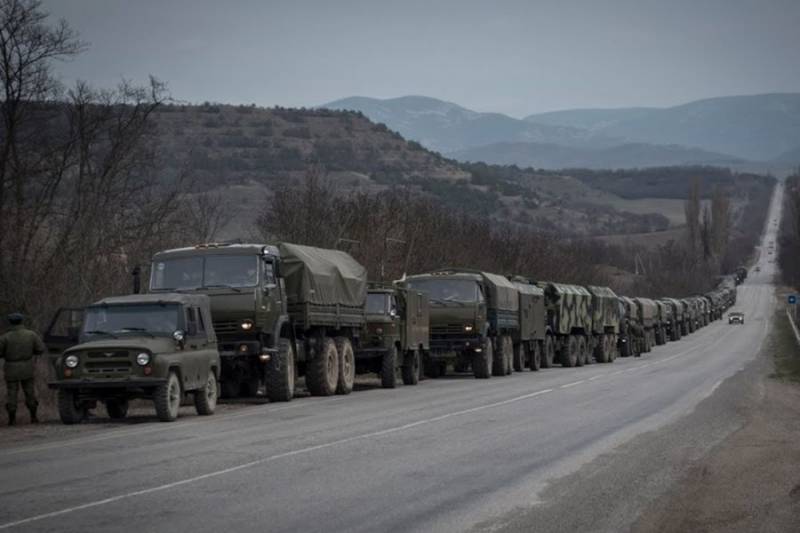 Vershinin believes that large-scale actions on the territory of Ukraine will be impossible precisely because the logistics services of the Russian army will not cope with supply issues. The Russian army has everything to successfully operate on Ukrainian territory, the combat power is more than sufficient to sweep away the Armed Forces of Ukraine, but it will be impossible to carry out the supply
Perhaps NATO departments and services that will plan to repel Russian aggression should pay attention not to eliminating inequality in combat capabilities (which is not surprising, given the proximity of Russian territory), but to make it as difficult as possible to supply the advancing units.
It is realistic to arrange for the pulling of Russian troops deep into the territory of Ukraine, interrupting supply lines in every possible way, destroying freight and rail transport, bridges and pipelines.
(True, it should be noted that organizing the destruction of transport infrastructure in the absence of an air force in Ukraine will not be easy. You will have to rely solely on the DRG, but this is more difficult - approx.)
However, it should be really taken into account that initially the battles will unfold near the borders and places of permanent deployment of the Russian troops of the Western Military District. This will initially make the supply lines not as large as the opposing side would like.
(In addition, as if in response to Lieutenant Colonel Vershinin, we have our own plan for organizing the supply of troops, based on the experience of using railways. And this material will come out after this - approx.)
By the way, Vershinin attaches great importance to railways. The American believes that the logistics services of the Russian army are not sufficiently developed (a controversial statement, by the way) precisely because the General Staff is counting on the supply of units and formations precisely by rail.
Further, there will be a quote from Vershinin, which shows that, to put it mildly, he does not have enough objective information regarding the capabilities of parts of the MTO.
In addition, the Russian army does not have a sufficient number of logistical support teams for each branch of the armed forces. According to the annual Military Balance bulletin of the International Institute for Strategic Studies, Russia has ten logistics brigades to support 11 combined-arms armies, one
tank
army and four army corps. The Western and Southern military districts of Russia each have three armies and only two brigades of logistical support.
Let's take the ZVO for a start.
69th separate MTO brigade (Dzerzhinsk)
51st separate MTO brigade (Krasnoe Selo)
152nd separate MTO brigade (Liski)
Already inconsistency.
Southern Military District:
78th separate MTO brigade (Budyonnovsk)
99th separate MTO brigade (Maykop)
133rd MTO Brigade (Bakhchisaray)
The mistake of "only" two teams. We will not judge whether it is a lot or a little. Overall, this just shows how accurate the American is in his calculations.
But Vershinin correctly shows that Russia has a trump card that NATO does not have: our railway brigades. In fact, it is quite interesting.
weapon
if applied correctly.
29th Separate Railway Warsaw Brigade (Smolensk)
34th separate railway brigade (Rybnoye)
38th separate railway brigade (Yaroslavl)
37th separate railway brigade (Volgograd)
39th separate railway brigade (Timashevsk)
333rd separate pontoon-bridge railway battalion (Volgograd)
The railway brigade is a versatile tool capable of building, repairing, maintaining tracks, guarding tracks and goods, loading, unloading, transshipment and sorting of goods of various purposes. Moreover, the brigades have everything to work. Only freight rolling stock is provided by civilian companies.
And these brigades are perfectly capable of becoming a reliable aid in the transportation of goods for the advancing units.
In his material, Vershinin complains that the track gauge in Russia and Europe is different, and this will not allow the Russian railway troops to operate effectively.
The catch is that in the Russian Federation the railway track is wider than in other European countries. The Russian standard is used only in Finland and the former Soviet republics, including the Baltic countries. There is only one wide-gauge railway line in Poland, it runs from the Krakow province to Ukraine, and Russian troops will not be able to use it unless they first seize this country. There are no such lines between Belarus and Warsaw.
Three in geography. The Ukraine in question is a former republic of the USSR, which means that in order to launch freight trains with equipment and ammunition from Russia, it will not be necessary to capture either Poland or Finland. Vershinin simply does not know how many railway crossings there are from Russia to Ukraine. In his article a lot of nonsense is written in this regard, which greatly lowers the value of the material.
You will not have to capture Poland, Finland, the Baltic states. It will be enough to carry out the transfer of trains from Russia to Ukraine along the existing railways. Yes, this will require a separate set of operations, but this is the fun we will devote the second part of our research to. To make the Summit completely scared. Although he already writes science fiction, it is dear to read!
In general, this article has already been discussed by several Russian resources, but they took it more seriously than in our case. However, judge for yourself:
In cross-border traffic, trains are usually stopped to distribute goods or resort to the use of wagons with swap bodies and shunting locomotives. In wartime, the Russian army is unlikely to capture enough Western-style locomotives to support the army, relying on trucks. In other words, the possibilities of railway support for the Russian army end at the borders of the former USSR. Outside of its own rail network, Russia will have to rely mainly on a fleet of trucks to supply its army while railroad forces rebuild or renovate an existing line, or even build a new one.
I would have removed the star from the lieutenant colonel. That's about the fact that in wartime ours will not be able to get hold of such things as locomotives, if necessary - well, the lieutenant colonel does not know the capabilities of our army, honestly. We will pay attention to this in the next article, but the main thing is what? What we just didn't have time to see in the article of the lieutenant colonel, when he managed to leave Ukraine without a fight and began to scramble across Europe.
Further, there are calculations that the Russian army will not be able to ensure the proper supply of the advancing units with the help of trucks.
Vershinin's calculations are based on the fact that a truck can make three trips a day over a distance of 72 km in one direction. It's hard to say what caused the figure of 72 km, but okay.
Based on the assumption that you can drive on the roads at a speed of 72 kilometers per hour, one truck can make up to three 72-kilometer trips per day: an hour for loading, an hour for a trip to the unit's location, an hour for unloading and an hour for the return journey. Three such trips will run a total of 12 hours. The remaining time will be spent on truck maintenance, meals, refueling operations, gun cleaning, and sleep.
If these are American standards, then we will not discuss them. Everything is somehow different with us. And KamAZ trucks can, if they press (and they always press with us), give out a little more than 72 km / h.
Double the distance (145 kilometers) and the truck can only make two trips a day. Twice more (290 kilometers) - and now the trip is already one. In rough terrain or limited / damaged infrastructure, these calculations will no longer work.
I just suggest looking at the map. When the numbers are impersonal, it is not entirely clear from them, 300 km is a lot, or what?
If we take a railway junction, for example, in Brest as a starting point (you understand why), then 200 km from Brest along not the worst roads - it will be a town like Warsaw. The fact that in Brest you can find a considerable number of locomotives and bogies for the European gauge, I am simply silent.
But we are not talking about aggression and conquest of all of Europe. Vershinin says this, and I don't quite understand what he is talking about. They are there, overseas, stubbornly talking about Russian aggression and the seizure of Ukraine. Okay, you can be patient. But then appetites flare up and talk about the seizure of Europe and the difficulties of supply in this field is already beginning.
The Russian army does not have enough trucks to meet the logistics needs more than 145 kilometers from the supply depots. To reach a range of 290 kilometers, the Russian army would have to double the number of trucks so that each MTO brigade has 400 at its disposal.
They arrived, called. The MTO brigade should have 400 trucks. It's not entirely clear where Mr. Vershinin gets the numbers from, but:
The composition of the MTO brigade:
- management;
- separate automobile battalions - 2;
- a separate repair and restoration battalion;
- a separate pipeline battalion;
- a separate road commandant battalion;
- warehouses of brigades by type of material
- a separate company for the supply of water
- a separate company for refueling
- a separate service company
- laundry squads
- bath and laundry points
- mobile bakery
This is the full composition of any logistics brigade. And we are interested in one of the two MTO battalions, which, in fact, are engaged in the delivery of everything to the units.
The composition of the MTO battalion:
- management
- companies of supported units
- automobile company for the supply of material resources
- repair company (RAV and weapons)
- repair company (AT and BT)
- a logistics company
- medical company
Personnel: 1001 people, including 673 people in MTO companies.
Cars: 408 units. Of these, in MTO companies - 260 units.
By using a terrible weapon (calculator), we find that in the MTO brigade, the delivery of everything necessary takes 260 x 2 x 2 = 1040 cars. This is pretty much more than what Vershinin thinks of our army. Or, someone gave him not entirely correct numbers.
Formally, a logistics brigade is assigned to each united army, despite the fact that different types of the Armed Forces have different organizational structures. Each such brigade consists of two road transport battalions, which include 150 general-purpose trucks, 50 trailers and 260 special trucks.
There is a difference. Probably, it will be unpleasant for experts in NATO to discover that there are twice as many trucks in logistics brigades than such experts give. And they go faster and further.
In addition, I would like to add that a tank regiment as part of a motorized rifle division has its own MTO platoon. An artillery self-propelled regiment has its own MTO company, an anti-aircraft missile regiment has its own MTO company, a rocket artillery regiment has an MTO company, and the division itself has its own MTO battalion of half a thousand people.
And behind each abbreviation "MTO" there are not only people, but also cars. The main task of which is precisely the delivery of everything you need.
By the way, the Russian MTO brigades coped with the problem of supply on the ground both in Chechnya (Vershinin cites a figure of 4 shells per day, which the artillerymen fired), and in Georgia and Syria. Yes, in Syria, from Latakia or Tartus to Khmeimim, the distance is very small, but there was a very, very limited contingent of logistics.
In general, Lieutenant Colonel Vershinin did not work out the material very well. Ukraine can be invaded without the supply problems the American is talking about.
Another question is that Russia absolutely does not need this.
Yes, yesterday and today, dozens of "experts" were broadcasting about the imminent offensive of the Russian army to Ukraine, but ... You can place bets and make good money on forecasts when this offensive will take place. I mean, bet on the fact that there will be no offensive.
Let's leave Ukraine alone until our next article, and see what Vershinin says about the Baltics.
And there, Russian troops will need to capture the Baltic countries and overcome all resistance in less than 96 hours, until the NATO High-Readiness Joint Task Force sends reinforcements to the defenders. While these forces will not stop a Russian invasion, they will engage NATO in a ground war.
By the way, does it make sense then for NATO forces to intervene and spend their human and technical resources, if they still don't save the Baltic states? Is there any point in getting into a war on foreign territory, away from our supply bases and into a war with Russia, which has bases close by, and the Baltic railways will allow, if not everything, then almost everything?
I liked this moment:
A dozen issued over Germany
aviation
NATO cruise missiles can destroy key railway bridges in Narva, Pskov and Velikiye Luki, block railway communication with the Baltic states for several days while the bridges are being repaired
Cruise missiles fired even over Poland may "fail." There are air defense units in the Kaliningrad region, there are similar units in Belarus. And in the composition of those units that will press the Baltics, there are also air defense units. And a dozen or even two cruise missiles can bring not so much destruction as crash. Collapse of hopes that bridges will be destroyed.
In the Baltic scenario, Russian planners must consider the risk of an immediate counter-attack from Poland, which could muster four divisions in an attempt to catch the attacking army by surprise.
And what, it would be interesting to watch this show. Trying isn't torture, is it?
In this case, Moscow would have thrown numerous forces to siege Tallinn and Riga and at the same time would have been forced to repel the Polish counterattack from the south. The ammunition consumption would be colossal. During the armed conflict with Georgia in 2008, some formations used up the main ammunition in 12 hours. Taking this rate as a model, the Russians would have to replenish ammunition every 12-24 hours.
Easy. In the conditions of work of logistics departments with interaction with railway workers, it is more than simple to organize.
Until NATO forces arrive, the large Baltic forces will give Russia no time to build rail terminals, forcing it to rely only on trucks.
Here one can begin to doubt that Vershinin served in one of our (and not so our) armies in the post-Soviet space. Our terminals will not be built. This is the Russian army! Where the cars stop, trucks will drive up there, and unloading will go without any terminals and other nonsense! And in general, the deserted the space is, the faster everything will happen.
The bear will be fed, there is no doubt about it.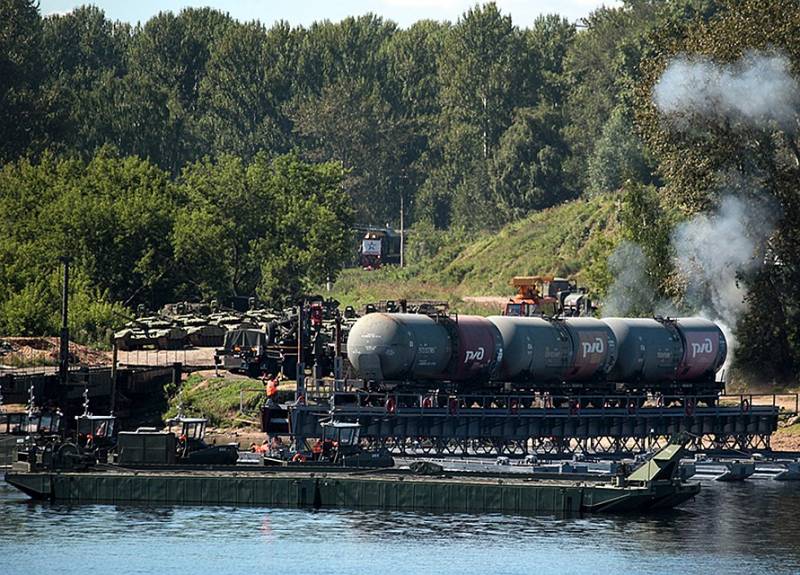 In general, there were enough blunders. But the Baltic and Polish (I did not consider it, it is also a fantasy) scripts have no right to life just because they live in the lieutenant colonel's fantasies.
But Vershinin also has very sound thoughts.
It does not appear that Russia is organizing an MTO force with the expectation of an invasion or blitzkrieg in Poland. Alternatively, the Russian government has created an army ideal for an active defense strategy. The Russian armed forces are capable of conducting hostilities on their territory or near their borders, as well as carrying out long-range strike operations. But they are not capable of a prolonged ground offensive far beyond the borders of Russian railways without logistic pauses or mass mobilization of reserve forces.
Wouldn't be worth checking, honestly. Yes, it may be very difficult for a Western analyst to correctly assess and understand Russia's actions near its borders. The movement of troops on the border with Ukraine may be viewed by some as preparations for an invasion, while others may simply be another round of diplomacy. Power diplomacy. You know, this is a matter of taste, and we argue about them.
But Vershinin is quite correct in saying that without the creation of transit warehouses near the borders, focused on supplying the troops that crossed this border, a normal invasion is simply impossible.
No base - no way to attack. This was proven back in 1944, when Soviet troops stood on the outskirts of Warsaw. It is impossible to do something in the theater of operations without fuel, cartridges and shells.
In principle, for our potential NATO members, one piece of advice can be given: while we are minding our own business, such as exercises near the border, sleep well and do not think about all sorts of nonsense like confrontation or repulsing "aggression".
But if we start to build additional warehouses and deliver everything we need there according to the lists, then we should panic in full. But not before.