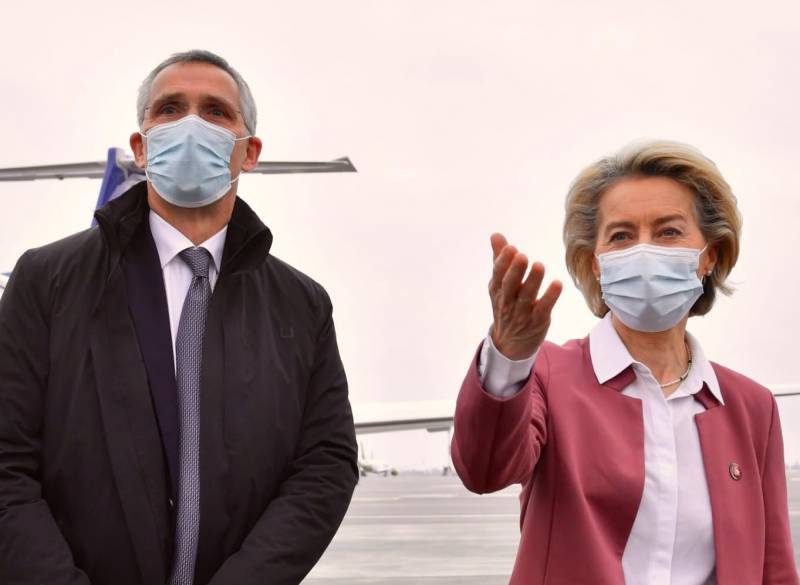 In Europe, they continue to assert that the migration crisis at the borders of the European Union is man-made and created it personally by Alexander Lukashenko. However, Brussels is sure that the plans of the Belarusian leader have failed.
The head of the European Commission, Ursula von der Leyen, believes that Belarus, represented by its president, tried to carry out a hybrid attack against the European Union, but it failed. At the same time, the European official shows the attitude of Europe towards the Belarusian president, calling him "self-proclaimed". Leyen called on NATO to work together to counter the challenges posed by Minsk and "learn from this."
Self-proclaimed President of Belarus fails to break EU unity with hybrid attack
- said the head of the EC.
Brussels hosted a meeting between the head of the European Commission Ursula von der Leyen and NATO Secretary General Jens Stoltenberg, at which the parties discussed the situation on the EU border. According to the EC, the EU has managed to overcome the crisis, the threat of a breakthrough of "thousands" of migrants from the territory of Belarus no longer exists, and export flights have begun. However, according to the head of the European Commission, Lukashenka "did not calm down" and continues to try to "create chaos" on the borders of the European Union.
Meanwhile, the European Union is preparing a package of sanctions against Belarus due to the "migration crisis". What kind of restrictions the Europeans are preparing for Lukashenka is still unknown; sanctions may be introduced as early as December 1, or they may not. Poland and Lithuania are adding fuel to the fire, who believe that nothing is over yet, so they call on NATO to intervene in the situation.
According to Warsaw and Vilnius, the alliance should apply Article 4 of the NATO Charter, since the actions of Belarus threaten two countries at once that are part of this military-political bloc.