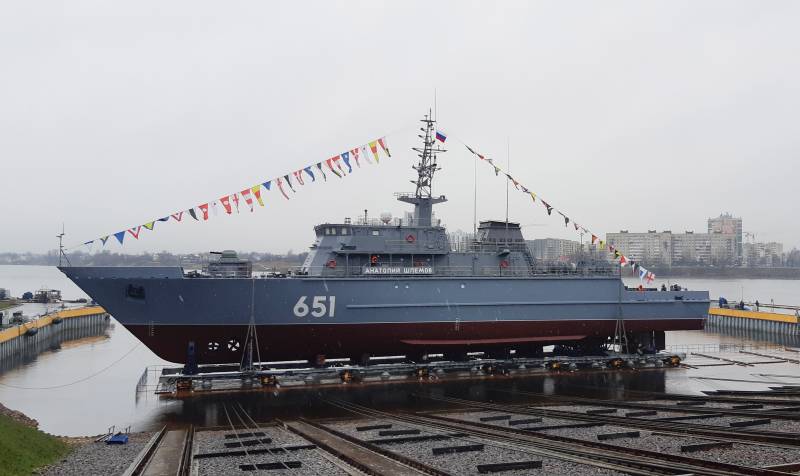 Another project 12700 mine defense ship Anatoly Shlemov has been launched in St. Petersburg. The ceremony took place at the Sredne-Nevsky shipyard.
The event was attended by representatives of the Ministry of Defense, the government of St. Petersburg, management, employees and veterans of the enterprise. The right to break a bottle of champagne on the side of the new ship was given to Anastasia Tatulova, the daughter of the honored shipbuilder, Vice Admiral Anatoly Fedorovich Shlemov (1949-2018), whose name the new ship bears.
After launching, the ship was transferred to the outfitting wall, where work will continue on it. As stated in the press service of SNSZ, the minesweeper will begin to prepare for the first stage of testing - mooring. However, the timing of the start of closing the delivery certificates was not reported.
The PMO Anatoly Shlemov is the seventh Project 12700 Alexandrite minesweeper, laid down in July 2019.
In total, within the framework of the first contract, 10 PMO ships of project 12700 were ordered. All ships of the series are being built at the Sredne-Nevsky shipyard. Today in the composition
fleet
there are 5 minesweepers, the sixth is to become part of the Pacific Fleet this year. The seventh was launched, the eighth is under construction, the ninth was laid down on September 9, 2021, there is no information about the 10th tab yet.
As Voennoye Obozreniye already wrote, it was decided to continue the series of Project 12700 minesweepers, and the corresponding decision was made at the Ministry of Defense. So far, there is no information about the conclusion of a new contract, but it is already known that it will also include 10 PMO ships.