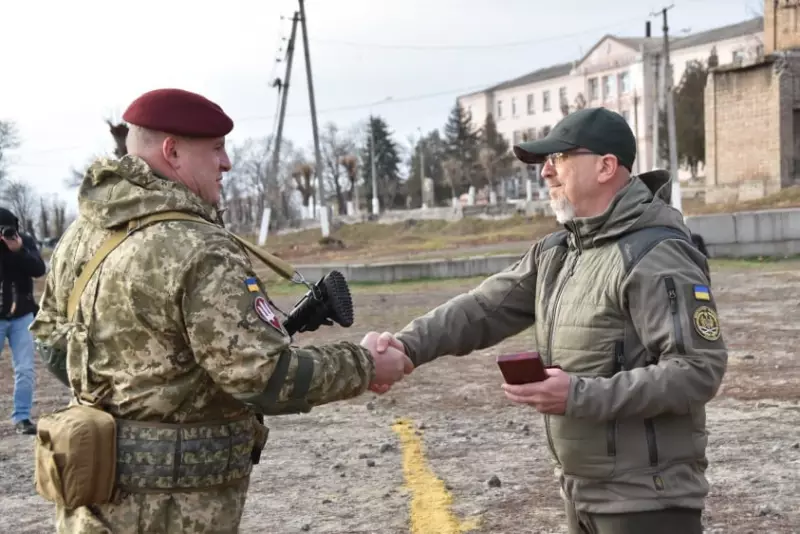 Reznikov - on the right
The Minister of Defense of Ukraine expressed another judgment regarding the Russian "plans". Aleksey Reznikov, who was recently appointed to the post of head of the Ukrainian Ministry of Defense, suddenly announced that there was no need to panic about the "probable Russian offensive."
Recall that words about such an offensive are heard from Kiev almost constantly. At the same time, numerous schemes are drawn from where "Russia will lead its troops." Now in the direction of Donbass, then from the territory of Belarus, then from several directions at once.
Minister Reznikov said that "the Kremlin is testing Ukraine for national stability." According to the head of the Ukrainian Ministry of Defense, "Russia is not going to bomb Ukraine, but to plant Putin's henchmen in Kiev."
At the same time, Mr. Reznikov did not indicate whose henchmen are sitting in Kiev today, including himself ...
Speaking on the air of Ukrainian TV, Reznikov said that Moscow's main goal is "to destabilize Ukraine, change the government, the political course.
Reznikov:
It makes no sense for them to bomb everything here, destroy nuclear power plants, so that later they can seize it all.
We will remind that earlier in Ukraine they already drew scenarios of the "offensive" of Russia and even announced specific dates. So, according to one of the versions of Kiev, "Russia will begin an offensive on the day of Catholic Christmas, when everyone in the West will celebrate and will be distracted from Ukrainian events."
The day before, Maria Zakharova, an official representative of the Russian Foreign Ministry, pointed out that Ukrainian troops are conducting an offensive in some areas along the contact line. She mentioned Granitnoye and Staromaryevka, noting that the Ukrainian military had advanced there almost a kilometer in the "gray zone", moving their positions and using various weapons.